Fora Financial Review: A Too-Slow and Too-Secretive Lender
Nothing about Fora Financial makes it a competitive alternative lender.
Data effective 6/20/22. At publishing time, pricing is current but subject to change. Offers may not be available in all areas.
So you've heard about Fora Financial, and you want to know if its working capital solutions could work well for you.
While we'd like to say that yes, they could, we're not convinced that's true. There's a lot that makes us nervous about Fora Financial. Enough, in fact, that we think most business owners would be better off with a different lender.
Still, you can decide for yourself. So we'll break down everything you should know about Fora Financial: what it offers, how it works, and why you would or wouldn't want to choose it as your lending company.
Fora Financial is not a lender we can recommend
Lower borrower requirements
Positive customer reviews
Limited loan details available
No online application
Short repayment terms
So here's the deal: Fora Financial doesn't offer enough details to make us confident in recommending it, and the details we do know don't wow us.
For example, Fora Financial doesn't provide information on minimum credit scores. Instead, it gives a hand-wavey explanation of how it doesn't just care about your credit score―it considers other factors too. Well, so do other lenders, and they usually manage to publish minimum credit score requirements. But Fora Financial doesn't, so we don't know if you'll qualify for one of its loans. 
Likewise, Fora doesn't disclose its interest rates or fees. That's usually not a good sign. After all, if they were competitive, we'd expect a lender to brag about them.
And as we said, the details Fora does provide have left us completely underwhelmed. You have to make $144,000 in revenue a year to qualify for Fora Financial's business loan―a higher standard than we've seen from similar lenders.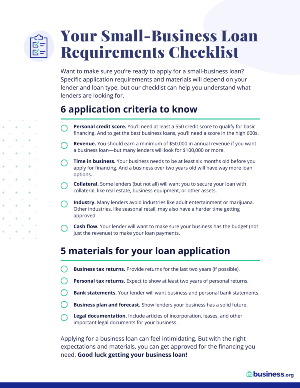 Applying for a small-business loan soon?
Our free checklist can help you understand what lenders are looking for.
Qualifying for Fora Financial financing
Data effective 6/20/22. At publishing time, pricing is current but subject to change. Offers may not be available in all areas.
Sure, its merchant cash advance has a lower revenue requirement ($60,000 a year), but, well, it's a merchant cash advance. We recommend avoiding those, thanks to high costs and confusing pay structures.
The revenue requirement is just one of many unimpressive details. There's also short repayment terms, long funding times, and the complete lack of an online application―all of which we'll cover below. 
It's not all bad, though. Fora Financial does have a low time-in-business requirement. You can apply after just six months in business, which is competitive with some of the best small-business loans for startups. And it does have generally positive reviews from borrowers.
Too bad, then, that everything else is either underwhelming or mysterious.
Put simply, we can't recommend Fora Financial. It might be an okay lender, but we can't risk your money (or our reputation) based on the facts we do know. But if you're still curious about Fora, we've got more details abouts its financing.
Want more options? Fund your business with a personal loan
Fora Financial loan options
Fora Financial offers two types of business financing. There's a short-term business loan and a merchant cash advance.
Quick review: Short-term business loans work pretty much like normal term loans. You borrow money (called the principal), and then you make payments over a set period of time (your repayment term). You have to repay the principal plus interest and any fees. All that makes short-term loans versatile enough for most businesses.
Merchant cash advances (MCAs) work a little differently. You still get cash up front, but you don't accumulate interest. Instead, you pay a set amount of fees. And rather than make set payments, your lender automatically takes a percentage of your credit card sales until you repay the principal plus fees (so there's no set loan term). That means MCAs only work for businesses that have plenty of credit card sales.
Data effective 6/20/22. At publishing time, pricing is current but subject to change. Offers may not be available in all areas.
But let's talk specifically about Fora's products. Both of them come in a nice range of loan sizes. While a half-million-dollar loan (its maximum loan amount) may not take care of all your commercial real estate projects, it should be enough for most working capital needs.
As we said above, though, we're not impressed by the repayment term on the business loan. At just 15 months (at most), it's shorter than the terms we see from comparable online lenders. And we assume that many of its loans come with shorter terms.
Of course, our real issue is the lack of interest rate or fee information for either loan product. Generally speaking, short-term loans have higher rates than their long-term cousins. And merchant cash advances have notoriously high fee rates.
Repayment schedule
Fora Financial requires daily (automated) payments. That's not unheard of from online lenders, but most of our preferred lenders offer a weekly or monthly payment schedule.
So we assume Fora Financial leans toward the expensive side of things―but we can't confirm that.
All we know is that you can get a discount for early repayment. That's nice and all, but it doesn't mean much without more context. 
And honestly, we don't know why you'd want to apply for a loan when you don't have any idea how much it will cost you―especially since Fora Financial seems determined to make the application process as painful as possible.
Applying with Fora Financial
Fora Financial's application process is a little behind the times.
You see, Fora Financial doesn't have an online application. You can fill out an online form, yes, but it's just a lead form that asks for your basic contact information. Once you submit it, the website says that someone will (shudder) call you about an application. Within 24 hours, supposedly.
Or if you're in a hurry, Fora Financial lets you print an application that you can then email or fax (fax!) in.
Founded in 2008
Fora Financial started back in 2008, which makes it one of the older online lenders. As the application process indicates, it could stand to modernize a bit.
And with all that, Fora has the nerve to brag that you can get approved within 24 hours, and then you get funded as quickly as 72 hours after that.
Keep in mind that many online lenders have automated approval processes and lightning-fast funding processes. Kabbage, for example, can have money in your bank account within minutes of you submitting an application.
Sure, not all online loan providers are that fast. But slower companies like Lendio at least have good reason for taking so long (because they're shopping around finding loan offers for you).
In other words, Fora Financial doesn't offer the major benefit of online lending (superfast applications and funding), but it has plenty of the drawbacks (like short loan terms).
Fora Financial customer reviews
As you can see, we don't have many good things to say about Fora Financial. Fora customers, on the other hand, have generally positive things to say about this lender.
In fact, Fora Financial has a 4.5 out 5 on Trustpilot―not the best score we've seen, but clearly a respectable number.1
Most of the positive reviews praise the excellent customer service. Many reviewers call out specific reps, saying that they answered questions and made the process simple. 
Plenty of reviews had good things to say about the loan application process, calling it easy and fast (true when you compare Fora to traditional banks, but not when you compare it to other online lenders). 
A few people also said that Fora financed them when no one else would.
The negative reviews, however, complain about poor communication―both a lack of responses and missing information (such as loan rates and fees). 
Plus, we saw a number of reviews complain about high rates. Evidently some people got quoted high enough rates (one person said over 50%) that they ended up going elsewhere for funding. 
Those negative reviews concern us (and confirm our suspicions), but we have to admit that Fora Financial has more positive reviews than negative. So you probably won't have a bad experience with Fora―at least if reviews are anything to go by. 
(But as we keep saying, we think you could have a better experience with other lenders.)
Fora Financial simply can't compete with other online lenders. It has a slower application and funding process, shorter terms, and higher income requirements. And don't forget all the missing details―like credit requirements and interest rates―that should concern you.  
Yes, Fora has low time-in-business requirements and generally positive customer reviews. That's not enough to make it a standout lender.
When all is said and done, you certainly can fund your business with Fora―but we suggest you get a loan elsewhere.
Want to explore other lending options? We've got a bunch for you on our list of the best small-business loans.
Disclaimer
At Business.org, our research is meant to offer general product and service recommendations. We don't guarantee that our suggestions will work best for each individual or business, so consider your unique needs when choosing products and services.