AgDirect Financing Review: Equipment Financing Just for Agriculture
You can get super low rates and decent terms from AgDirect―but only for agricultural equipment.
AgDirect offers only equipment financing, and that equipment financing is only for agricultural equipment. In other words, it's not for everyone.
But is AgDirect's equipment financing right for your agricultural business? Well, it might be, and our review will help you decide.
We'll break down its loans―rates, terms, and all―so you can know exactly what you'll get if you decide to apply with AgDirect.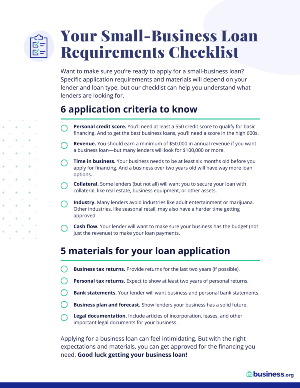 Applying for a small-business loan soon?
Our free checklist can help you understand what lenders are looking for.
AgDirect is best for agriculture equipment financing
Very low starting rates
Purchase, refinance, and lease options
Fast application and approval
Limited qualification information
Exclusivity to agricultural equipment
Few customer reviews
As we've already said, AgDirect offers just one type of business loan: equipment financing. That means you can't use its loans for just anything―they have to be used to purchase (or lease or refinance) equipment for your business.
And while some lenders let you use equipment financing for anything from copiers to computer chairs, AgDirect only offers loans for agricultural equipment. Think combines, tractors, and irrigation systems.
In other words, if you plan to buy or lease a grain combine, AgDirect can help. If you want to renovate an office building, you should look at other lenders instead.
So what counts as agricultural? In a conversation with an AgDirect rep, they mentioned three industries:
If you're in one of those industries, you may be able to get loans that have very, very competitive interest rates.
Unfortunately, we can't promise you'll qualify. AgDirect's website doesn't offer any details about borrower requirements.
We do know, thanks to an AgDirect rep, that there's no minimum credit score requirement. (Most equipment financing companies look for at least a fair personal credit score, though, and we suspect AgDirect does too.) But aside from that? We can't say.
Yes, we wish AgDirect was more upfront about its borrower requirements―but we suggest you go ahead and apply if you're interested. Because based on what we know about AgDirect equipment financing, it's worth the effort.
AgDirect only has one type of loan―equipment financing―but the sizes, interest rates, and terms can vary quite a bit.
Now, you'll have to juggle a bunch of factors when you compare AgDirect equipment loan options.
For example, the loan size affects the rates and terms. But some loan sizes can only be used to buy (or lease) equipment from dealerships, while others can also be used at auctions or with private parties.
AgDirect financing rates and terms
Data effective 6/30/2022. At publishing time, pricing is current but subject to change. Offers may not be available in all areas.
Likewise, if you purchase your equipment, you'll have different options than if you lease it. You can get smaller loans and longer terms with an equipment purchase, while leasing requires a larger loan and a shorter repayment term.
And if you lease, you'll have a fixed interest rate. But if you purchase equipment, you can get fixed rates or variable rates.
Plus, you can only lease equipment from a dealership, while you can purchase equipment from an auction or a private party too.
| | | | |
| --- | --- | --- | --- |
| Features | Purchase | Refinance | Lease |
| Loan amounts | | | |
| Term lengths | | | |
| Interest rate types | | | |
| New equipment | | | |
| Used equipment | | | |
| Titled equipment | | | |
| Dealership | | | |
| Auction | | | |
| Private party | | | |
Data effective 6/30/2022. At publishing time, pricing is current but subject to change. Offers may not be available in all areas.
Like we said, there's a lot to juggle (but hopefully our tables can help).
For now, let's zero in on a few factors.
No matter what your equipment loan (or lease) ends up looking like, AgDirect has very attractive rates for your financing needs. Even the highest listed rate―a 6.99% fixed rate for a loan under $10,000―can compete with most banks and credit unions.
Put simply, AgDirect has nice low loan rates.
While some lenders try to hide their rates, AgDirect offers a detailed breakdown of its interest rates on its website. You can see exactly what your rate will be with a given loan amount and term.
Note that AgDirect offers both fixed rates and variable rates. Fixed rates stay the same throughout your repayment term, while variable rates can change.
Variable rates usually start lower than fixed rates do (and AgDirect is no exception). The tradeoff, of course, is that your variable rate could climb quite a bit over your loan term. A fixed rate may start higher, but you won't have any nasty surprises later in your term.
Either way, AgDirect's rates tie directly to its loan terms.
AgDirect equipment loans can have repayment terms between two years (relatively short terms) and seven years (a pretty long term for equipment financing).
Going with a longer term will give you a higher interest rate, while a shorter term will get you a lower interest rate. Even so, a shorter term will probably still have a higher monthly payment than a longer term will.
By the way, when we talked to AgDirect, our rep said that your credit history will affect what loan term you get offered. And that, in turn, will affect your interest rates.
Regardless of your interest rate and loan term, you may have to make a down payment on your AgDirect equipment financing. The rep we spoke with said that AgDirect may ask for a down payment between 10% and 30%.
That said, not all AgDirect financing options will require that kind of down payment. It's something to ask your rep about when you apply.
Like most lenders out there, AgDirect does charge some business loan fees. Luckily, your fees shouldn't be too bad.
You can expect a documentation fee of up to $300 on your loan. That's about 6% of a $5,000 loan, 1% of a $30,000 loan, and 0.4% of a $75,000 loan. For reference, 6% might be a little on the high side for most lenders, while 0.4% is definitely on the low side.
Finally, we wanted to point out that your AgDirect loan will be a secured loan―which is just another way of saying that the equipment you get with it will double as collateral.
That's true of all equipment financing. So it's not a big deal, but it's something you should be aware of.
Want more options? Fund your business with a personal loan.
Applying for AgDirect financing
Think you might want to get an AgDirect equipment loan? Applying for an AgDirect loan works a little differently than applying for other lenders.
Your specific application process will depend on where you get your equipment from.
If you make your purchase or lease through an equipment dealer, the dealership actually has to apply to AgDirect for you.
While there are no guarantees, AgDirect says that it usually makes a decision about your application while you're still with the dealer―pretty quickly, in other words.
Then you'll sign all your financing documents with the dealership, after which AgDirect will fund your loan.
You will need some specific information to apply (like a serial number, purchase order, tax ID number, and title). But again, your dealer is in charge of the application, so they should be able to walk you through it.
If you plan to get equipment at an auction (including an online auction), you'll need to complete your AgDirect application at least a couple days in advance.
To apply, you just need to call AgDirect or fill out the application form on its website. Either way, you'll end up talking to an AgDirect rep who will walk you through the process. And in most cases, you can get a decision within a few hours.
After that, you can go bid on equipment at your auction. If you win, you'll get financing documents from AgDirect to complete your loan application.
Private party equipment financing works a lot like auction financing. You just have to contact AgDirect to apply, and you'll have your decision in a couple hours.
Once you're approved, you'll get all the documents you need. Once you've signed and submitted them, you'll get your money.
AgDirect customer reviews
As you can tell, we like a lot about AgDirect. But do borrowers like it?
Well, while we'd like to back up our review with reviews from AgDirect customers, we really couldn't find any.
We did see one complaint on AgDirect's Better Business Bureau profile (where it has an A grade1).
Unfortunately, it's a very he-said, they-said complaint about whether or not the customer owed AgDirect interest after they refinanced a loan. It doesn't tell us much. AgDirect did respond to the complaint, though.
For the record, our (admittedly limited) experience with AgDirect's customer service was great. When we called, someone picked up almost immediately (a rarity these days, since coronavirus-related problems have most lenders completely swamped). They were very friendly, and they answered all our questions.
But if you have any other experience with AgDirect, please let us know!
AgDirect certainly won't work for every business out there. But if you've got an agriculture business, it can help you get the farm equipment, ranch equipment, or logging equipment you need. With low, attractive rates on purchase, lease, and refinance options, we think you'll want to apply with AgDirect.
Sure, we wish we could find more customer reviews, and we want AgDirect to be more open with its approval requirements.
Even with those complaints, though, AgDirect's low rates and easy application make it a great lender for your agriculture equipment needs.
Want to see equipment loans with very clear borrower requirements? Check out SBA 7(a) loans for a good alternative to AgDirect.
Disclaimer
At Business.org, our research is meant to offer general product and service recommendations. We don't guarantee that our suggestions will work best for each individual or business, so consider your unique needs when choosing products and services.
Sources
1. Better Business Bureau, "Ag Direct." Accessed June 30, 2022.