NorthOne Business Banking Review 2023
After scoring NorthOne on factors from fees to customer reviews, we're ready to give you our take.
Data as of 12/16/22. Offers and availability may vary by location and are subject to change.
NorthOne is an online-only bank that offers business checking accounts. But you have tons of options for business checking―so what makes NorthOne's small-business banking special?
Well, we don't like the mandatory monthly fee, and we're a bit concerned by the mixed reviews. But NorthOne's lack of other fees, the free sub-accounts, and the nationwide availability set it apart.
Free transactions and deposits
Free sub-accounts
Availability in all states
Unwaivable monthly fee
Mixed customer reviews
Checking account only
NorthOne Review: Table of contents
NorthOne bank accounts and pricing
NorthOne has one type of business checking account and nothing else―no business savings accounts, credit cards, or anything else. That's pretty normal for an online bank, but it means that NorthOne's checking is under a lot of pressure to impress you.
And as we said above, if you're used to banking at traditional banks (whether it's a big bank like Wells Fargo or a smaller chain like TD Bank), you might think NorthOne's account looks great. It doesn't charge any transaction fee or ATM fee, for example. Neat, right?
NorthOne small-business checking accounts
| | |
| --- | --- |
| Feature | |
| Min. opening deposit | $50 |
| Monthly fee | $10 |
| Monthly fee waivable? | No |
| Transaction fee | $0 |
| Cash deposit fee | $0 |
| ATM fee | $0 |
| Overdraft fee | $0 |
| NSF fee | $0 |
| Domestic wire fee (incoming and outgoing) | $15 |
| International wire fee | N/A (not offered) |
| Open an account | Get Started |
12/16/22. Offers and availability may vary by location and are subject to change.
Unlike other online banks, NorthOne charges a monthly fee. And unlike traditional banks, NorthOne doesn't let you waive that monthly fee―no matter your account balance. Bummer.
That said, NorthOne doesn't charge most other typical banking fees. Like we said, you don't need to pay transaction fees or ATM fees. And NorthOne even lets you avoid overdraft fees and NSF (non-sufficient funds) fees. (Some other online banks, like BlueVine, also steer clear of NSF fees and overdraft fees.)
The only real fee (aside from the monthly maintenance fee) is for domestic wire transfers. It's $15 for both incoming and outgoing transfers―not a bad price.
And as another perk, NorthOne does allow you to deposit cash. (Not all online banks do.) You can make a free cash deposit at any GreenDot location, which are found at all sorts of gas stations, drug stores, and grocery stores. 
Business debit card
Your account will come with a NorthOne MasterCard debit card, which usually arrives within a week of your account opening. If you need it sooner, you can ask NorthOne to express mail your card for $35.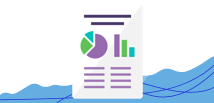 Don't Make a Mistake That Costs You Your Funding
Apply confidently for a loan with our free guide. Enter your email below and we'll send it to you shortly.
We mentioned earlier that NorthOne has cool sub-accounts, which it calls Envelopes. But what does that actually mean?
Simple. It means that when you have a NorthOne checking account, you can create free accounts that have specific purposes. You just have to go in the NorthOne mobile app to create one. It only takes a few seconds to set up, and then you're on your way to better budgeting.
For example:
If you're a freelancer and want to set aside money for your self-employment taxes, you can create a sub-account just for taxes. 
If you're a small-business and want to save up for your holiday party, you can make a sub-account for that.
No matter what you want your sub-account for, you can transfer money into it whenever you want. Or you can automate things by creating rules. For example, you can automatically transfer a certain amount into your sub-account each week, or you can make it so that a percentage of each deposit goes into your sub-account. Whatever works for you.
Sure, you could get a similar result by signing up for multiple free bank accounts. And some other online banks (like Lili) offer a free sub-account or two.
But NorthOne gives you all the free sub-accounts you want, right from your banking dashboard―making it easy and convenient to set aside money.
Best Online Business Bank Account
| | | | | |
| --- | --- | --- | --- | --- |
| Bank | Monthly fee | Transaction fees | Bank type | Open an account |
| | $10.00/mo. | $0.00 | Online | Apply Now |
| | From $16.00/mo. (waivable) | $0.45 each (200 included) | Traditional | Apply Now |
| | $0.00/mo. | $0.00 | Online | Apply Now |
| | $0.00/mo. | $0.00 | Online | Apply Now |
| | From $0.00/mo. | $0.50 each (125 free included) | Online | Apply Now |
Data as of 12/16/22. Offers and availability may vary by location and are subject to change.
As we've mentioned, NorthOne charges fewer fees than traditional banks (like Bank of America and U.S. Bank) do. They charge transaction fees, for example, while NorthOne doesn't. But while traditional banks also have monthly fees, you can waive those fees in most cases. With NorthOne, you can't.
And compared to other online banks, NorthOne doesn't look as cheap. Banks like BlueVine and Kabbage don't charge any monthly fee, and they still don't charge banking fees like transaction fees.
So why choose NorthOne? Well, we already told you about the sub-accounts we like, and it also has some great software integrations we'll cover later. If those appeal to you, you may find NorthOne's $10 fee justified.
But as you can see from our comparison, other banks may offer everything you need at a lower cost.
That brings us to some of the downsides to NorthOne.
To be honest, NorthOne isn't one of our very favorite online banks for small business, though it is an honorable mention. But NorthOne has some downsides that keep it from being a top pick.
The most obvious? NorthOne's unwaivable monthly fee. Now, depending on how you use your account, NorthOne may still end up being a super affordable bank account. In fact, NorthOne argues that its typical customer would end up paying more at other online or traditional banks, thanks to things like wire fees and overdraft fees.
You can math things out for yourself based on your typical (or expected) business bank account usage. (We'll just point out that some other online business bank accounts charge neither monthly fees nor overdraft fees.)
There's also the matter of NorthOne's customer reviews―and those deserve their own section.
NorthOne customer reviews
NorthOne's reviews are a bit mixed. On Trustpilot, NorthOne has 2.4 out of 5.1 While that isn't the worst star rating by any means, the bad reviews are pretty concerning. 
We saw plenty of complaints about customer service. People say it's very difficult to get ahold of someone, and that you could end up waiting days.
Speaking of waiting, people also say your mobile check deposits take a long, long time (days, even) to show up in your NorthOne account.
Plus, we saw a surprising number of people who reported getting locked out of their accounts (either because the NorthOne app wouldn't work or because NorthOne suddenly locked their account). And since they had a hard time getting support, that meant that several people were locked out and getting charged overdraft fees each day without any ability to fix it. (Yikes.)
Finally, some business owners who had their accounts closed report that NorthOne has yet to give them back their money. In some cases, they just want their $50 opening deposit back. But in other cases, people say NorthOne owes them thousands of dollars.
NorthOne software integrations
NorthOne integrates with some of the most popular small-business account software:
Expensify
Freshbooks
Quickbooks
Wave
Xero
Plus, NorthOne works with some ecommerce and payment processing software:
Amazon
PayPal
Shopify
Stripe
And NorthOne is working to make more integrations available. So if you use Square, Etsy, or other platforms, you should get support soon.
We found some things we really like about NorthOne's business banking, like the few banking fees and unlimited free sub-accounts. It's cheaper than most traditional banks and offers a bit more flexibility than some other online banks.
Even so, we have some reservations about NorthOne. The unwaivable monthly fee gives us pause, and NorthOne's mixed customer reviews make us a little nervous.
So NorthOne could be a great bank for your business―but we suggest doing some math first and familiarizing yourself with reviews before you commit.
Not ready to get a NorthOne account? Find a better option with our rankings of the best banks for small-business checking.
To get all the details on NorthOne, we looked at its website, customer reviews, and more. We scored it on pricing, availability, account options, and other factors. With those scores, we compared NorthOne to dozens of other banks for business and developed our final review.
Disclaimer
At Business.org, our research is meant to offer general product and service recommendations. We don't guarantee that our suggestions will work best for each individual or business, so consider your unique needs when choosing products and services.
Sources
1. Trustpilot, "NorthOne." Accessed December 16, 2022.