What to Look for in an Accountant
If you're a small-business owner who's considering hiring an accountant, it's important to understand that their work goes beyond balancing your accounting books. Nowadays, accountants also double up as financial advisors and can help you make better-informed decisions on various matters.
As a small-business owner, understanding the value of an accountant is just the first step. With so many qualified accountants to choose from, it can be an arduous task to know who to hire. No matter how young your business venture is, having an accountant is imperative if you want to set yourself up for success.
Keep reading to learn what to look for when hiring the right accountant for your business.
What does an accountant do?
First things first: What's the difference between a CPA, bookkeeper, and an accounting firm? An accountant prepares a company's financial documents, ensures tax compliance, and in some cases provides financial advice to business owners.
Similar to an accountant, a bookkeeper simply records financial transactions and balances accounting books. On the other hand, a CPA is a certified accountant and based on their specialization, can work as accountants, auditors, tax consultants, and financial advisors. An accounting firm can provide all accounting services under one roof, including providing experienced bookkeepers and CPAs based on your specific needs.
Depending on the accountant's qualifications, some also provide a complex array of financial services. Here are a few things they can help with:
Calculate tax deductions
Inventory management
Cash flow management
Identify potential growth areas
Prepare financial reports
Ensure tax compliance
What does your business need?
Identifying your business's needs is the first step to take when deciding the type of accountant to hire. For example, if you don't need help with filing taxes, then a bookkeeper will work. There are different types of accountants and familiarizing yourself with this information will help you make a better-informed decision.
Most small businesses have few transactions, and they likely don't need an accountant on the payroll. But if your small business is growing or has many transactions, it's time to consider bringing an accountant on board.
Even if you don't think your business needs an accountant, it's important to conduct a regular financial audit. A possible solution to this is outsourcing an accountant from a reputable firm, which can lead to huge savings, as opposed to hiring a full-time accountant. Moreover, by doing so, you can benefit from getting financial advice from a qualified CPA.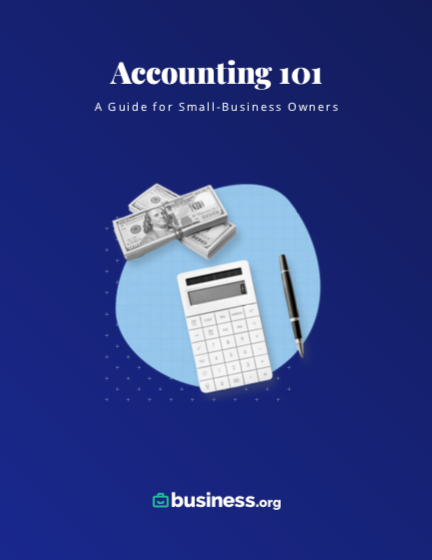 Get business accounting right the first time
Learn all about business accounting with our free ultimate guide.
Tips to help you get the best accountant
Now that you've established your needs, it's time to begin the process of searching for an accountant. There are a few things that you need to consider, such as if they are affiliated with any relevant body, their current location, and education qualifications. Another determining factor is the accountant's salary.
Ask for referrals from your colleagues
Referrals are one of the most effective yet easiest ways to find an accountant for your business's needs. They can come from colleagues, friends, former employers, or family members. One of the main benefits of a referral is that it doesn't cost you anything. You'll also get to understand how much you should expect to spend on your accountant.
If you have a financial advisor, consider asking them for help. You should also research your competitors to identify what type of accountants they use and if they'll work for your particular business's needs.
If you hit a snag finding referrals, consider calling accounting firms directly and request for referrals based on your needs. You can use the information you obtain to narrow it down to a few accountants who you can interview.
Most companies prefer hiring a qualified CPA or chartered accountant, but you can also consider hiring a bookkeeper. It's important to note that hiring an accountant who isn't certified can be risky. Hiring a CPA is best to ensure they are qualified.
Consider looking at accounting firms
If you have been searching for an accountant and have not been successful or you just don't have the time, one of the best options is to hire an accountant from an accounting firm. You might end up hiring a CPA who will help you with other services, such as offering financial advice that will benefit your organization.
Decide on the amount of resources you want to use
If spending money is not an issue to you, then hiring a full-time accountant is a viable option. However, if you're a small business and don't have the need or resources to put an accountant on payroll, you should consider outsourcing an accounting firm, which will provide all your accounting services under one roof.
Best Virtual and Outsourced Accounting
Talk to your government and business associations
Government programs, such as the SBA, offer support to small businesses. As a small-business owner, you should take advantage of the large pool of advisors to help you decide on hiring an accountant. What's more, most advice is free. Not only will you be receiving advice from qualified personnel but also save money in the process.
Occasionally, the government organizes trade shows and expos which avails the opportunity to network and learn from like-minded individuals or those who have gone before you. If done well, you may find the accountant that you've been looking for.
Keep an eye out for the accountant's fee structure. Some prefer to be on the company's payroll while others charge different fees for different activities, such as preparing taxes and bookkeeping. Identify how much an accountant charges and compare it to the costs of outsourcing to an accounting firm.
After you've narrowed your search, it's important to interview candidates. Afterall, you'll be putting this person in charge of your finances and they can either set your company up for success or failure. Begin just as you would when interviewing any candidate—research the individual and ask them leading questions to determine whether they have the necessary skills and experience.
Moreover, you should ask them if they know about your business and their responsibilities as pertains to the role. Checking references before the interview can also help you learn their strengths and weaknesses, and what type of experience they have. It's also important to run a background check on your final candidate, considering they will be working with your business's finances.
Here are a few questions you should ask a prospective accountant during an interview:
What's your availability like and what's your notice period?
What's your experience with the IRS?
Will you be doing the work yourself?
Do you prefer to bill per task accomplished or monthly?
Do you consider yourself a conservative or aggressive accountant?
What method of accounting do you use?
How can you help my business grow?
Don't just hire the first accountant you come across. You should create a shortlist of potential candidates to interview. The interview will determine the candidates that will move on to the next round or you may find a suitable fit immediately.
If you have already hired an accountant who doesn't meet your business's needs, don't be afraid to find a replacement. After all, you have a business to run and you need the most accurate financial information to help you make informed decisions.
Compare the year's best accounting software
| | | | | | |
| --- | --- | --- | --- | --- | --- |
| Brand | Starting cost | Free trial | User limit | Accounting app (iOS and Android) | Get started |
| | $0.00/mo.* | 14 days | Unlimited ($2.50/user/mo.) | Yes | See Plans |
| | $1.50/mo.** | 30 days** | Unlimited ($10.00/user/mo.) | Yes | See Plans |
| | Free for life | N/A | Unlimited | No | See Plans |
| | $3.25/mo.‡ | 30 days | Unlimited | Yes | See Plans |
| | $15.00/mo.† | 30 days* | Up to 25 | Yes | See Plans |
Data as of 3/9/23. Offers and availability may vary by location and are subject to change.
*Only available for businesses with an annual revenue beneath $50K USD
**Current offer: 90% off for 3 mos. or 30-day free trial
†Current offer: 50% off for three months or 30-day free trial
‡Current offer: 75% off for 3 mos. Available for new customers only
Hiring an accountant can either contribute to the success of your small business or set you up for failure. An account should execute their tasks diligently to help business owners make better-informed decisions. If you follow these tips, you'll end up hiring an accountant that works best for your business's needs.
What do I look for when hiring an accountant?
There are several factors that you need to consider when hiring an account for your small business. They include:
Your business's needs
Size of the business
Your budget
Accounting software used
How do I know if my accountant is good?
One of the most effective ways to identify their reliability is contacting their references who will paint a picture of whether they performed their duties adequately in their previous roles. If you can't get a hold of the references, you can consider doing a background check.
Do I choose an individual accountant or outsource to an accounting firm?
This depends on the size of the business. If you're just starting and you're on a limited budget, then you can consider outsourcing to an accounting firm. If you have experienced tremendous growth and can afford to have your accountant on payroll, then by all means go for it.
What questions should I ask an accountant?
Some of the questions to ask when hiring an accountant include:
What kinds of clients do you have experience working for?
Do you have experience working with the IRS?
How long have you been an accountant?
What tax software are you familiar with?
How often will you communicate about tax issues?
How do you juggle multiple clients?
Are you available throughout the year and what's your notice period?
What to look for in an accountant?
Experience and certifications are the primary attributes to look out for when hiring an accountant. If they do their work diligently and on time, they will provide the most up-to-date information which helps with decision making.
Would you like to learn more about accounting processes? You can get started with our Ultimate Guide to Small-Business Accounting.
Disclaimer
At Business.org, our research is meant to offer general product and service recommendations. We don't guarantee that our suggestions will work best for each individual or business, so consider your unique needs when choosing products and services.