How Much Do Accountants Cost for Small Businesses?
The cost of accounting services for small businesses depends on the industry, size of the business, location, and other key factors.
While many small-business owners opt to do their own accounting and bookkeeping, there may come a time when you decide to hire out these services. Accountants can help you improve the financial health of your business, create reports that can help you secure funding, and prepare your taxes accurately and efficiently.
So, how much do accountants cost for small businesses?
The answer depends on the size of your business, your industry, and a few other factors. In this article, we'll discuss the average cost of accounting services for small businesses.
What does an accountant do?
An accountant takes a look at a business's bookkeeping data to provide financial insights, such as reports, financial planning, and tax forms. They also help business owners reduce taxes, reach financial goals, and increase cash flow. Above all else, an accountant advises small-business owners on how to optimize and improve their business finances.
Here are some of the most common responsibilities of an accountant for small businesses:
Financial data analysis
Financial statement preparation
Tax planning
Tax return preparation
Business forecasting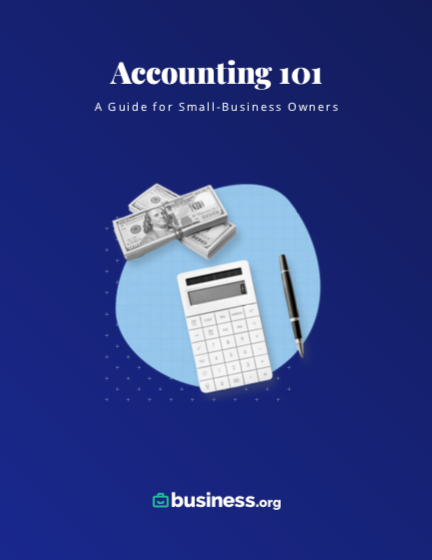 Get business accounting right the first time
Learn all about business accounting with our free ultimate guide.
Does your small business need an accountant?
It may be time to hire an accountant if you are seeking funding, in need of help preparing taxes, or in need of financial advice as you start or scale your small business.
Accountants can ensure your financial reports are accurate and optimized, so you can minimize taxes, increase cash flow, and grow your business. It's especially helpful to have an accountant to help you prepare tax returns or any other type of government form.
How much do accountants charge?
Accountants and certified public accountants (CPAs) charge different amounts based on their years of experience, location, and the industry they're serving. So, if you're a small-business owner in need of non-specialized accounting services, you can expect to pay an accountant anywhere from $150 to $450 per hour on average.
According to a recent report from Score.org, most small businesses end up spending $1,000 to $5,000 annually on accounting fees and services.¹
What is the difference between accounting and bookkeeping?
Accounting and bookkeeping go hand in hand, but they are two distinct roles. What's the difference?
A bookkeeper records business transactions and day-to-day operations. Their job is to manage bills, payroll, invoicing, and transactions with suppliers. Most bookkeepers monitor cash flow, create budgets, and manage accounts payables and receivables.
Accountants take the information compiled by a bookkeeper to provide greater financial insights. Their role is more strategic, with a goal of optimizing the business's overall efficiency.
How much does accounting software cost?
If you're not quite ready to hire an accountant but don't want to tackle finances completely on your own, small-business accounting software can be a great alternative.
Most small-business accounting software costs $0 to $150 per month, with basic plans starting at $0 to $40 per month. These plans allow small-business owners to easily track income and expenses, create and send invoices, and put together financial statements and reports.
The more expensive plans come with additional features including inventory tracking, customized financial reporting, payroll, and others.
Some of the best small-business accounting software options include QuickBooks, Xero, and FreshBooks.
Best Small Business Accounting Software
Accountants for small businesses FAQ
How much does accounting cost for a small business?
The cost of accounting for a small business varies widely depending on the industry and size of the business. However, more than 50% of small business owners surveyed pay at least $5,000 in accountant fees annually.
What is a reasonable price for an accountant?
About half of small-business owners pay at least $5,000 annually for accounting fees, so you can use this as a reasonable benchmark price. Keep in mind, though, that if you run a smaller business, your rate will probably be lower. Alternatively, if you run a larger business, rates could be higher.
What do accountants do for small businesses?
Accountants help small businesses improve their financial efficiency, cash flow, tax processes, and more. Here are some of the standard tasks for a small business accountant:
Financial data analysis
Financial statement preparation
Tax planning
Tax return preparation
Business forecasting
How much do accountants charge per hour?
The average accountant charges $150 to $450 per hour, depending on factors like their years of experience, the type of work, the size of the business, and the location. Some accountants may charge a flat fee along with additional, variable rates.
Are accountants expensive?
To a small-business owner, an accountant may seem like a costly expense. However, since accountants help increase financial efficiency and performance, the upfront cost is usually balanced by improved cash flow and overall financial health.
The cost of hiring an accountant for your small business depends on factors like location, industry, and the size of your business. Most accountants charge between $150 and $450 per hour—but you can enjoy some of the same benefits by opting for a more affordable accounting software, which typically costs up to $150 per month.
Would you like to learn more about accounting for small businesses? Check out Business.org for Accounting 101: A Guide for Small-Business Owners.
Disclaimer
At Business.org, our research is meant to offer general product and service recommendations. We don't guarantee that our suggestions will work best for each individual or business, so consider your unique needs when choosing products and services.