The 49 Best Home Business Ideas
If you've always dreamed about starting a business but don't know what to pick, this one is for you.
Choosing your business can start with something as simple as picking an activity you enjoy and figuring out how to monetize it.
However, if you don't already have a passion you want to profit from — or you'd rather keep your hobbies and work separate — you can still start a successful home-based business on your own as a sole proprietor, or one-person business.
A sole proprietorship doesn't need to register with the state (unlike corporations, partnerships and LLCs). However, you still must comply with registration, license, tax and permit laws.
Local social media groups like Nextdoor can be a source of ideas. There you'll find everyday services that are in demand, although it may not be the most glamorous work.
Mundane chores make for good business because they're tasks that many people are willing to pay someone else to do, whether it's mowing lawns as a groundskeeper or setting up bounce houses as a kids' party planner.
We've come up with a list of the best business ideas that have relatively low barriers to entry and startup costs but offer real income potential.
Ready to start your journey toward self-employment in the comfort of your own home? Let's get to work.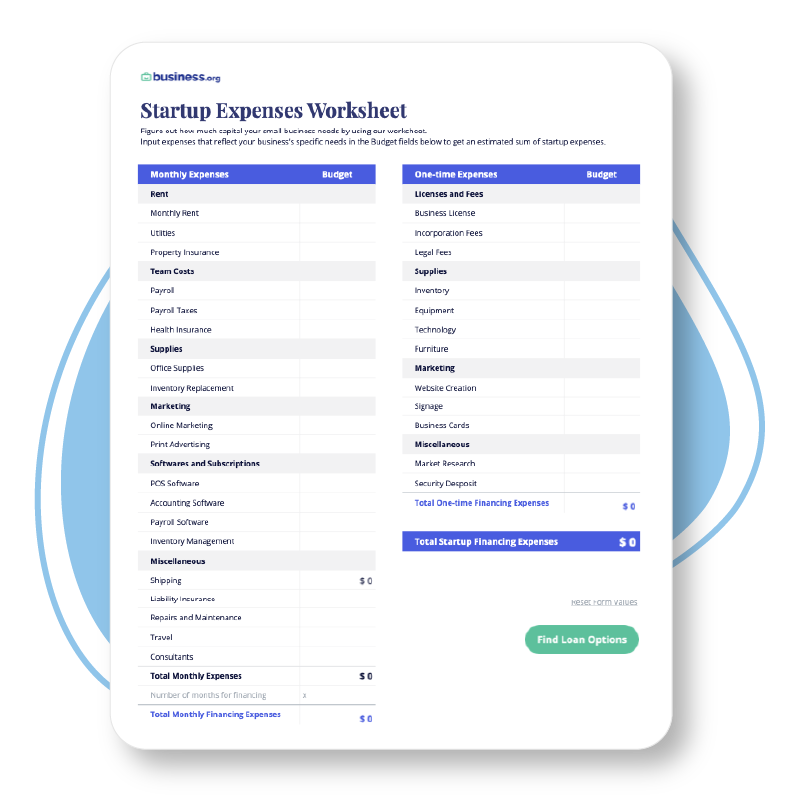 Do you know how much it'll cost to start your business?
Try our free startup costs worksheet to calculate expenses and estimate how much capital you need to launch.
Work at Home ... and Beyond
Sure, you enjoy working from home, but sometimes you miss human interaction. No worries — there are plenty of home-based business ideas that let you run your business from your couch but also allow you to escape the confines of home.
Do you love showing off your city? Make it your business by becoming a local tour guide.
And you don't have to limit yourself to museums and monuments — although that's an option, too.
One man told The Penny Hoarder he makes $10,000 a year with his side gig leading craft coffee tours around St. Petersburg, Florida, while another earns income leading bike tours to check out the many murals around the city. 
If you already have a passion for arts, food or other amenities that make your town special, you can start by offering free tours to friends, then expand your reach by promoting your tours on social media and through your local tourism office.
Cleaning other people's places may not be everyone's dream job, but that's what increases its potential as a profitable business.
Housekeeping is one option, but if you're willing to get your hands a little (or a lot) dirty, your services can be invaluable to clients who want you to clean out decades of accumulated trash in their basements, attics and barns.
This man turned a junk removal gig into a full-time job, making up to $30,000 a month hauling away trash.
21. Professional Organizer
Channel Marie Kondo or Clea and Joanna of The Home Edit and start a home-based business as a professional organizer.
This profession differs from a typical house cleaner. It involves organizing people's belongings into beautiful systems that discourage clutter. This job requires an eye for detail, good judgment, discretion when dealing with clients' personal things and, of course, stellar organization skills.
Being that you're doing work that many people avoid, you can pocket some sweet income with this home business idea.
This woman earned $150 an hour to declutter people's lives as a professional organizer.
Your dinner parties are always a hit, and people form a line for your bake sale contributions.
Bank on your culinary prowess with a personal chef or catering business.
You don't need a culinary degree to start plating, but a few referrals could help fire up your business.
Offer to cook for the school fundraiser or church picnic, and be sure to display your business cards at the serving stations.
Posting professional-looking photos of your mouth-watering dishes on your website is another way to attract customers. A personal chef who charges up to $65 per plate hosting dinner parties shared more tips.
Use your photography skills to take a shot at starting a business.
Besides taking photos of babies, parties and weddings, people make money with photography businesses by selling their work to stock photo sites like Shutterstock or iStock.
This guide to making money selling photos lays out several sites you can work with.
As a real estate agent, you'll spend a good amount of time away from your home meeting with clients, touring properties and hosting open houses. But you'll also spend time in your home office compiling comparable properties, pouring over listings, researching the market and drawing up contracts.
To become a real estate agent, you'll need to complete coursework and pass an exam to earn your real estate license. You'll also need to find a brokerage to work with.
As a real estate agent, you earn a percentage of the sales you see through. The median pay for real estate agents in 2021 was just under $49,000.
Read this guide to how to become a real estate agent.
Live out your HGTV dream.
Homeowners hoping to get the highest price need to make their humble abode look its best. And that's where you, the home stager, come in to rearrange the furniture, hide the million toys in a storage unit and replace all those framed cat photos with tasteful art.
Think you have what it takes?
One woman who started her home staging business with a $3,000 investment built her client base by doing the following:
Using Google Adwords for online advertising.
Asking for word-of-mouth referrals.
Creating a social media presence.
Networking with local homebuilders and Realtors.
Love kids? Love having kids running around your home?
If your home is prepared for the rough-and-tumble world of children, babysitting in your home is a good way to get around the whole "nanny tax" thing (that's where the parents have to pay you as a domestic employee because you're working in their home).
Each state has its own regulations about what age and how many kids you can watch at one time before becoming a daycare, so check out your state's rules before you start. Learning a few basics — like CPR and first aid — can also help you demand a higher rate.
How much you can make varies based on how many kids you watch and your location, among other factors. The Care.com calculator suggests the rate for babysitting in New York City is $19.25 per hour.
Let's start with the assumption that you aren't a rock star musician prepared to tour the world.
That doesn't mean you can't be in the music business. In fact, we have 13 ways to make money off your music here.
Turn your love of fitness into cash by becoming a personal trainer working from your own home studio or traveling to clients' houses. Increase your credibility (and pay) by getting certified by a nationally accredited organization like the American Council on Exercise (ACE) or National Academy of Sports Medicine (NASM).
Expect the business of personal training to be more of a marathon than a sprint. Accreditation training can take weeks and cost hundreds of dollars, along with liability insurance, and you'll have to maintain your certification with continuing education.
The BLS says the 2021 median pay for fitness trainers and instructors was $19.57 per hour, but pay can vary widely depending on your location and specialization — IDEA Health and Fitness Association notes the average rate for personal trainers in New York City is $32 an hour.
A yoga instructor is another fitness-related, home-based business idea. Getting trained as a Certified Yoga Teacher (CYT) can help you establish yourself as a professional qualified to lead others in their yoga practice.
Working as a yoga instructor allows you to have flexibility (pun intended) about where you work. You can take your home-based business online by recording videos or doing virtual classes. You could also lead yoga instruction at a community center, a park or your client's home.
Work with your hands … and arms … and elbows ... as you massage clients' muscles.
Starting a massage therapy business requires more than one of those cool tables and a towel — although you should definitely expect to do a lot of laundry (all the sheets, you know).
Before flexing those fingers, you'll need schooling and licensure — check here for your state's massage therapy licensing requirements.
According to the latest numbers from the BLS, employment in massage therapy is projected to grow 20% from 2021 to 2031, with a median pay rate of $22.55 per hour in 2021.
There are many occasions that call for a person needing a document notarized — from buying a house or signing a will to filling out school forms or entering into a business contract.
A notary public is the individual who witnesses the signing of legal documents and ensures that the people signing the documents are who they say they are.
Depending on the state you live in, you may have to take a course and pass an exam in order to become a notary public. In many cases, you're required to purchase a surety bond. You'll also need to purchase a notary seal or stamp.
Your pay may be regulated by the state, but you can make decent earnings as a notary public.
One notary in Florida told The Penny Hoarder he earns between $75 and $200 per signing.
If you have a knack for fixing things around the house, a good home business idea for you might be to become a handyperson.
There's a lot of variety in this line of work. You might spend one day fixing a leaky pipe and another day patching a hole in someone's drywall.
Being that you can set your own hours, you might be able to charge a premium for working nights and weekends when other companies are closed.
Home Business Ideas for Selling Stuff
No, these aren't the dreaded cold-calling telephone sales jobs — instead you're selling your own stuff or other people's stuff through your own local or online business or a third-party site.
Considering it seems like you can buy nearly anything on Amazon, it makes sense that you should be able to sell almost anything on Amazon, right?  Here are three great options to create and run your own online store on Amazon:
Private-label products: Generic products you sell online with your own packaging and logo.
Retail arbitrage: Items you purchased elsewhere — like clearance items or Craigslist freebies — that you sell on Amazon for a higher price.
Fulfillment by Amazon: Items you purchase for resale are shipped directly to Amazon, which stores the inventory in its warehouse.
Use your eye for fashion to resell thrift store finds at a profit as an eBay seller.
To get started, check out eBay's listings for similar items to determine the demand for your product and a pricing strategy. How you price your item affects how it shows up in a search — the lower the price, the more eyes, but setting a higher minimum guarantees a greater return on investment if the item sells.
Good reviews are essential for any online seller. Invest in thank-you cards to include with each order to remind your customers to add their feedback to your site.
Attract more buyers (and higher prices) by using good lighting and a professional presentation in photos of your product.
This woman regularly earned $500 to $800 a month selling on eBay for 10 to 15 hours of work per week.
Crafting a business from your love of, well, crafting, doesn't mean you need to drag your wares to a table at the farmer's market every Saturday. Setting up shop with the online marketplace Etsy allows you to sell handmade products like custom jewelry, refinished furniture and custom gift baskets without leaving your home.
As experienced sellers will tell you, a big part of being able to sell online via Etsy is re-creating the experience for a buyer who is used to handling handmade products in person when deciding to make a purchase.
Instead of discovering your handmade jewelry or macrame plant holders through a tactile experience, buyers are looking at your photos and descriptions of your handmade products on your Etsy store to decide whether to buy. High-quality photos and in-depth descriptions are essential for attracting customers, as is sharing your personal story.
36. Print-On-Demand Business
If you have a pulse on what's trendy, you could develop your own line of graphic T-shirts with a print-on-demand business.
To gain success with this home business idea, it helps to have graphic design skills. However, you could always contract out the design work.
With a print-on-demand business, you don't have to worry about managing inventory, shipping, returns or customer service. You run your own online store and the rest is handled by the third-party company you work with. Some popular options are Merch by Amazon, Printify and Spreadshirt.
It's also important to note that your print-on-demand business doesn't have to revolve around selling T-shirts. You could choose to sell products like tote bags, coffee mugs or wall art — customized with your own design or text.
You could also turn your art into cash by using one of these print-on-demand sites.
Here's how one man built a successful business printing T-shirts, earning a few hundred dollars a month.
37. Start a Dropshipping Business
A dropshipping business is a type of e-commerce business where you sell products featured on your online store, but you rely on a third-party business to fulfill the order and ship it to the customer. You pocket a percentage of the sale by getting the products at wholesale prices from your supplier.
You can choose from a variety of products for your dropshipping business. Your dropshipping business could be an online store selling clothing. Or perhaps you want to focus on selling home decor. 
Your dropshipping business could play a part in a larger home business operation, like this woman who started a dropshipping business in conjunction with her existing ecommerce business.
38. Vending Machine Owner
Being a vending machine owner gives you the ability to sell products without renting commercial real estate or needing to meet with customers in person. You just have to find the right location for your vending machine and get permission from the local business owners there.
You can sell anything from soda and candy to toys and tech accessories. Startup costs can be around $2,000 but this home business idea is one that can generate passive income with little work required.
This guide to making money with a vending machine can help you launch this home business idea.
39. Subscription Box Business
Another home-based business idea where you'd sell products is a subscription box business — an industry that was valued at $22.7 billion in 2021. 
Subscription box businesses can span many different industries. You could sell clothes, makeup, food, books, pet toys and more.
Depending on what type of products you choose to sell with your online business, you may need a significant amount of capital (and storage space) to start this home business. However, you have the potential to gain customers and sales on a repeat basis with a subscription box business.
You can get some additional subscription box advice about what consumers consider good offers and which ones they might steer away from.
Sew you want to start a business (sorry, couldn't help ourselves).
Turning your threads into a profitable business can start with adjusting hems and making alterations for family and friends, but there are plenty of other ways to use your needle and thread to follow your passion.
Here's how one woman found enough work to make a side gig by sewing cosplay costumes.
If your friends and family members can't stop raving about your chocolate chip cookies or apple pie, perhaps baking is a great business idea for you.
You could create desserts for birthday parties, weddings, business events and more as a sweet source of income. If your treats are easy to ship, you can set up an online store and sell online in addition to fulfilling local orders. We've got a complete guide on how to set up your home-baking business.
This woman turned her hobby of baking into a full-fledged business.
Furniture flipping involves turning old, neglected furniture into highly desirable pieces that can be resold at a profit. It's amazing what a little paint and upholstery can do.
Successful online furniture flippers say to follow tips such as:
Painting furniture in neutral colors
Keeping rehab efforts to a minimum
Instead, make small changes like adding drawer liners in dressers or putting on interesting hardware.
This schoolteacher earned about $2,500 to $3,000 a month upcycling and reselling furniture.
If you ever dreamed of owning a bed and breakfast, but never quite got your hands on that country estate, you can still channel your inner hostess by transforming a guest room (or your home) into Airbnb accommodations.
Instead of selling physical merchandise, you'll be selling your space, but you'll still need those same marketing skills to make your Airbnb attractive to potential guests. Think: inviting photos and a well-organized space that will garner great reviews from previous guests.
Here are nine more tips from an Airbnb superhost.
(Hosting laws vary from city to city. Please understand the rules and regulations applicable to your city and listing.)
Home-Based Businesses That Let You Work Outdoors
There's no need to limit your home business to the confines of your house. Here are some home business ideas that'll let you spend time outdoors enjoying some fresh air.
Prefer your clients to be the four-legged variety? You could start a pet-sitting business and cuddle with cats and dogs while their owners are gone all day.
There are more business ideas that can branch off of a pet-sitting business, like starting a dog-walking business. Connect with fur babies and their parents through apps like Rover or Wag to build up a client base. There, you can add your profile and let owners see your experience.
This woman made just under $10,000 in 2018 between her part-time dog-walking gig and pet-sitting business.
Got a backyard with some room to breed?
If a full-size farm is a bit beyond your reach, you could go the (much) smaller animal route and install a beehive. Turn it into a successful business by selling honey at the local farmer's market.
Yes, there are setup costs and licensing required after you buy the bees to factor in. But considering the high price local honey can demand, one beekeeper nearly broke even his first season raising bees by selling the sweet stuff.
If you have more space, take notes from this couple who started raising four chickens in the backyard of their home and went on to raise 900 chickens and 400 Grimaud Pekin ducks on their six-acre farm.
Regulations vary for raising livestock, which is considered any domesticated animal that's raised to produce labor and/or commodities. Visit your state's Department of Agriculture website for details.
Maybe you're more of a fair-weather businessperson.
Seasonal businesses offer you the chance to operate when you prefer to be outdoors — think shoveling snow during the winter or hauling beach gear during the summer.
And if the holiday season offers more free time for a business venture, think festive lights.
Light installers make the majority of their money hanging those twinkling lights during the holiday season.
Read about a Christmas decorator who made $138,000.
You've probably heard of business consultants, who bring their decades of knowledge to advise a company on whatever their issue is. You might not be a CEO, but if you've had years of growing gardens, you could turn your planting know-how into a garden consulting business.
Although people may dream of growing their food, most backyard gardens end up a little on the sad side, if alive at all. Your knowledge of soil acidity, fertilizer composition and sunlight needs — plus a willingness to dig around in the dirt — could pay off as a garden consultant.
One woman's green thumb paid off — she made $1,200 in one year by growing seedlings and selling them out of the garage.
If you enjoy being out in your yard and are already skilled at maintaining your own lawn, a landscaping business might be a good home business idea to pursue.
Depending on where you live, your business may be at the mercy of the changing seasons, but this business is one where you can easily snag repeat customers year after year.
Local social media groups — like NextDoor or a neighborhood group on Facebook — could be a good way to drum up business. Providing great results is also an excellent way to attract new customers and prompt existing customers to refer you to their friends.
Cleaning a car inside and out is a chore many people would pay someone else to do. It's also among the home business ideas you can start with little experience, no education requirements and low startup costs.
You can choose to have clients come to your home to get their cars detailed or charge a premium as a mobile car detailer who'll meet busy clients where they are.
In addition to this being a good home business idea for those who enjoy the outdoors, this line of work is fitted for people who are detail oriented and enjoy physical labor. You can get a nice workout by cleaning cars all day!
Next Steps After Choosing a Great Home-Based Business Idea
Consider these home business ideas a jumping off point or the spark for a related idea that isn't on this list.
Just know that starting a business requires more than just a good idea, so you'll first want to check out our step-by-step guide to starting a business.
You'll need to research the marketplace, create a business plan, gather funding, consider how to legally structure your business, come up with a memorable name and potentially register with the state.
The business world might be tough, but isn't it easier weathering the ups and downs in the comfort of your own home?
Frequently Asked Questions (FAQs) About the Best Home Business Ideas
If you're still figuring out which of these best home business ideas would be right for you, the answers to these frequently asked questions may help provide clarity.
What Are the Most Successful Home Businesses?
You can find success with any of the home-based business ideas featured on this list, provided you target an audience who could benefit from your product or service and you put in the work to consistently deliver.
That being said, there are some home-based businesses that seem to be more profitable than others. Web developers, graphic designers, tax preparers, bookkeepers and real estate agents can develop a lucrative business from home and end up earning more than the median wage for U.S. workers.
What Is a Good Home Business Idea?
A good home business idea is one that you have the skills to do and that there is a demand for. If you're looking for home business ideas where you can be flexible with your hours, consider business ideas like working as a graphic designer, a voiceover artist, a home baker, a furniture flipper or an Amazon seller.
Great home business ideas you can start if you're good at making sales include running an online store on Amazon, operating an online store on eBay, having a vending machine business or starting a subscription box company.
If you enjoy spending time outdoors, some home-based business ideas you should consider are working as a garden consultant, starting a landscaping business or detailing cars.
What Is the Easiest Business to Start?
The easiest home-based business ideas to develop are those with low barriers to entry and minor startup costs. It will be easier to start a home business using skills you already have.
If you have to take courses and earn a certification before you can launch your own business, that may not be the easiest path to pursue.
Having low startup costs is a big factor in deciding whether your home business ideas will be easy to follow through with. However, what you consider to be low costs for your home-based business is subjective. Ideally, you'll want to be able to get your business up and running without depending on a loan or blowing through all your savings.
How Much Does It Cost to Start a Home Business?
Some home business ideas you can start for less than $100 include freelance writing, working as a virtual assistant, tutoring, starting a YouTube channel, being a professional organizer, starting a dropshipping business, starting a print-on-demand business, working as a pet sitter or detailing cars.
Before you start a business, make sure you have a solid emergency fund aside from the savings you plan to use for business expenses.
Tiffany Wendeln Connors is a writer/editor at The Penny Hoarder. Nicole Dow is a senior writer at The Penny Hoarder. Catherine Hiles contributed to this report.