9 Ways to Say Thank You for Supporting My Small Business
From customer appreciation days to bonus items, explore different ways to thank loyal clients for supporting your small business.
Loyal customers are the lifeblood of small business owners. 
Saying "thank you" is a small — but effective — way to keep those loyal customers coming back. 
You can show your gratitude in many ways. Sure, a handwritten thank-you note is a great personalized touch. But a savvy small business owner knows that showing your appreciation in multiple ways  — such as offering discount codes or hosting customer appreciation days — helps keep customers engaged with your brand.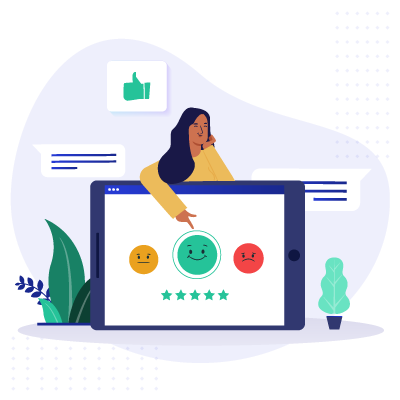 Expert Advice, Straight to Your Inbox
Gain confidence in your business future with our weekly simple solutions newsletter.
9 ways to say thank you for supporting my small business
Here are nine ways to tell new and returning customers thank you for supporting your small business.
Adding free shipping to your loyalty program or as a special bonus for your best customers can help increase sales.
You can also ask your customers to refer new customers, then reward them with free shipping as a thank you.
Don't go overboard with free shipping offers if your profit margins suffer. Free shipping usually works best when you're taking orders on products priced high enough to cover the average shipping cost.
You might want to add some restrictions, like "free shipping on your next purchase of $25 or more." You can also limit free shipping to U.S. customers only. (International shipping gets pricey).
If you're using an e-commerce website builder, like Wix Ecommerce, you can set up shipping rules for your store.
Here our our top picks for e-commerce website builders
A handwritten note or card thanking a customer can go a long way. This old-school approach helps build strong relationships — which is essential to build brand loyalty. 
By thanking them, you're acknowledging that they're more than just a number to you — they're an important part of your business' success. This builds customer loyalty. Valued customers who feel appreciated are more likely to come back and recommend your business to others.
If you don't have good handwriting, print out a letter instead. Just make sure the note is personalized and heartfelt. 
Not sure what to write in your thank you letter or card? Check out 15 thank you messages at the end of this article.
Providing special discounts or promotions is a great  way to say thank you — and build customer loyalty at the same time.
Has someone placed an order more than twice in the last year? Send them an email with a personalized discount code for their next order. 
"You can do this with whatever mailing integration you use, and it's a great incentive to buy again," said David Rubie-Todd, CEO of Sticker It, an online custom sticker and label printing business. 
You can build and manage discount codes directly in the platform with an e-commerce website builder, like Shopify.
4. Customer loyalty rewards program
Customer loyalty programs take a little work to establish. But when done right, they can help keep returning customers engaged and coming back for more. 
You can get creative with the perks of your loyalty program. You could offer free shipping for repeat customers or a free service after X number of purchases. 
Keep these two things in mind when creating a loyalty program:
Offer rewards big enough to entice customers — without sacrificing your profits. 
Make the program simple and easy for customers to earn, manage and use their rewards or points. 
To create a customer rewards program, look to your point-of-sale software. Some programs, like Square, allow you to set up and run loyalty programs.
Creating a loyalty program can be tricky. Handing out gift cards to specific customers is another option. 
Chabaso Bakery is a two-store, family-owned company in New Haven, Connecticut. The bakery found success in offering gift cards, usually $25 to $50, to returning customers who rank in the top 5% of spenders in the past year. 
"There's no set timing to when we provide these," said Reed Immer, director of sales and marketing at Chabaso Bakery. "Instead, we frame the gift cards as random acts of graciousness for them supporting our business."
Immer said the bakery launched the program after an internal analysis found that a major portion of the business' overall sales come from just the top 5% of customers.
"It's definitely in our benefit to keep these valuable customers feeling good about us," Immer told Business.org. 
You could also provide gift cards to valued customers who leave feedback or take a survey. 
Jocelyn Newman is the founder of First Peak, a small business that creates adventure clothes for babies and toddlers. 
She engages loyal customers through a customer interview program. Newman hops on 30-minute calls with select customers to hear their feedback and learn what new products they want to see. 
Newman offers a gift card to customers in exchange for their time. 
"This provides me with high quality, pointed feedback, and gives them an opportunity to form a more personal connection with my brand," Neuman said. "Then they can enjoy the gift card to shop more and try new products."
6. Social media posts and giveaways
If you're like most small businesses, social media is your most targeted marketing tool. 
Harness the power of your Instagram, TikTok and Facebook to post regular customer appreciation messages and thank yous
This can take the form of: 
Valued customer spotlight: Share a post of a unique story where your product or service made a difference in someone's life. 
Freebies or giveaways: Run promotions or giveaways to valued customers who complete a task (refer a friend, leave a review, fill out a survey) by a certain date. 
Customer appreciation days: Pick a couple days throughout the year to show your loyal customers some extra love. Post links to discounted items in your online store or do a store-wide sale to drive traffic. 
Everyone loves free surprises. Including a small gift or voucher for a free service is an easy way to thank your customers. 
Leena Chitnis is a small business owner in the San Francisco area. Her company, Timberdog, produces environmentally friendly portable pet beds. 
"I put in two free gifts into every RuffRest pet bed purchase," Chitnis said. "It adds a nice element of surprise."  
Chitnis wants to eventually offer free shipping on her products, but in the meantime, she said fun bonus gifts are an effective way to show customers how much she appreciates their business. 
Get creative with your bonus items and freebies. Thoughtful gifts are a lot more likely to pull on your customer's heartstrings (and wallets) than a generic bottle opener with your logo on it. 
Chitnis includes a microfiber towel as one of her free gifts so her customers can wipe down their pet's muddy paws after a long day of hiking or exploring. It's a nice touch that also helps her customers keep their new dog bed clean. 
"Customers have loved the free items," Chitnis said. "Especially since they weren't expecting it and also because they've paid a premium for my product."
At the same time, make sure free gifts support your business goals. Balance the reward with how much time, effort and resources it takes to provide the freebies.
Whether it's a simple Christmas card or a lavish gift basket, nothing tells customers how much you appreciate them than a little something around the holidays. 
Get creative. You can order a set of small wireless speakers or bake some homemade cookies packaged in a decorative bag. Pick gifts that fit your budget and align with your customers' tastes and interests. 
Trying to save money on shipping? Opt for a holiday card with a personal message. Then pair it with a discount card, Visa gift card or some other perk. 
You can keep your holiday gift small, but you might want to consider sending a larger token of your appreciation to your top clients. It's a reminder of how much you value their patronage — especially heading into the new year. 
9. Provide exclusive access
Offer loyal customers exclusive access to new products, services or events before anyone else.
You might consider hosting online events, like open houses, intimate classes or VIP events to show your appreciation. Make it fun with games, giveaways and other perks. 
You could also offer interaction with key decision makers within your small business, exclusive content and information, and members-only trunk shows or reveals.
Meri Geraldine owns Gardens of the Sun, an online ethical jewelry company. She's set up an invitation-only system for existing customers, where people are invited to a private Facebook group after their first purchase and a secret Instagram account after a minimum spend. 
"For these clients, we also host secret sales of mostly one-of-a-kind jewelry that doesn't normally make it to our website," Geraldine said. 
Exclusive access makes the client feel appreciated and special, which can go a long way in building business loyalty.
Why it's important to say thank you
Recruiting and attracting new customers can drain small businesses of vital resources, i.e. your time and money. 
It can cost between five to 25 times more to acquire a new customer than to retain an existing one, according to the Harvard Business Review. 
Keeping your current customers happy with a simple thank you or other token of appreciation is a smart way to bolster recurring revenue.
Plus, long-term and returning customers are the most likely to refer friends, provide testimonials and act as brand ambassadors. 
"Customers that have bought from you often lead to a much more rewarding outcome," said Rubie-Todd of Sticker It. "They've already bought from you, which makes it much easier to convince them to buy again without having to spend any money on acquiring them."
Customer retention is often easier, faster and more cost-effective than starting fresh with a prospect. So setting aside a little money in your budget to prioritize customer gifts or promotions can prove profitable for your bottom line.
How to write a thank you message to customers
Getting the words right is important when thanking customers. Whether it's in a handwritten note, a special email or a social media post, you want your message to come across as genuine and heartfelt. 
Here are a few tips to keep in mind when writing the perfect thank you message. 
Keep it short: Shoot for two to three sentences max. 
Consider adding a call to action: Come back soon, leave a review, follow us on social media or sign up for our newsletter are just a few CTAs you can add while you still have your customer's attention. 
Personalize it: Use the customer's name and details about the product or service they ordered, if possible.
Be authentic: Speak in your brand voice. Keep it conversational.
Add a visual element: Adding a simple graphic can help your message stand out and make it more memorable.
Follow-up with details: If your thank you message is part of an order confirmation email, make sure to include shipping information and details about any next steps.
15 messages to say thank you for supporting my small business
Need some more inspiration? Here are a few messages you can use to thank customers for supporting your small business. 
Thanks so much for your recent purchase! We appreciate you and hope you enjoy your new items. Here's a __% discount on your next purchase. It's our way of saying thanks. 

You're the reason we love doing what we do. Every day, we wake up excited to make your day a little brighter. Thank you for being a part of our story and for letting us be a part of yours!

Thank you for shopping with us during this busy season. We know you have a lot of choices and we really appreciate that you chose us. 

[Customer name], thank you for your loyal support. Please enjoy this gift as a token of our appreciation. 

Thank you for being a valued customer. We sincerely appreciate your continued business and hope you come back soon!

You're the reason we do what we do. Thank you for being a loyal customer.

Thank you for your purchase! We hope you love your item as much as we loved making it! If you do, leave us a review so other people can learn more about our growing small business. 

Thank you for your first purchase! You just made our business grow and for that, we are truly grateful. 

Mahalo. Gracias. Merci. Grazie. Obrigado. Xiéxié. In other words, thank you for your purchase! You ROCK.

Your support means the world to us. Thank you for choosing our small business time and time again.

Your loyalty is what keeps our small business thriving. Thank you for your ongoing support.

Thank you for being a part of our journey! Your trust and support mean the world to us, and we're so grateful to have you as a customer. We couldn't have made it this far without you!

We're so grateful for your business and your kind words. Your feedback means a lot to us. Thank you for making our day!

Our business wouldn't be the same without you. Thank you for being a part of our community! 

 Thank you for being a loyal customer! Your satisfaction is our top priority. If there's anything we can do to make your experience better, please let us know.
Rachel Christian is a Certified Educator in Personal Finance and a senior writer at The Penny Hoarder. She focuses on retirement, investing, taxes and life insurance.
Disclaimer
At Business.org, our research is meant to offer general product and service recommendations. We don't guarantee that our suggestions will work best for each individual or business, so consider your unique needs when choosing products and services.