The Best Office Shredders to Keep Your Small Business Safe and Secure
In 2014, about 7% of Americans over the age of 16 were victims of identity theft.1 Protect the secure information of your small business, employees, and clients with the right office shredder.
While more and more work documents are going digital, paper still floods nearly every business—and some of those sheets could contain valuable information. A shredder provides peace of mind for your small business and protects your company from legal repercussions.
Most likely, the best office shredder for your small business will fit your company's needs without breaking the budget. These five highly rated shredders each satisfy distinct demands in the workplace. For more detailed information on each of our picks, keep reading!
2018's best office shredders
:

Best overall

:

Best heavy-duty shredder

:

Least likely to jam

:

Best portable shredder

:

Best high-security shredder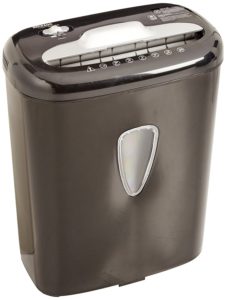 2018 best shredders for your office
| | | | | | |
| --- | --- | --- | --- | --- | --- |
| Shredder | Price | Type of cut | Sheet capacity | Security level | More info |
| | $35 | Cross-cut | 8 | P3 | Buy Now |
| | $152 | Cross-cut | 18 | P3 | Buy Now |
| | $210 | Cross-cut | 18 | P4 | Buy Now |
| | $26 | Cross-cut | 4 | P3 | Buy Now |
| | $43 | Micro-cut | 6 | P4 | Buy Now |
AmazonBasics 8-Sheet Cross-Cut: Best overall shredder
8-sheet capacity for light shredding needs
Low cost for a cross-cut printer
Compact size for under-the-desk storage
Simple lifting lid for emptying the bin
Short 3-minute continuous run time
Long 30-minute cooldown
Louder operation than some of the other shredders on our list
Why is it our choice for best overall shredder?
For our best overall shredder, we had to consider key specifications, customer reviews, helpful features, and prices. This AmazonBasics shredder covers all the needed features for the typical small business at a price point that won't shut businesses out. It's a cross-cut shredder, which provides a big step up in security when compared to a traditional strip-cut shredder.
This AmazonBasics shredder covers all the needed features for the typical small business at a price point that won't shut businesses out.
Do you need a shredder that offers your business more than a standard home shredder but don't want to waste any money on features you won't need? Most small businesses will find this device has everything they're searching for. Additionally, any entrepreneur hoping to tuck a shredder underneath their home office desk will appreciate this shredder's compact, simple, and sleek design.
But because of the short run time and long cooldown period, businesses that shred large piles of documents might want to dish out a little extra cash for a heavier-duty shredder.
For a popular and well-rounded shredder that fits any office space (and any office budget), we suggest the AmazonBasics 8-Sheet Cross-Cut.
Bonsaii EverShred C149-C: Best heavy-duty shredder
18-sheet feed capacity that can handle credit cards, CDs, and DVDs
Hour-long maximum run time
10-minute cooldown period
Low noise level for a heavy-duty machine
Smaller bin that requires frequent emptying
Smaller paper feed entry requiring precise paper placement
Why is it our choice for best heavy-duty shredder?
This machine quite simply has some of the best specs at a reasonable price of just over $150. You can load a sizeable number of documents at a time thanks to its 18-sheet max capacity. (Although, according to some reports, you might want to aim for a bit under the max).
Often slowed down by frequent shredding? This shredder's one-hour run time will help. When you have boxes or cabinets full of shred-worthy documents, a longer shredder run time will keep you shredding with few breaks. And the Bonsaii EverShred C149-C's higher sheet capacity will make it simple to do sizable loads all at once. Smaller businesses that shred only one paper every half hour might want to consider a cheaper or more compact option.
If documents slated for shredding are always piling up, a heavy-duty shredder like the Bonsaii EverShred C149-C will gobble them up quickly and tirelessly.
Fellowes Powershred 99Ci: Best maintenance-free shredder
Jam-proof system
30-minute run time for longer jobs
Large 9-gallon bin with a convenient indicator light
Cuts just above the P4 security level
Highest price point on our list
Consumer complaints about shredded paper falling out of the bin during disposal
Why is it our choice for best maintenance-free shredder?
This shredder's key selling point is its 100% jam-proof system, which consists of three tiers of jam protection. First, there's an easy-to-see indicator light that tells the user right away if the width of the inserted documents will cause a jam. Second, if paper is inserted at an angle, the machine will automatically reverse the feed and straighten out the paper. And third, the motor pauses immediately when too many documents are inserted at once, starting right back up once part of the load is removed.
This shredder is a great all-around option for any business that can spend a bit more for expanded capability. Any small business with multiple employees shredding documents could benefit from the user-friendly features that protect both the user and the machine from harm.
And if your office can't rely on one "machine whisperer" to keep all the equipment running smoothly, this shredder's jam protection will save time and frustration. But if your company sporadically uses the shredder for only a single sheet of paper here and there, this shredder may be more than you need.
We suggest the Fellowes Powershred 99Ci for businesses that shred multiple documents at once and want to spend less time fixing jams and emptying bins.
Fun fact
The inspiration for Shredder, the archenemy of the Teenage Mutant Ninja Turtles, came from the concept of a warrior wearing rectangular cheese graters on their arms.
Aurora AS420C: Best portable shredder
Compact size
Convenient carrying handle
Lowest price on our list at just above $25
Shredding capability for credit cards, staples, and paper clips
Small sheet capacity
Short run time
Small basket size
Why is it our choice for best portable shredder?
If your business takes you everywhere, you probably want a shredder that's not only compact but also built for portability.
Not every travel-heavy job requires a shredder, but ones that do will benefit from a lightweight, affordable option like the Aurora AS420C.
Instead of holding onto all secure documentation until you can get to the office shredder, you can dispose of sensitive papers anytime you have an outlet nearby. Its compact size also makes it great for a home office with less shredding needs and even less desk space.
On the other hand, the small bin size, sheet capacity, and paper feed entry aren't ideal for jobs larger than one or two papers. We recommend finding other options unless portability and desk space are your main concerns.
Consider the Aurora AS420C if you know you need something compact for your home office or a shredder you can take with you on your road trip.
AmazonBasics 6-Sheet High-Security Shredder: Best high-security shredder
Micro-cut technology
Cheaper price compared to most micro-cut shredders
Auto mode for quick shredding
Manual reverse option for jams
Short 3-minute run time
Smaller sheet capacity
Why is it our choice for best high-security shredder?
Some companies handle more sensitive information than most, and certain types of businesses, like any business dealing with private health or consumer report information, might be required by law to reach a certain level of document security.
However, because of this shredder's smaller sheet capacity and run time, it might not be the best fit for more paper-heavy businesses—unless the need for security outweighs the need for speed.
If you want to clear P4 security requirements to either meet regulations or ease clients' fears, the AmazonBasics 6-Sheet High-Security Shredder will do that without breaking the bank.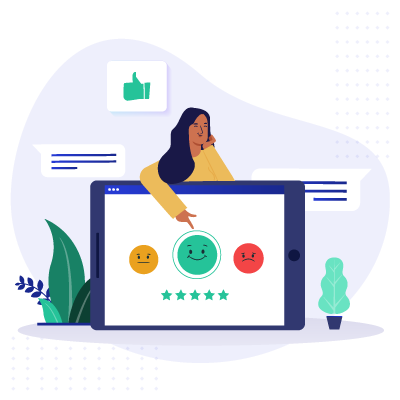 Expert Advice, Straight to Your Inbox
Gain confidence in your business future with our weekly simple solutions newsletter.
By focusing on your individual business needs, you can find the perfect shredder for you. And once you have your shredder, you can rest easy knowing your company can safely dispose of confidential documents.
What shredder features have mattered most in your office? Let us know in the comments below!
Office shredder FAQs
What are shredder security levels?
Believe it or not, shredders are assigned security levels. Those mysterious "P3" and "P4" labels refer to how secure each shredder is, but what does each level actually mean? To help you understand how the levels differ, we break down each security level for you:
| | |
| --- | --- |
| Security level | Maximum shred size |
| P1 | 1/2" wide strips |
| P2 | 1/4" wide strips |
| P3 | 320 mm² (or 1/6" wide strips) |
| P4 | 160 mm² |
| P5 | 30 mm² |
| P6 | 10 mm² |
| P7 | 5 mm² |
What is the best shredder for a small business?
This will largely depend on your company's needs, but there are some general traits to consider. Narrow down your choices with a few basic questions:
Does the shredder's key features cover your basic needs? All the greatest bonus features in the world won't matter if a shredder doesn't have the qualities you truly need.
How much space do you have? If you run your small business out of a home office, you likely won't have room for a larger shredding machine.
What kind of warranty will you get? A solid warranty will help you plan your office budget more confidently.
What is a cross-cut paper shredder?
The simplest form of file shredder—apart from a pair of scissors—is a strip-cut shredder, which slices papers into long, thin strips. This process works great for non-secure papers like junk mail.
All the greatest bonus features in the world won't matter if a shredder doesn't have the qualities you truly need.
The cross-cut shredder takes the slicing a bit further. Instead of long, vertical strips, this type of shredder produces smaller squares using both horizontal and vertical cuts. A cross-cut shredder improves the security of your shredded documents by making them immensely difficult to reassemble.
Which is better: Cross-cut or micro-cut shredders?
The answer basically boils down to another question: Do you need to shred more documents or shred documents more finely? Micro-cut paper shredders provide an additional step up in security, but they also expend more energy and time shredding each document.
For many businesses, the safety offered from a cross-cut shredder will be enough. But the more sensitive information a document holds, the more important a micro-cut shredder could be.
What is continuous run time for a shredder?
Shredding is hard work. Most shredders come with a maximum continuous run time that tells you how long to leave your shredder running before the system overheats. Some shredders are built to run constantly throughout the work day. However, heavy-duty shredders with this feature are pricier.
The majority of small businesses will get by just fine on a shredder with an occasional cool off period, but if your business shreds documents consistently throughout the day, a machine with a longer run time might be worth the added cost.
Disclaimer
At Business.org, our research is meant to offer general product and service recommendations. We don't guarantee that our suggestions will work best for each individual or business, so consider your unique needs when choosing products and services.