Squarespace Pricing: Which Squarespace Package Is Best for You?
Squarespace offers a few different pricing options for building and hosting your website. Learn how to decide which Squarespace package is best for you.
Squarespace is a popular website builder and website hosting solution for small-business owners and solopreneurs who want an easy, affordable business website. Squarespace websites can help you establish an online presence, advertise your products and services, create an ecommerce business, offer subscriptions, and more.
People tend to give Squarespace favorable reviews because of its  ease of use and its well-designed themes that can help you quickly create and manage a professional website for your small business. Squarespace also offers a wide range of ecommerce capabilities so you can sell products directly from your website.
Depending on the size and complexity of your business, you can start with a simple Squarespace website, or you might need more advanced Squarespace features.
See which Squarespace package is best for you.
Squarespace is a website building software as a service (Saas) platform. It helps small-business owners set up website hosting, quickly build and maintain their own professional-looking small-business websites, and buy a domain. With Squarespace, you do not have to hire a web developer or know how to code, and you don't have to deal with the technical complexity of buying a domain or hosting a website. Squarespace handles all of the details for you.
Squarespace's design templates ("themes") allow you to quickly pick between professionally pre-designed, customizable templates. Then you publish content and update your website within Squarespace's user-friendly content management system.
If you're a busy solopreneur or owner of a fast-growing ecommerce business, you probably don't have time to manage every last detail of creating a website. Squarespace helps make getting your website up and running fast and easy.
Instead of paying a one-time fee to build your own website, you can subscribe to Squarespace on either a monthly or annual basis.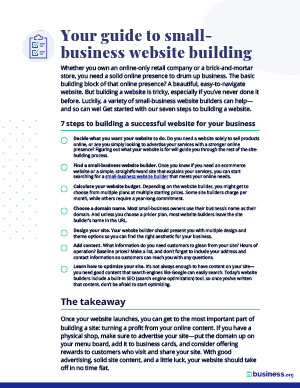 Grow Your Business's Online Presence
Build a beautiful website and start attracting more customers ASAP. Enter your email for a copy of our website building checklist.
Squarespace offers a few different plan options, depending on the size of your business and the type of website you want to create. Some of these plans would be a good fit for solopreneurs, freelancers, and small-business owners with limited capital, while others would be a better fit for owners of mid-sized businesses who have a larger budget for their online marketing and need more advanced features.
Here is a quick overview of the plans:
This Squarespace plan is ideal for small, simple business websites. For example, if you want to use Squarespace to publish a blog, share a creative portfolio, provide basic information about your business like hours of operation or contact details, and generally set up a simple online home base for your company, the Personal Squarespace package might be best for you.
Types of businesses that should consider this plan: sole proprietorships, freelance businesses, and businesses that don't need significant ecommerce capabilities.
What you get with the Personal Squarespace plan:
Free custom domain
Up to two contributors
Unlimited bandwidth
Mobile-optimized website with up to 1,000 pages
24/7 customer support
SEO features
Templates
Pricing (as of Feb. 20, 2022): The Personal Squarespace plan costs $19 per month, or $14 per month if paid annually.
These are just a few highlights of the features offered by the Personal Squarespace plan. 
If you need to raise your website performance to the next level, you might want to consider getting the Business package from Squarespace. This option gives you a more sophisticated website with more premium features and fully integrated ecommerce capabilities. If your business is growing and you need a larger team of people to add content and manage your site, the Business package might be the next step up from the Personal Squarespace plan.
Types of businesses that should consider this plan: Small companies that only sell a few products online and only need a small shop, such as a restaurant that sells and ships a few non-perishable items or souvenirs, artist and musician brands that want to display their work and sell a few items of merchandise, or a consulting firm or marketing agency that needs to publish fresh website content managed by a team of multiple people.
What you get with the Business Squarespace plan: In addition to all the features in the Personal plan, here are a few highlights of the capabilities that come with the Business Squarespace plan.
Advanced marketing features, like website analytics, pop-ups, and banners
Fully integrated ecommerce
Sell products with 3% transaction fee
Accept donations
Offer gift cards
CSS and Javascript customization
Professional email from Google
Pricing (as of Feb. 20, 2022): The Business Squarespace plan costs $33 per month, or $23 per month if paid annually.
If your business wants to sell more than just a couple products online, you might want to go with the Basic Commerce plan. This plan offers special features to make ecommerce easier. 
Types of businesses that should consider this plan: Smaller retail stores that are just getting started with ecommerce or mid-sized ecommerce stores that don't need the most advanced integrations for marketing.
What you get with the Basic Commerce Squarespace plan: This Squarespace plan gives you all of the same benefits that you get with the Business plan plus a few special features for ecommerce:
Point-of-sale (POS) system—Accept payments in-person with the Commerce app.
Customer accounts—Let your customers create accounts and sign in for faster checkout.
Secure checkout page—Allow customers to securely check out on a page on your domain (such as "yourbusinessname.com/checkout").
Powerful analytics tools—Track your best-selling products and see the latest sales trends
Powerful merchandising tools—Show related products, invite customers to join product waitlists, and more.
Sync products on Instagram—tag products in your business's posts to drive sales on Instagram.
Pricing (as of Feb. 20, 2022): The Basic Commerce Squarespace plan costs $36 per month, or $27 per month if paid annually. 
For larger, more established retail businesses that need a full suite of solutions for ecommerce and shipping, the Advanced Commerce Squarespace plan might be the best choice.
Types of businesses that should consider this plan: Ecommerce entrepreneurships with a large volume of online sales that need the most advanced selling tools, shipping, and marketing options.
What you get with the Advanced Commerce Squarespace plan: You get everything that's included with the Basic Commerce package, along with:
Advanced shipping—Automatically calculate real-time shipping rates from FedEx, UPS, and USPS.
Sell subscriptions: Generate recurring revenue with weekly or monthly subscriptions for your customers.
Advanced discounts: Get more control over promotional pricing for your products.
Abandoned cart recovery: Send automated email reminders to nudge customers to complete their purchases.
Pricing (as of Feb. 20, 2022): The Advanced Commerce Squarespace plan costs $65 per month, or $49 per month if paid annually.
See the latest Squarespace pricing details at Squarespace.com/pricing.
Before you choose a Squarespace package, consider your business's overall size, marketing strategies, target audiences, and sales processes.
If you don't need a lot of advanced ecommerce features and just want a simple online presence to help customers find your business and contact you, then the Personal package might be best. If you need some ecommerce solutions, the Business package might be a better fit. And if you're already selling a lot of products online, you might want to choose one of the Commerce packages, depending on your sales volume and overall growth goals.
What are the simplest and most popular Squarespace plans?
If you just need a basic website for your small business, the Personal plan is the simplest. It offers a few key features to help you quickly create a small business website, establish an online presence, display your professional services or creative portfolio, share your business contact information, and make it easier for customers to find you online.
Squarespace states that its most popular plan is the Business plan. This option can be a good choice if your business is growing beyond the capabilities of the Personal plan, if you have a larger team that needs to publish content and manage your site, and if you want to sell products online with basic ecommerce tools.
The Business plan is only $5 more per month than the Personal plan, so if you think you might need the Business plan's features, you might want to spend the money and get access to those more robust offerings. 
Basic Commerce vs. Advanced Commerce
If your business is already selling products online and you know you need strong capabilities for ecommerce, then you might want to know how to choose between the Basic Commerce and the Advanced Commerce Squarespace plans.
Both of these plans offer some great features for ecommerce. However, the Advanced Commerce plan might be a better choice if you want the most advanced marketing and fulfillment tools, such as custom API integrations, real-time shipping calculations, and capabilities to sell subscriptions, offer automated discounts, and send email reminders to shoppers who abandoned their carts.
Depending on the needs of your ecommerce business, Squarespace offers a full range of tools and solutions. Consider your needs carefully when choosing a plan. And keep in mind: you can switch plans at any time. So there's no pressure to decide right now! You can change your Squarespace membership as your business grows and your business's needs evolve.
Squarespace plans give you affordable options to publish your business website, get noticed by customers, and start selling. If you want to quickly and easily set up a business website domain, get website hosting, choose a website design from great-looking templates, and have an easy process to manage your site behind-the-scenes without a lot of technical complexity, then Squarespace might be right for you.
To choose which Squarespace package is best for you, think carefully about how you sell to customers and what kind of business you have. If you are a solopreneur or professional services provider, try the Personal plan to get a simple landing page for your business. If you have only a small online store, you could start with the Business plan. For higher volumes of online sales, consider the Basic Commerce plan, and if you're an established online retailer, you might go with the Advanced Commerce plan. 
Would you like to learn more about Squarespace and other ecommerce platforms? Please check out our picks for best ecommerce website builders for small businesses.
Which Squarespace package is best for you FAQ
Is it worth paying for Squarespace?
Squarespace lets you start with a free trial, and they won't charge your credit card until you decide that Squarespace is the right web builder and web hosting solution for your business.
However, if you want to establish a professional-looking website for your business, if you like the design features and business tools that are offered by Squarespace, and if you believe that Squarespace can help your business grow, then yes, it is definitely worth paying for.
What is the difference between Commerce and Business on Squarespace?
The Squarespace Business plan offers only a few simple tools for online sales. If you want to sell a significant volume of products online, you might want to go with the Basic Commerce or Advanced Commerce plan. You can change your plan at any time within your Squarespace account.
Is Squarespace overpriced?
When you consider how much time you can save by using Squarespace instead of designing your own website, hiring a developer, making decisions and handling processes involved with buying a domain and choosing a website hosting solution, and everything else involved with setting up and managing a website, Squarespace offers excellent value for money.
Consider it an investment in the future of your business. When you pay for Squarespace, you are getting a professional website that can help you make much more money than the cost of the monthly (or annual) subscription price.
What are the disadvantages of Squarespace?
Squarespace is not the only website builder or ecommerce platform on the market. If you want advanced ecommerce features and support, you might also want to consider Shopify, which tends to get high ratings for helping small-business owners succeed in ecommerce.
Squarespace might also be too limiting if you want to do your own creative website design without having to choose from pre-approved templates or themes. If you know how to code and you have specific custom integrations or features that you want your site to include, then you might prefer to build your own website without using Squarespace or any other platform.
However, for many small-business owners, Squarespace can be a great solution.
Disclaimer
At Business.org, our research is meant to offer general product and service recommendations. We don't guarantee that our suggestions will work best for each individual or business, so consider your unique needs when choosing products and services.