FatCow Hosting Review 2023: The Good, Bad, and the Ugly
For startups and small businesses on a budget, FatCow might be the perfect match. Business.org reviewed all nine plans (and a secret bonus) from this cowpoke host.
Data as of 12/12/22. Offers and availability may vary by location and are subject to change.
Type the words "web hosting" into your browser and you'll get nearly a million different options to decide between. But let's face it: not all web hosting providers are created equal.
If you're already overwhelmed by technology and want to bring things down to earth a little, then FatCow might be a solid choice.
From the hand-drawn cow logo to the scenic farm-inspired website background, you might just forget you're searching for a web hosting service in the first place. But don't let the heaps of cow references fool you—FatCow is a more competitively priced host that keeps things simple.
FatCow hosting is best for startups looking to keep costs low
FatCow offers a variety of different website hosting plans that work for a wide range of businesses and website types. However, the packages cater most readily to website owners who are building out their first websites and want the cheapest introductory rate possible.
With every plan, you'll find 24/7 customer support, along with a custom vDeck or standard cPanel (more on these below), which will be your home base for getting your website setup. These are intuitive and easy to use website dashboards where you'll take care of any website management tasks, like setting up email, installing WordPress, or adding e-commerce features to your site.
What is FatCow?
Founded in 1998, FatCow is nearly 100 years old in internet years. Although it shows its age—especially with the stiff competition across the hosting space today—companies building their first sites on a shoestring budget might find some value here.
Full list of FatCow web hosting plans
Data as of 12/12/22. Offers and availability may vary by location and are subject to change.
FatCow Plan (shared hosting)
Bargain barrel intro price
Easy and quick setup
Only a single shared plan available
Not the best loading speeds
The FatCow plan is the hosting provider's traditional shared hosting plan. With any shared hosting, you're going to be sharing server space with other website owners, which is the reason these plans are so cheap. If this is your very first website and you aren't expecting thousands of visitors right out of the gate, then this will be a great starting place.
Since you're sharing server space, you'll have fewer available resources for your site. But if you just recently built your website, this won't be an issue since brand new sites are smaller and don't usually get much traffic.
Even though all FatCow shared web hosting plans are equipped with unlimited disk space and bandwidth, there are still plan limits. The terms of service spell out the amount of resources you can use on each plan. Most sites will never run into an issue with bandwidth or storage. But if your traffic levels and the size of your site continues to grow, you'll need to upgrade to a higher plan. Otherwise, you'll be infringing on the resources of other users on the shared server.
Here at FatCow, the basic starter plan costs less per month than a Starbucks latte. Plus, you can lock down the introductory rate for three years, making it great for a new small business on a budget.
FatCow shared hosting plan
Data as of 12/12/22. Offers and availability may vary by location and are subject to change.
WordPress pre-installed
High reliability
Dirt cheap plans
No speed, security, or support features on Starter plan
WordPress is a content management system that makes it incredibly simple to build out your website and manage and publish content. It's so popular that it currently powers over 30% of the entire internet.1
Now, it's not a requirement to use a WordPress hosting plan when using WordPress. It'll work just fine on the FatCow (shared hosting) plan above. But,WordPress hosting does offer your site certain advantages.
When you sign up for WordPress hosting, you get a server that's entirely optimized to run WordPress. This means improved speed and performance, and WordPress will come pre-installed.
| | | | | |
| --- | --- | --- | --- | --- |
| Plan | Price (mo.) | Best for | Uptime | Learn more |
| WP Starter | $3.75 | Cheapest price | 99% | View Plans |
| WP Essential | $6.95 | Improved security and loading speeds | 99% | View Plans |
Data as of 12/12/22. Offers and availability may vary by location and are subject to change.
Ability to scale server resources
High-level performance
Shared server space
High renewal costs
VPS hosting might sound confusing at first glance. "Virtual Private Server"—what does that even mean?
Luckily, it's pretty simple once you grasp a few basics. VPS hosting operates similarly to shared hosting, where you're sharing a physical server with other websites.
However, a VPS server uses strict partitions and virtualization technology to split a single server into multiple virtual dedicated servers. Think of the server like a high-rise apartment building: each apartment is a VPS server, while the building as a whole is the entire physical server. Just like walls and doors separate the building into separate apartments, virtual partitions separate a single server into separate dedicated servers. So you get exclusive access to more server resources while keeping costs down.
Every VPS will have its own dedicated server resources, bandwidth, storage, RAM, and even operating system. All of these features offer your site support for growing traffic levels and fast loading speeds, no matter how big your site gets. (Though you may have to bump up to a higher plan.)
VPS hosting is better suited for sites that require more server space and support for higher traffic levels but aren't ready to pay for an entire dedicated server (more on dedicated hosting below). Think popular ecommerce sites like a mattress store or clothing line. If your site is picking up steam and you start to see hockey-stick-like growth, then it's a smart idea to upgrade to VPS hosting.
Most site owners will probably be well suited to the Business level VPS plan, but if you need support for higher traffic, the Optimum plan can support up to 5,000 visits per day.
Data as of 12/12/22. Offers and availability may vary by location and are subject to change.
Ability to scale server resources
Improved website security
Dedicated support team
cPanel access
Very expensive plans
Technical staff possibly required
Dedicated hosting is a pretty straightforward form of hosting. You get access to an entire physical server that's solely dedicated to your website. Compare this to shared hosting, where this same physical server is split between hundreds to thousands of other sites.
By having all of these server resources pointed squarely at your site, you get access to an unparalleled level of performance, uptime, and security. But that's a no-brainer when you think about the massive amount of server resources dedicated to a single site.
The pricing might make some users gulp, but when you consider the level of server resources you'll have access to, the price starts to make sense.
You should probably only consider dedicated hosting if you have a website that gets a very high volume of traffic or has strict security requirements that need to be enforced—think something along the lines of a banking website.
If you're trying to sort through the different dedicated plans offered here, the biggest differences between the plans are the level of server processing power, RAM, storage, and bandwidth they offer.
Basically, the larger your site is and the more traffic it gets, the higher plan you'll need. So if you have a high traffic personal finance site getting millions of visitors per month, or an ecommerce store that regularly needs to process thousands of ongoing transactions, then a dedicated server will be right up your alley. In terms of upgrading plans, you're probably fine starting with the Startup plan, and if you notice a lag in performance, then upgrade to a plan that'll give you more storage and support for more traffic.
| | | | | |
| --- | --- | --- | --- | --- |
| Plan | Price (mo.) | Uptime | Bandwidth | Learn more |
| Startup | $149.99 | 99% | 5TB | View Plans |
| Professional | $194.99 | 99% | 10TB | View Plans |
| Enterprise | $239.99 | 99% | 15TB | View Plans |
Data as of 12/12/22. Offers and availability may vary by location and are subject to change.
Very cheap price ($5 per year)
Access to the included site-builder
Email tools included
No capability to build an entire site
Required upgrade over time
Another interesting option you'll find from FatCow is called domain parking. Maybe you still haven't decided on the tool or approach you want to take to build your site—but you want to start moving the ball forward in some way. This process allows you to buy a domain, and utilize an associated email address, without actually building a website.
A lot of hosts offer domain parking. But FatCow also gives you a handful of website-building tools you can play around with. This means you can create an excellent "site under construction page" while you build out the rest of your site in time. This option might come in handy if you're a freelancer who wants to start networking or get your business email out there, but you don't have time to build out your site yet.
Data as of 12/12/22. Offers and availability may vary by location and are subject to change.
How FatCow stacks up to other hosting companies
Compare Fatcow vs. competitors
| | | | | | |
| --- | --- | --- | --- | --- | --- |
| Brand | | | | | |
| Entry-level pricing | $4.08/mo. | $2.95/mo. | $2.99/mo. | $2.29/mo. | $20.00/mo. |
| Uptime guarantee | 99.99% | 99.99% | 99.99% | 99.9% | 99.9% |
| Hosting for any website | Yes | Yes | Yes | Yes | No (WordPress only) |
| Free SSL certificate | 2 cores | 2 cores | 2 cores | 3 cores | 4 cores |
| Free CDN | Yes | Yes | Yes | No | Yes |
| Free domain name | Yes | Yes | No | Yes | No |
| Money-back guarantee | 30 days | 30 days | 30 days | 90 days | 60 days |
| Unlimited free emails | Yes | Yes | Yes | Yes | Yes |
| Automated backups | Daily | No | Daily | No | Daily |
| Get Started | View Plans | View Plans | View Plans | View Plans | View Plans |
Data as of 12/12/22. Offers and availability may vary by location and are subject to change.
There's no point in having a website if it's not going to be online. This is where uptime comes into play. Uptime refers to the percentage of time your site will be online throughout each month.
Unfortunately, FatCow does not offer an uptime guarantee. Some hosts will offer a guarantee of free hosting credits if your website falls below a certain uptime threshold—usually 99.9%. This translates to roughly 45 minutes where your site can be offline during any given month. Usually, any downtime is associated with tasks like server maintenance and software upgrades.
However, even without a guarantee, data suggests that the FatCow uptime falls within the industry standard 99.9% range.
Most users will leave your site if it doesn't load within 2 seconds.2 Luckily, the site loading speeds you can expect aren't that slow. But, don't expect blazing fast speeds with this hosting provider.
Generally, the loading times hover around 1200 ms. With most hosts serving up average loading speeds of around 800ms, FatCow is significantly slower.
With a name that suggests a slow-moving farm animal, you could guess that speed isn't the biggest priority.
FatCow offers a multitude of different support options. You can reach support via phone, online form, or live chat. However, its support team is located in the Philippines and is only available in English.
The response time for support is generally pretty quick. However, some users have reported prolonged wait times of over five minutes, or even times when their 24/7 support was unreachable. Judging from all the feedback, it seems that support is helpful and friendly but spotty.
If you're keen on solving your technical issues alone, then you can take advantage of FatCow's in-depth knowledge base to help work through any problems.
In terms of physical security, FatCow has 24/7 security monitoring its data centers.
For site security, all plans are equipped with an SSL certificate. This encrypts any data that passes between your server and your visitor's browser. So any information that your site collects, like credit card info or email addresses, will be protected from prying eyes.
But if you want additional protection for your site—like automated security scans, protection from malware, and a website firewall—then you'll have to pay extra unless you're on one of the higher level hosting plans.
Combining our research and the general sentiment across the web, FatCow gets a passing grade. It doesn't genuinely excel across any specific front, but it does offer two distinct advantages.
One, you can get an incredibly cheap rate for up to three years. Two, getting your site set up is a breeze and well-suited for beginners.
You made it to the end. By now you can see that FatCow is a solid hosting solution that serves a specific market. Namely, startups and small businesses who are looking for the cheapest possible hosting and enough features to start getting traction with their sites.
There are higher-level packages available, but you can probably find a better suite of features with a different host. Although FatCow isn't leading the pack in any way, they do give you the chance to get your website online with virtually no money down.
Don't put yourself out to pasture—save money and time and sign up for FatCow today.
The term green hosting refers to a hosting company who participates in eco-friendly initiatives to help offset its environmental impact. Usually hosting companies do this via onsite solar panels or purchasing renewable energy credits, so its overall energy consumption is neutral.
FatCow currently purchases renewable energy credits double the amount of energy they consume. So any power used by the company and datacenter can be said to be carbon neutral.
FatCow offers two different control panels. A custom control panel built on VDeck and a cPanel. Both allow you to accomplish tasks like managing or adding a domain name, accessing the website builder, installing a CMS like WordPress, managing email accounts, and a lot more.
Daily backups are included with every plan for free. However, if you want to restore your site from one of these backups, then you'll have to pay a fee.
We carefully analyzed Fatcow's customer service quality, overall value for the money, affordability, scalability, availability of plans for various needs, WordPress hosting quality, and server performance data, among other factors.
Disclaimer
At Business.org, our research is meant to offer general product and service recommendations. We don't guarantee that our suggestions will work best for each individual or business, so consider your unique needs when choosing products and services.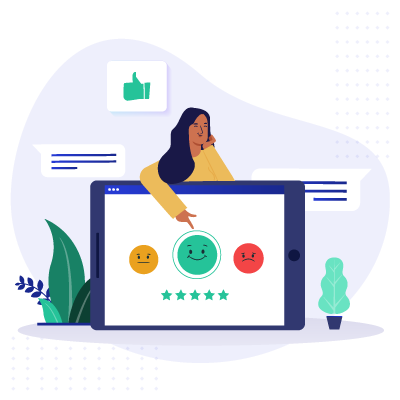 Expert Advice, Straight to Your Inbox
Gain confidence in your business future with our weekly simple solutions newsletter.