Marketing for business has never been easier … or more complicated. The rapid advancement of digital tools and social media platforms has lowered the barrier to entry, the cost, and the uncertainty of marketing approaches for small businesses. But this change has also created a dizzying array of options to pursue and ways to measure success.
Digital marketing can be incredibly effective, if you know what you're doing. Launching the right campaign at the right time will help you attract the audience you want. Here we'll provide an overview of digital marketing and its benefits, approaches, and pitfalls. Read on to learn how you can make the most of your own digital marketing efforts.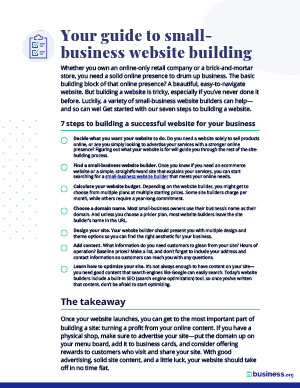 Grow Your Business's Online Presence
Build a beautiful website and start attracting more customers ASAP. Enter your email for a copy of our website building checklist.
Digital marketing breakdown
First things first: What is digital marketing? Digital marketing is a broad term that covers all types of marketing done on the internet. Think internet advertising, social media engagement, email, digital newsletters, and influencer marketing. Digital marketing uses tools like search engines, analytics, social scheduling software, and chatbots to take advantage of various digital channels to reach new customers.
Digital marketing allows you to broaden your reach far wider than is possible with traditional marketing efforts, connecting with an audience that spans the globe. Let's take a look at what you can do with digital marketing.
Traditional marketing strategies give you fairly limited control over who is engaging with your ad or message. You could put a TV ad on a specific program that your audience tends to watch or place your message in a magazine they tend to read, but that strategy still amounts to throwing spaghetti at the wall—your message might stick, but it won't stick with everyone.
Digital marketing allows you to be far more targeted. You can identify a specific audience and deliver your message right into their social media feeds or email inboxes.
If you're a small business with a small budget, digital marketing is your key to competing with the big businesses. Digital marketing is very cost-effective, giving you a high return on investment (ROI). You can do much of this marketing for free or cheap using social media accounts and email.
Even if you pay for digital ads, you can collect data on audience engagement in real time that can guide where to invest more and where to pull back. Digital marketing allows you to continuously change your strategy to maximize effectiveness while minimizing cost.
Digital marketing techniques are very easy to learn and use, meaning you can get an edge by being responsive, nimble, and tapped into your audience. Hint: big corporations often struggle being nimble, so you've got the upper hand here.
Even the more complex aspects of digital marketing such as SEO, analytics, and digital ad spend can be mastered by businesses that don't have a lot of staff or a big budget behind them.
Digital marketing means no more guessing if anyone even saw your ad. Instead, you get real-time, data-based insights, a major advantage over traditional marketing. Analytics can measure impressions, shares, views, clicks, and viewing time, telling you with great specificity which of your marketing efforts are most effective with your audience. You'll be able to glean information about which channels, timing, messages, and images work well and which don't.
Content marketing is when you create valuable and relevant content (think whitepaper or blog) for a specific audience. The key difference between advertising and content marketing is that the latter doesn't overly "sell" the product. Its goal is instead to establish your brand as attractive, trustworthy, and interesting so your audience will be receptive to your products.
Affiliate marketing is a method in which you pay other content creators to direct people to your products or services. These affiliates write or talk about your products online and direct their audience to individualized links that lead right to you. You pay them a commission every time they refer a customer or drive a sale. Affiliates might include links to your products in any form of content, from blog posts to microsites to emails.
Digital advertising is simply paid advertising on the internet. While not technically a marketing strategy, digital advertising is often included in a company's digital marketing plans. Digital ads can be in the form of banner or pop-up ads, sponsorships of other digital content, and pay-per-click campaigns on a wide variety of sites and search engines.
Social media marketing is the practice of posting content (video, pics, messages) on social media sites to broadcast your brand's positioning and voice, and to engage with your audience. With so many social media sites to choose from, the best strategy is to choose a few platforms to use and carefully curate your feed. Use imagery, humor, and an attitude of receptivity and kindness to make a good impression. And always be responsive to messages from your current and potential customers.
In influencer marketing, your company partners with social media "influencers"—that is, online personalities who have built loyal followers in particular niches. The influencer agrees to use, mention, or picture your product in exchange for payment. This is a particularly effective marketing technique because it can be very targeted—an influencer with a small but highly devoted audience in a narrow niche might be more effective for your campaign than an influencer with a large audience interested in a broad topic.
Email marketing involves building a list of email subscribers who have agreed to hear from you regularly, and then sending them periodic, high-value email communication. The emails shouldn't be overly salesy—effective email marketing can be more informative and entertaining, sharing interesting stories, images, and valuable information.
Not knowing your audience
Digital marketing is all about targeting the specific audience that will be most receptive to your message, so it's a big problem if you haven't spent the time and effort to figure out who your audience is. A/B testing can help you narrow in on which messaging works best with different groups or on different platforms.
Insufficient understanding of SEO
A basic understanding of SEO best practices is essential for using digital marketing to its best advantage. There are a wide variety of online courses available to give you a comprehensive view of how to optimize your content for search.
While digital marketing may seem like a grab-bag of tools and approaches, ideally all aspects should be coordinated and working together in a synchronized plan. Create a digital marketing strategy that lays out specifically which platforms and methods you'll use and how you plan to assess your results.
Pressure to prove success with metrics
A company's exec team is often eager to hear about the measurable success of your marketing strategies. But while analytics provide some information about how your message is landing in various places and at various times, it isn't a crystal ball that can tell you exactly how much of your efforts will turn into sales. Choose the metrics you share with care, and explain that they shouldn't be taken as a guarantee.
Targeted, easy-to-use, and cost-effective, digital marketing has become the dominant form of marketing that companies today use to find and attract their audiences. The many forms of digital marketing, including advertising, social media, influencers, and others, can be combined to form a multi-pronged strategy to connect with and engage your customers.
Disclaimer
At Business.org, our research is meant to offer general product and service recommendations. We don't guarantee that our suggestions will work best for each individual or business, so consider your unique needs when choosing products and services.