4 Companies with Amazing Break Room Cultures
Want to enhance employee morale while improving productivity and boosting creativity? Revamp your break room. Over the last several years, a handful of studies have found that employees aren't taking the breaks they need to maximize their effectiveness.
It's time to give break rooms the respect they deserve. More than a place to heat up your ramen noodles (leave that to your lunch room), break rooms should offer workers a place to engage, form friendships, exchange ideas, and above all, relax and revive before heading back to the grind. A fresh rework of your break room can really improve the energy of your office.
We've discovered four companies that understand the importance of a break, and offer their employees an assortment of positive spaces to unwind. Read on to discover break room tips from the pros. You'll never look at your break room the same again.
Break room culture: Fun cultivates creativity.
Originally based in Seattle, Washington, video game developer PopCap Games was founded in 2000 by a trio of men who know what it means to have fun. The company enjoyed amazing success with its award-winning game Bejeweled, and today it employs more than 400 people.
PopCap Games recognizes that recruiting and retaining the most creative minds in the video game industry is fundamental to success. That's one reason why it offers amazing break rooms that include lush sectionals where movie watching isn't unheard of, an abundance of over-sized televisions outfitted with video games galore, whiteboards for capturing those fantastic fleeting thoughts, private cell phone rooms, and a tricked-out kitchen on every floor of their headquarters building. When lunch hour calls or employees simply need a moment alone, they jump on their company provided Razor scooter and find the break room that best suits their mood.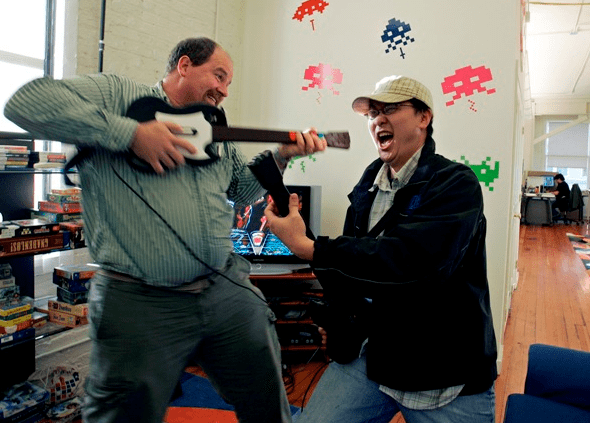 Break room culture: Build it and they will come.
One of the world's most respected business consulting firms, Bain and Company's success is rooted in its people. The 40 year old business has stood the test of time in a highly competitive market and that could be because they understand that a well designed break room promotes communication among employees, gives them a place to unwind, and even lets them blend on a personal level.
A decade ago, Bain and Company was preparing to move its Boston headquarters. They surveyed employees and asked how they'd like their new space to be different than their current one. The answer was unmistakable; they wanted a space that facilitated team interaction. And they got it. A light filled common area that boasts intersecting hallways and plenty of space to sit down for a quick meeting, enjoy a chat over a latte, or challenge each other to a quick game of pool. Instead of staying at their desk all day, employees gravitate to the open space and conversations ensue. It's no wonder that Bain and Company's employees have helped their clients outperform the stock market 4 to 1.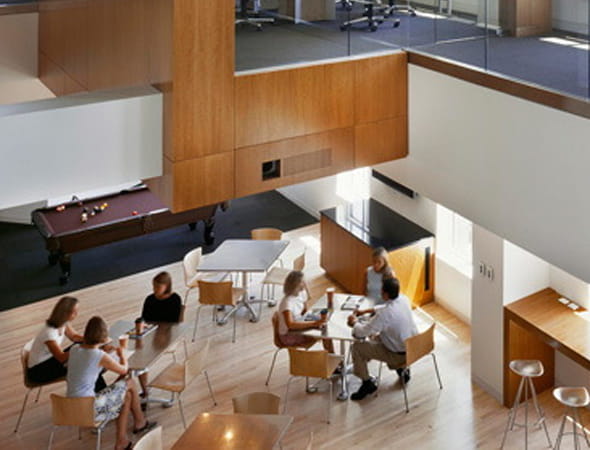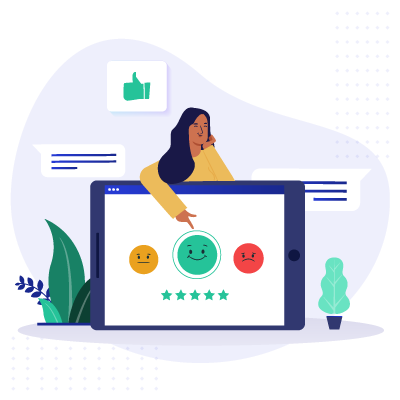 Expert Advice, Straight to Your Inbox
Gain confidence in your business future with our weekly simple solutions newsletter.
Break room culture: Happy employees are good for business.
Founded just five years ago, Airbnb is already transforming the travel industry. The San Francisco based company offers an online marketplace for people to list and reserve unique accommodations at almost any price point you can imagine. With over 300,000 listings worldwide and over 10 million nights booked, we bet Airbnb's break room culture might have a lot to do with its success.
Airbnb employees enjoy a ping pong table, weekly yoga classes and a kitchen outfitted with a marvelous chef who cooks lunch every day. When the lunch bell rings, it's time for employees to take a break and gather round to rejuvenate with fabulous food served right on site. While catching up with co-workers, employees might be overheard discussing where they're vacationing with their $2000 Airbnb travel stipend. Yes it's true, in addition to a scrumptious lunch the company pays its employees to vacation. Jealous? So are we.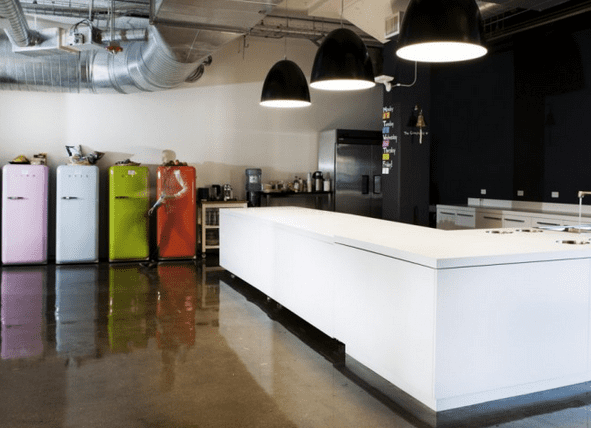 Break room culture: Break out of the cube and build camaraderie.
Neutron was acknowledged as one of the best companies to work for in Utah two years in a row, and it's easy to understand why. Founded less than 10 years ago on a culture that promotes big dreams, and playing as hard as you work, Neutron provides education based clients with high volumes of quality leads. It's also an award winning Inc. 500 company with an impressive break room environment.
Daily catered lunches and yoga classes are just two perks the break room at Neutron Interactive offers. Toss in unlimited snacks and drinks and a decidedly anti-cubical environment and we're not surprised this young startup is generating such buzz.
Our bodies tell us it's time for a break, but without an inviting break room to retreat to, employees often fuel up on caffeine and trap themselves in their cubical. If you're a small business owner, it's time to evaluate your break room and take steps to improve it. In doing so you'll not only put a smile on the face of every employee, you'll transform your company's culture.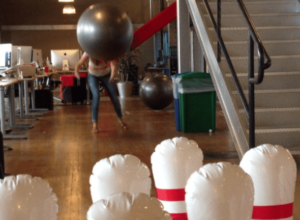 Disclaimer
At Business.org, our research is meant to offer general product and service recommendations. We don't guarantee that our suggestions will work best for each individual or business, so consider your unique needs when choosing products and services.