Flat-Rate Credit Processing: Is It Better for Your Small Business?
There's a chance flat-rate processing might be a good fit for your business. Certain types of businesses can benefit greatly from the flexibility of flat-rate credit processing providers. But this flexibility can come at too high a price for some businesses.
No monthly fees
Simple processing statements
Transparent pricing
More expensive
Unsuited to regular, high-volume processing
No custom pricing
Represents most instances but doesn't necessarily apply to all providers.
What are the pros of flat-rate processing?
Flat-rate processing is the simplest pricing model to understand. You pay a flat fee for every card swiped, and this pricing structure comes with a number of benefits.
Most companies that charge a flat fee for processing don't bill monthly for their services. This is especially good news for small businesses that need to make irregular credit card transactions.
Maybe your business model centers around making one big sale every couple of months. There's no sense paying a monthly fee for processing when you don't even use the service most months.
This is also true for seasonal businesses. Many companies that don't offer flat-rate credit card processing require their merchants to sign a contract for a year or longer. So businesses that operate seasonally would end up paying for processing during the off-season.
Simple processing statements
Another thing flat-rate processing simplifies is your monthly processing statements. Companies that use interchange-plus pricing, for example, will often send long statements with tons of different rates depending on the interchange rate for each transaction.
Flat-rate processing gets rid of the complexity of calculating interchange fees and gives you a clear picture of exactly what you'll be paying for every transaction.
Speaking of having a clear picture of what you'll be paying, flat-rate processing also tends to consolidate your costs into one simple fee. Other processing companies might charge extra for the use of their point-of-sale tools or tack on extra costs like compliance fees.
Companies like Square, on the other hand, do a good job of consolidating a ton of features and services into a simple processing rate. You can open the account for free, start using point-of-sale tools, and only ever pay when you make a sale.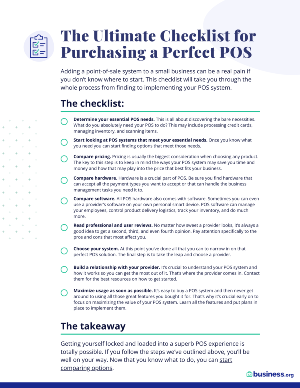 Follow these steps to purchase the perfect POS system
Read our free ultimate checklist for finding the right POS for your business. Don't get saddled with the wrong system. Enter your email and the checklist will arrive promptly.
What are the cons of flat-rate processing?
Flat-rate processing makes a lot of sense in many cases, but there are some cons to consider if you're looking into providers with a flat-rate pricing structure.
Flat-rate processing fees are generally more expensive than interchange-plus processing fees. This is because interchange-plus pricing tends to cost less overall per transaction.
Flat-rate processing is like paying a flat price for any apple no matter its weight, while interchange-plus pricing is like paying for an apple based on its weight. Weight, in this example, represents the hundreds of potential interchange fees that can be charged when a credit card is processed.
Processing companies determine flat rates by deciding on a price point that will make a profit even if every transaction uses the maximum possible interchange rate. Because of this, businesses that use flat-rate processing will end up paying more for transactions with lower interchange rates.
Unsuited to regular, high-volume processing
Flat-rate processing is more expensive than interchange-plus pricing per transaction, so the more volume you sell, the more you'll end up paying in flat-rate processing premiums.
It may seem like this negative would always make flat-rate processing more expensive, but most providers that use interchange-plus pricing also charge a monthly fee for their services. Because of this, your business needs to be processing at a consistent and reasonably high volume every month to save money using an interchange-plus model.
So if your business does make steady transactions every month, flat-rate processing is probably more expensive for your business than interchange-plus pricing.
Another thing that can increase the cost of flat-rate processing is the lack of custom pricing. Many processing companies that use an interchange-plus pricing model will offer cheaper processing rates as their merchants process higher and higher transaction volumes. These rates can make a big difference in cost as a company grows.
Will flat-rate processing save you money?
In certain cases, yes. If you're processing irregularly or at low volume, you'll probably save money doing flat-rate processing.
Also, if you need point-of-sale features and the providers you've looked into only offer those features for an upcharge, you may save money using flat-rate credit card processing that includes point-of-sale features.
However, businesses with sales volume and consistency that outpace the monthly fees of their processing provider will save money using interchange-plus pricing.
What is the cheapest way to process credit cards?
This really depends on your business type. If you're just starting out and not processing a lot of transactions every month, flat-rate processing will probably be the cheapest for you.
In fact, for businesses looking for their very first processing solution, a flat-rate pricing system can be a useful way to learn about processing and build up your sales volume. Once you have decent sales volume, you can switch to an interchange-plus pricing model without having to pay a cancellation fee because you're not under any contract.
When is interchange-plus pricing better than flat-rate pricing?
Interchange-plus pricing makes the most sense when you're processing a consistent volume of transactions every month. But generally, providers that use interchange-plus pricing require a contract and will charge a cancellation fee if you need to cancel the service.
Because of this, it's recommended you stick with a flat-rate processing company until you feel confident in your company's ability to consistently process solid transaction volume every month.
Flat-rate processing is simple and can save time, money, and hassle as long as your business is a good fit for the model. Businesses with occasional or inconsistent transactions often find flat-rate pricing more favorable, while businesses with consistent and high transaction volume will benefit more from the interchange-plus pricing model.
It's also important for small-business owners to consider what they want out of their processing package. Sometimes integrations like point-of-sale can be neatly packaged into a reasonable flat-rate processing fee instead of being an extra charge.
Knowing what you need will help you measure the costs and benefits of the providers you're looking into. That way you can find the best possible provider for your business.
Speaking of the best providers, we recently released our picks for the top processing providers of 2020. You may want to take a look and compare your options.
Disclaimer
At Business.org, our research is meant to offer general product and service recommendations. We don't guarantee that our suggestions will work best for each individual or business, so consider your unique needs when choosing products and services.