Flagship Merchant Services Review 2020
Flagship's merchant services offer just about everything businesses could need from a processing provider, but its service is held back by nontransparent pricing practices and consistent user complaints online.
Flagship has put together a smart offering that fits perfectly into the small-business mold. Its merchant services make it easy for you to accept payments in-store, on the go, and online.
In addition to a solid set of basic features, Flagship offers a few standout tools and services—branded gift cards and a business insight platform—that make its offering worthy of consideration. But things are not all green grass and roses with Flagship, unfortunately.
On paper, Flagship's services look great, but even a quick perusal of online user reviews will show that Flagship has serious transparency issues and some dated business practices. Additionally, Flagship doesn't list its prices online, making it tricky for small businesses to compare prices and fees to other service providers.
Flagship uses a salesperson-mediated custom pricing model. Whenever a company offers custom prices that are decided by a salesperson, we get a little skeptical.
After reading through a number of online reviews, we found that Flagship does try to offer competitive rates. But where those rates fall flat is with the extra fees it charges business owners.
A large percentage of user reviews talk about extra fees charged over and above their quoted rates. Because of these fees, the cost per transaction rises and the quoted rate means almost nothing.
This is problematic because normally we recommend that businesses ask for a quote to see what their rates will be with a given processing provider, but with Flagship, it seems that the quote is not an accurate reflection of the end price you'll pay for merchant services.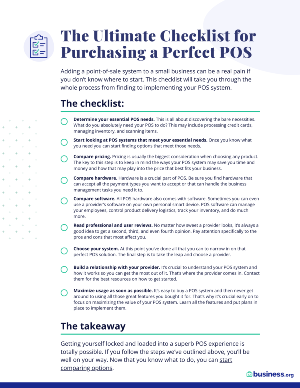 Follow these steps to purchase the perfect POS system
Read our free ultimate checklist for finding the right POS for your business. Don't get saddled with the wrong system. Enter your email and the checklist will arrive promptly.
Now that we've covered that unfortunate pricing business, let's talk about Flagship's processing service. There's actually a solid offering here. The feature set it's built into its processing platform was designed with small businesses in mind.
Taken together, these features make up a very modern processing offering—one that emphasizes customer loyalty, payment flexibility, and analytics. These pillars of processing are crucial for modern businesses that want to stay relevant and grow.
Flagship offers terminals that fill a number of business needs. You can get a basic card reader for fast and easy payment processing. You can also buy Clover point-of-sale terminals to help you and your customers get more value out of each transaction.
Additionally, you can purchase a mobile card terminal to take payments on the go or make your employees more mobile. We don't exactly know how Flagship prices its terminals because the information isn't available online, but usually processing companies will either sell you the equipment outright or let you lease it for a low monthly fee.
Using Flagship's payment gateway, you can easily incorporate a payment processing solution on your website. Additionally, it offers an application programming interface that enables your web developer to customize your online payment processor for a more branded or streamlined shopping experience.
This is an interesting service on offer by Flagship: it'll help you design and print custom gift cards for your brand. Gift cards are great because they increase your immediate cash flow and can improve customer loyalty by encouraging future visits or purchases.
Flagship likely charges for this service, but there's no pricing information listed online. You'll have to ask about the service via email or on a sales call.
Business management portal
Flagship offers a portal called iAccess that aggregates transaction data and creates helpful reports. Additionally, with the Insights functionality, the iAccess portal will analyze customer visit activity, monitor your online reputation on sites like Yelp, and help you keep your finger on the pulse of the market.
Remember when you used to have five or six punch cards to your favorite places stashed away in a purse or wallet? Well, that's a thing of the past with Pirq, a digital punchcard app that works with Flagship's processing platform. It'll allow you to collect more data on your customers and offer them great rewards for their visits.
Is Flagship Merchant Services right for your business?
We can't in good conscience recommend Flagship. There are simply too many unknowns with its pricing and fees, and there are too many voices online complaining about its service.
That said, we do have to emphasize that outside of their pricing problems, there's a good processing service here. If you're really doing your due diligence in comparison shopping, it would be worth getting a quote and a contract from Flagship.
Be sure to read the whole contract, paying special attention to fees, and maybe you'll find that some of the fees don't apply to your business. Plus, with processing companies like Flagship that let you bargain for a deal, you may be able to get certain fees and stipulations taken off your contract.
And if you managed to haggle yourself a transparent contract with a good price, you may end up pretty happy with Flagship's offering.
And it all starts with payment flexibility.
Flagship has a great processing service. That's why it's so unfortunate its fees and pricing are such a mess.
Your business will probably be better off looking elsewhere for processing unless you're ready to bargain for a good deal. In the meantime, we'll keep our finger on Flagship's pulse to see if they update their pricing practices. For now, the reviews are in, and they're mostly negative.
For recommendations of companies that are more transparent with their pricing and competitive in what they have on offer for small-business processing, check out our recommendations for the best small-business processors of 2020.
Disclaimer
At Business.org, our research is meant to offer general product and service recommendations. We don't guarantee that our suggestions will work best for each individual or business, so consider your unique needs when choosing products and services.