Opportunity Fund Review 2022
We don't recommend Opportunity Fund for everyone, but business owners in some industries might like it.
Opportunity Fund says that it offers affordable financing to small-business owners who can't get funding through traditional means. It sounds great―and it sounds a lot like the spiel we've heard from some other alternative lenders that turned out to be confusing and expensive.
So does Opportunity Fund actually live up to its own promises? We can help you decide.
In our Opportunity Fund review, we'll explain how this lender works, warn you about some potential problems, and give you some reasons why Opportunity Fund might be a good fit for your business.
Opportunity Fund is best for low-credit business owners in certain industries
Flexible credit requirements
Expertise with certain industries
Wide view of borrower qualifications
No lending in five states
Lack of information on website
Few customer reviews
Honestly, a lot of business owners will pass on Opportunity Fund. It offers just one type of loan, the maximum loan sizes are fairly small, and it doesn't have much transparency about borrower requirements or interest rates.
But Opportunity Fund may still interest some small-business owners―especially those with little credit or operating in some industries that have a harder time qualifying for financing.
In part, that's because of its fairly flexible borrower requirements. Opportunity Fund works with pretty young businesses and with business owners that don't have strong credit histories. (We don't know about its revenue requirements. When we called to clarify, the rep we spoke with said there was a cutoff, but they didn't know what it was.)
Plus, Opportunity Fund looks at more qualifying factors than other lenders, including income from family members, references, and challenges you've overcome. (It's kind of like Accion, another lender that cares just as much about your story as your finances.)
Qualifying for Opportunity Fund
| | | | |
| --- | --- | --- | --- |
| Min. credit score | Min. revenue | Min. time in business | Get a loan |
| "Little or no credit history req'd" | Unlisted | 1 yr. | Apply Now |
Data as of 11/21/21. Offers and availability may vary by location and are subject to change.
That makes Opportunity Fund more accessible than lots of other lenders (especially banks).
And Opportunity Fund has another edge: experience with and willingness to lend to certain niche industries. For example, Opportunity Fund cites owner-operated trucking, mobile food, day care, and nail salons as some of the industries it does a lot of lending in. Industries like those can have a harder time getting funding from banks and other premium lenders, so Opportunity Fund might be of extra interest to businesses in those sectors.
We do need to point out, though, that Opportunity Fund doesn't directly lend in all states. It offers (some) loans in 14 states (Alaska, California, Connecticut, Delaware, Kentucky, Maryland, Minnesota, Nebraska, Nevada, New Hampshire, New Jersey, New York, North Carolina, and Oregon).
If you're not in one of those states, you may be able to get an Opportunity Fund loan through its partnership with LendingClub. (In that case, you'll apply through LendingClub's website.) Unless you're in Montana, North Dakota, South Dakota, Tennessee, Vermont, or DC. Opportunity Fund doesn't do any lending in those states, so you'll need to look elsewhere.
So let's say you're in an eligible location and you're interested. What do Opportunity Fund loans look like?
Best Small-Business Loans
Opportunity Fund loan options
Opportunity Fund sticks to the basics with one type of business loan: working capital loans.
That makes Opportunity Fund loans flexible enough to work for all sorts of business needs, from hiring more staff to buying more inventory to adding patio seating to your restaurant.
And theoretically, Opportunity Fund loans have been designed for just that kind of flexibility. They come in a fair range of loan amounts and repayment terms.
Opportunity Fund financing
| | | | | |
| --- | --- | --- | --- | --- |
| Product | Min./max. loan size | Lowest listed rate | Repayment terms | Learn more |
| Working capital loans | $2,600/$250,000 | Unlisted | 12–60 mos. | Apply Now |
Data as of 11/21/21. Offers and availability may vary by location and are subject to change.
That said, Opportunity Fund's website places a heavy emphasis on microloans (usually defined as loans of $50,000 or less). While we don't know for sure, we suspect Opportunity Fund's average loan size is much smaller than its maximum loan size―something to keep in mind when deciding if its funding will work for you.
Keep in mind too that loans for trucks and mobile food businesses max out at $200,000, making them smaller than other Opportunity Fund loans for other uses.
Unfortunately, Opportunity Fund doesn't list interest rates or fees for any of its loans. Its website does say that it doesn't charge outrageous rates like some predatory lenders―but that could mean anything.
We can make some educated guesses though. As we mentioned above, Opportunity Fund partners with LendingClub to make loans in some states. And LendingClub does list its interest rates: it charges between 4.99% to 24.9% in interest. For context, that's about the range you'd expect to find at big banks. That's really good.
Origination fees bump up the APR (annual percentage rate, or the cost of funding over one year) on those loans to a range of 12.15% to 29.97%. Still, that's a much better range than you get from many alternative lenders.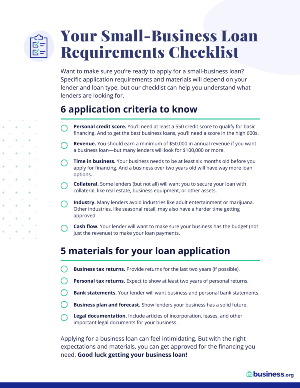 Applying for a small-business loan soon?
Our free checklist can help you understand what lenders are looking for.
Of course, we don't know that Opportunity Fund's solo loans have the same rates. There's a good chance they're at least a bit higher. But we find the rates on its partnered loans encouraging. If we had to guess, we'd say Opportunity Fund itself offers pretty competitive rates.
Just make sure you know exactly what rates you're getting before you commit to your funding―from Opportunity Fund or anyone else.
Either way, Opportunity Fund gives you a monthly repayment schedule, unlike the weekly or even daily payment schedules often used by online lenders. (You do have to call to set up automatic payments, though. Ugh.)
Fortunately, Opportunity Fund doesn't charge any prepayment penalties, so you can repay your loan as soon as you're able if you want to save on interest.
And that sums up Opportunity Fund loans.
Opportunity Fund's application and funding process
Think you might want to apply with Opportunity Fund?
Here's what you should know.
First, Opportunity Fund doesn't have a simple online application (like most lenders do these days). You have to call―on the phone―to begin your loan application process.
After you call, you'll get assigned a loan officer who will help you through the rest of the application process. We don't know exactly what Opportunity Fund asks for, but loan applications usually involve filling out forms with information about your business and submitting financial documents like these:
Personal tax returns
Business tax returns
Business profit/loss sheet
Personal bank statements
Business bank statements
And in Opportunity Fund's case, we know it considers things like references, cosigners, and challenges you've faced. So be ready to provide information on those too.
Once you get your finished application in, Opportunity Fund will take three to five days to consider your application.
If you get approved (woo!), then Opportunity Fund will take another few days to get you your money. It offers funding through physical checks or ACH transfers (or, in the case of funding for trucks and trailers, it sends money directly to the vehicle dealer).
If you get turned down, Opportunity Fund will tell you exactly why your application was rejected. That way, you can make plans to improve your application and qualify for funding in the future. (It's a nice touch, since so many lenders just say "no" and nothing more.)
But remember, it all starts with a phone call.
Faster funding times
Opportunity Fund takes several days―at minimum―to approve and fund you. If you need a loan ASAP, take a look at our list of fast and easy business loans.
Opportunity Fund customer reviews
We've reached the part of our review where we usually tell you what actual borrowers and business owners have to say about the lender. But in Opportunity Fund's case, we didn't find much.
Opportunity Fund doesn't have any customer reviews with our usual sources, Trustpilot and the Better Business Bureau (BBB). In fact, Opportunity Fund's BBB page has just one complaint―and it's not even from a customer.
So what should you make of the lack of Opportunity Fund reviews?
Well, sometimes no news is good news. At the very least, it doesn't seem like Opportunity Fund is scamming and angering people on a widespread basis. Otherwise, we'd expect to see at least a few negative reviews.
Still, we get why the lack of reviews could make you uneasy. If you'd prefer to go with a better-known and reviewed lender, our rankings of the best alternative business loans give you some good options.
(And for what it's worth, Opportunity Fund gets four stars at a 90.06 out of 100 on Charity Navigator.1 It's not the same as customer reviews, but it might give you some confidence that Opportunity Fund isn't out to scam you.)
Opportunity Fund isn't going to become our favorite lender anytime soon, as it has few customer reviews, doesn't offer all the information potential borrowers want, and doesn't lend in several states.
But if you're a business owner with relatively modest borrower qualifications (like no credit history or a young business), you might find Opportunity Fund interesting―especially if you work in one of its preferred industries.
So while we can't wholeheartedly recommend Opportunity Fund, it may still be worth considering for your business loan needs.
Not convinced Opportunity Fund is right for your business? See more funding options on our list of the best small-business loans.
Disclaimer
At Business.org, our research is meant to offer general product and service recommendations. We don't guarantee that our suggestions will work best for each individual or business, so consider your unique needs when choosing products and services.