CAN Capital Small-Business Loans Review 2023
We dug up all the info we could on CAN Capital to find out what's great―and not so great―about this business lender.
Data as of 12/20/22. Offers and availability may vary by location and are subject to change.
As an online lender (aka an alternative lender), CAN Capital offers business funding to small businesses that probably can't get traditional bank loans. But is CAN Capital actually a good alternative to traditional lenders?
After grading CAN Capital on a dozen different factors, we found some things we really liked about it. CAN Capital offers fairly fast funding times, has more accessible credit score requirements than some lenders, and earns great customer reviews. But we don't like the lack of information on loan costs, the low loan amounts, and the potential for a daily repayment schedule.
Learn more about all that in this CAN Capital small-business loans review.
Funding in 48 hours
Moderate credit score requirement
Excellent customer reviews
No published interest rates
Low maximum loan amounts
Daily payments on some loans
CAN Capital products and pricing
CAN Capital has two types of business working capital: a term loan and equipment financing.
You probably already know all about term loans―how you borrow a lump sum that you repay over time. Unsurprisingly, term loans are one of the most popular kinds of business funding because you can use them for all sorts of business needs.
And if you don't already know about equipment financing, you can probably guess a lot about it from the name. Equipment loans help you purchase new or used equipment for your business.
They're both generally solid business financing products. But how do CAN Capital's specific offerings look?
Compare CAN Capital products and pricing
Data as of 12/20/22. Offers and availability may vary by location and are subject to change.
Well, the first thing we noticed is that CAN Capital doesn't list any interest rates. That means you should expect CAN Capital loan products to cost a lot. Yes, its website calls its rates "competitive" with other online lenders. But online lenders already cost a lot more than traditional lenders (in almost all cases). They often keep their rates secret to hide how high they are.
While we can't tell you any interest rates, we do know that CAN Capital charges a 3% origination fee on its term loans. And we can also tell you that business owners like CAN Capital (as we'll discuss later), which means its overall costs may be high―but they don't have to be a dealbreaker.
Costs aside, we want to point out a few more things. Loan amounts, for instance. CAN Capital loans max out at $250,000. With any luck, that loan amount works for your business. But given that other lenders offer loans into the millions of dollars, CAN Capital doesn't have the biggest loans out there.
Notice the repayment terms too. CAN Capital's term loan is really a short-term loan. You'll get, at most, two years to repay your small-business loan. And with a short-term loan, you'll have to make weekly or even daily payments. That can really strangle your cash flow, so make sure you can commit to that kind of payment schedule.
Fortunately, CAN Capital's equipment financing comes with longer terms and monthly payment schedules.
CAN Capital used to offer a merchant cash advance, but it no longer seems to have cash advance products. (Not a big loss.)
So of the two products, we think the equipment loans look a lot more appealing. (Assuming you need business equipment, anyway.) But in either case, you'll have to qualify.
CAN Capital lists the following borrower requirements:
3 years in business
600 personal credit score
Less than $175,000 in tax liens/judgements
No bankruptcies in last 2 years
If your loan application gets approved, CAN Capital will get you funding within a day or two.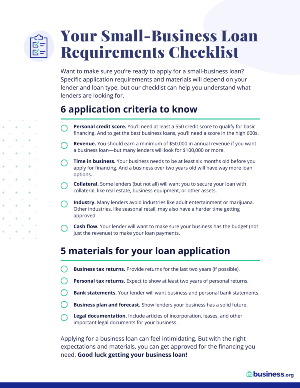 Applying for a small-business loan soon?
Our free checklist can help you understand what lenders are looking for.
With all those loan details in mind, let's talk about the best CAN Capital features.
For starters, we like CAN Capital's funding speed. In most cases, you'll get an answer to your loan application within 24 hours. Then you can get money in your bank account the next business day. So all told, you can get a new short-term loan or equipment financing in 48 hours. That doesn't make CAN Capital the fastest lender we've found (see our list of same-day business loan lenders  for that), but it's still pretty quick.
We also like that CAN Capital accepts less-than-perfect credit scores. Lots of lenders won't look at borrowers with a 600 credit score, but CAN Capital will. That makes CAN Capital much more accessible than banks and even some online lenders.
But CAN Capital's best feature? Its excellent customer reviews. CAN Capital has a 4.9 out of 5 on Trustpilot, with more than 90% of reviews rating it great or excellent.1 Borrowers love how fast CAN Capital works and praise the top-notch customer service. Business owner after business owner raves about how easy CAN Capital makes it to get working capital loans.
In other words, we've found plenty you might like about CAN Capital. But how does it look compared to other lenders?
CAN Capital vs. the competition
CAN Capital makes it clear that it's not trying to compete with banks. Instead, it's designed for people that can't qualify for traditional bank loans―meaning it competes with other alternative lenders.
Compare CAN Capital vs. competitor lenders
| | | | | |
| --- | --- | --- | --- | --- |
| Lender | Min./max. loan amount | Lowest listed rate | Min. credit score | Get a loan |
| | $2,500/$250,000 | Unlisted | 600 | Apply Now |
| | $5,000/$250,000 | 6.2% interest | 625 | Apply Now |
| | Up to $150,000 | 4.66% draw rate | 600 | Apply Now |
| | $500/$5 million | 4.25% interest | 560 | Apply Now |
| | $5,000/$250,000 | 29.9% APR | 625 | Apply Now |
Data as of 12/20/22. Offers and availability may vary by location and are subject to change.
As you can see, though, most alternative lenders list their starting interest rates (or loan fees, in Fundbox's case). Sure, you may not qualify for those minimum rates―but at least other lenders let you know what's possible.
And while we did praise CAN Capital's moderate credit requirements, you can see that it's far from the only lender to accept lower credit scores.
CAN Capital does have one advantage worth noting, though: Its equipment financing comes with longer repayment terms than you'd get from many other online lenders.
So if you need to purchase equipment, CAN Capital may offer better business financing than other online lenders. But for general short-term loans, we'd stick with other alternative business loans―if only because other lenders list their interest rates.
By now, you've seen the features we like about CAN Capital. And while you may have noticed some of the downsides, let's make those a bit more clear.
We really dislike that CAN Capital doesn't list its interest rates.
No, it's not the only lender to hide financing costs. But business loan interest rates matter a lot. For many small-business owners, rates can be a dealbreaker (as they should be).
So we think lenders like CAN Capital ought to offer a lot more transparency about their interest rates. Otherwise, you might waste your time submitting an application only to get an interest rate you would never agree to.
While we like CAN Capital's fairly low credit requirement, we still have some issues with its other business loan requirements.
Take its business age requirement. CAN Capital works only with businesses that have been around for at least three years. That's on the high end for a business age requirement. Even most banks will work with two-year-old businesses. That age requirement alone means lots of business owners can't use CAN Capital.
We also wonder about CAN Capital's annual revenue requirements. It doesn't list any, but we feel pretty sure it has one. All lenders do. And given its business age requirement, we suspect CAN Capital has an above-average annual revenue requirement. But again, we can't know for sure.
Finally, we dislike that CAN Capital asks for weekly or daily payments on short-term loans.
Once more, we can admit that other lenders do the same thing. That doesn't make it better, though. Daily or weekly payments can really cramp your cash flow in a way that monthly payments (the standard for traditional lenders) don't.
And remember, CAN Capital has very short repayment terms on its term loans anyway―two years, max. That means you'll end up making a lot of fairly high payments in a short period of time.
Hopefully, that works with your business budget. But you should definitely run some numbers before committing to anything.
CAN Capital offers a couple different loan options. You can get its short-term loans and equipment loans very quickly (in just a couple days), and you don't need a perfect credit score to qualify. Plus, you can feel reassured that lots of business owners rave about CAN Capital.
But we do have some concerns about CAN Capital, like its hidden interest rates, high business age requirements, and difficult repayment schedules.
So while we do see some advantages to CAN Capital equipment loans, we think better lenders offer better value overall.
Don't want to go with CAN Capital? Find a better lender for your business on our rankings of the best small-business loans.
Small-business loans can be hard to get, but it really depends on the lender you apply with. Traditional lenders, like banks, have high credit score, annual revenue, and business age requirements. Online lenders have lower borrower requirements.
If you're worried about qualifying for a business loan, check out our list of the best startup business loans. These loans have lower borrower requirements, making them more accessible.
Taking a small-business loan can be a good idea if you borrow with care.
For example, if you take a small-business loan to buy inventory that you feel confident will increase your revenue, that can be a good idea. But taking a working capital loan to try to keep your failing business alive a little longer? Probably not such a good idea.
So if you're thinking of getting a small-business loan, make sure you have a revenue-increasing reason for doing so and that you can afford the cost of the loan.
Does a business loan check credit?
Yes, pretty much all business loans require a credit check to get. In some cases, a lender will perform a soft pull instead of a hard pull, so it won't affect your credit score. But definitely expect lenders to look at your credit score.
(If you really don't want a credit check, we have found a handful of small-business loans with no credit check.)
Does your personal credit score affect a business loan?
Yes, your personal credit score affects business loans in a couple ways.
First, it affects whether or not your loan application will get approved in the first place. Most lenders have minimum credit score requirements.
Second, it affects the rates and terms of the loan you get approved for. A better credit score can earn you lower interest rates, for example.
For more information, see our guide to why your personal credit score matters to a small-business lender.
Disclaimer
At Business.org, our research is meant to offer general product and service recommendations. We don't guarantee that our suggestions will work best for each individual or business, so consider your unique needs when choosing products and services.
Sources
Trustpilot, "CAN Capital." Accessed December 20, 2022.