How to Improve Your Invoicing Process in 8 Simple Steps
It is important for small businesses to have an accurate and efficient invoicing system in place. This can help you make sure you're getting paid for the work you're doing or the products you've sold. Here we offer 8 simple steps that can help you develop a strong process for your small business.
Establish the billing terms for your company so you can maintain good customer relations, avoid surprises, and increase your chances of getting paid on time. Decide whether to bill hourly or by the project/product. Think about how and when your clients pay you and the consequences they face if they miss a billing deadline. Make sure you outline these expectations with any client before you enter into any contractual agreement and be sure to stick to them. Your company needs cash flow and the only way to achieve that is to be paid for your hard work.
To help you increase your chances of being paid on time, it's a good idea to know who your clients are. You always want to make sure you're working for a real person or company, not a hoax or one that won't be around to pay their bills. Once this is established, establish how your customer will be billed for your goods or services, whether electronically or by check, and how long it will take to receive a payment. Outline if they will pay in one lump sum or if they will require a multi-payment cycle. By establishing these details about your clients, you help avoid any setbacks for yourself down the road.
Outlining a billing schedule helps you plan and also lets your clients know when to look for an invoice from you. It is a good idea to bill on the same days each month to decrease the likelihood that one of your invoices gets overlooked and ends up unpaid.
4. Create clear and detailed invoices
Include all necessary details on your invoices while still maintaining clarity and readability. Label the document as an "Invoice," ideally near the top, so they know exactly what it is at one glance. Include your contact information, as well as that of your client, and a tracking number. List out the products or services as clearly as possible, along with unit prices, quantities, taxes, applicable discounts, and the final amount you're looking to collect. If you're billing for only part of a job, make this clear in the invoice. The easier it is for your client to understand your invoice, the more likely you are to get paid quicker.
Best Small Business Accounting Software
Even if your client prefers a printed invoice, send an additional electronic copy. This creates a paper trail, which is valuable to have in case of a legal dispute. Record project change details, price changes, and communications in the same way, so you have a record of everything passed between you and the client. When invoicing via email, include the invoice as an attachment, rather than in the body of the message. This helps ensure your invoice is easy to read and the customer is less likely to overlook a section of the bill.
6. Remind client of deadline
You don't need to be a pest, but it's perfectly reasonable and often appreciated if you send a reminder to clients about upcoming bill deadlines. You can send reminders a week before payment is due, or even the day before. Decide what works best for your business and clientele. This is especially helpful if you charge a late fee, as a reminder can help your client save money.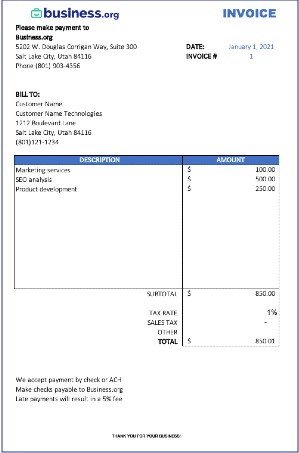 Create Professional Invoices with Our Free Template
Create clear and detailed invoices for your clients. Enter your email below, and we'll send you our downloadable link shortly.
7. Keep an invoice tracking system
You'll want to keep track of invoicing as part of your financial record books. Include details about when you sent your invoice, who you sent the invoices to, if/when they were paid, and how much you received for a payment (if they're paying in stages). Also, you may want to include an invoice numbering system to help you keep track of invoice records and help you out come tax season.
Consider using an accounting software
Use the questionnaire below and find the best accounting software match for your business.
8. Go after late payments
If a payment deadline passes and you aren't paid, you have the right to pursue the late payment. Promptly send a polite and professional reminder to the client; a missed payment could just be a mistake. The reminder message should include details about the invoice in question, including the tracking number, amount due, and the date it was due. This should be your first step, not to take it to court. Should the road lead there, having a paper trail of your attempts can only help you get the money you earned.
By implementing these 8 simple processes into your business billing procedure, you can help ease the burden of invoicing your clients and keep up your cash flow.
Disclaimer
At Business.org, our research is meant to offer general product and service recommendations. We don't guarantee that our suggestions will work best for each individual or business, so consider your unique needs when choosing products and services.