CEO Salary Ratio vs. Their Employees in 2019
---
It's like Dolly Parton once sang in "9 to 5:" "you're just a step on the boss man's ladder." We here at Business.org wanted to know just how high the boss man's ladder goes.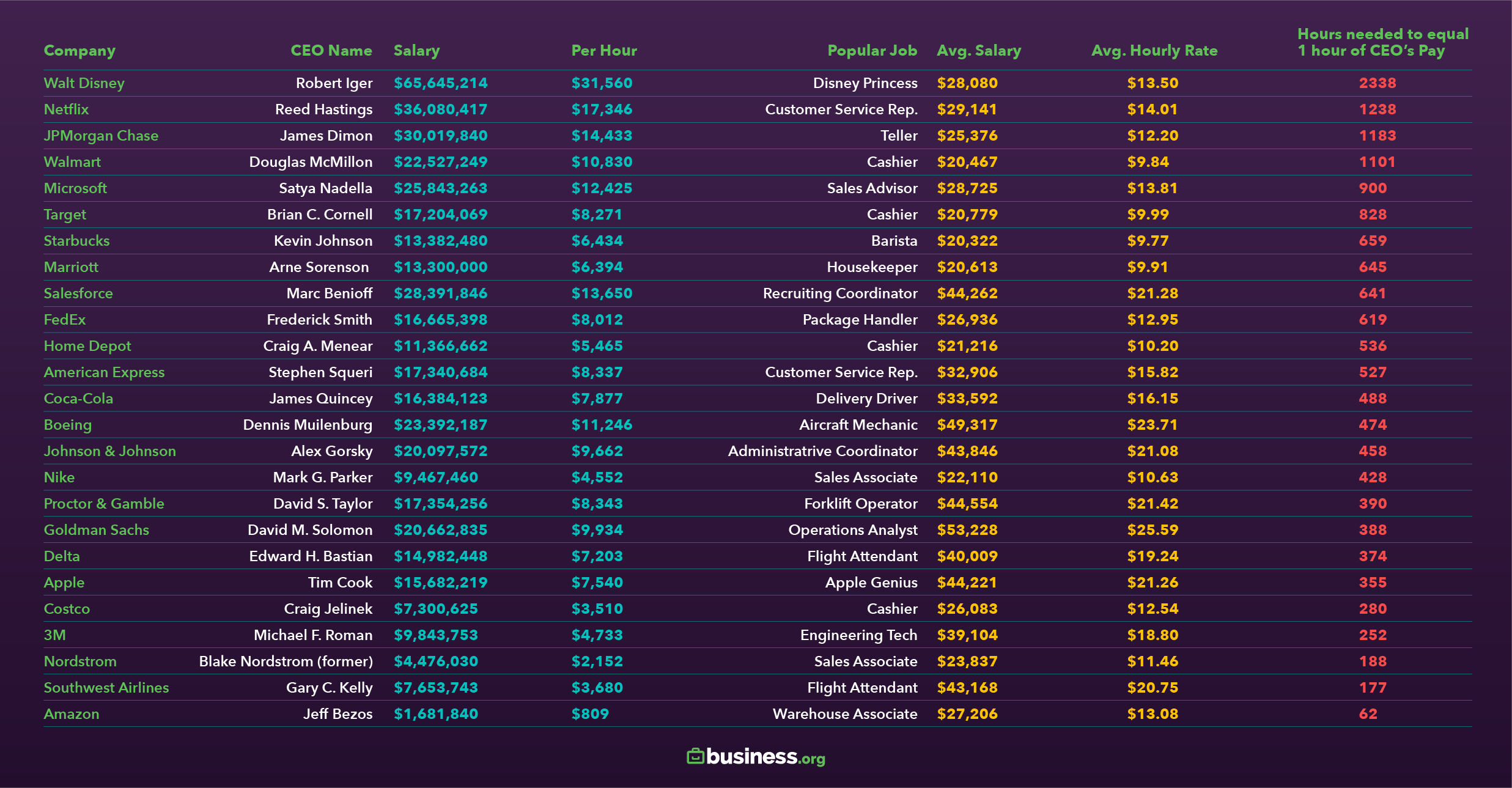 You've probably seen reports before that have touched on the pay gap of a chief executive officer's earnings to the average employee, but maybe you had something a little different in mind—which is why we compared CEOs' salaries to the average earnings of their most recognizable employees.
Yep, we did the math and figured out how many hours a Disney princess, a barista, a warehouse worker, and other employees would have to work to make what their CEO makes in a year, a week, a day, and a minute.
So what did we learn?
It's a rich man's game, no matter what they call it
Well, first we learned that CEOs get paid a lot. For the companies on our list, the average CEO salary in 2018 was $18,669,849—or just under $9,000 an hour. Disney's Robert Iger highest-paid CEO making over $65 million in 2018, while Amazon CEO Jeff Bezos made the least (a paltry $1.6 million). You know, chump change.
Working for the Man—literally
All of the companies included in our analysis have male CEOs. Turns out the Man really is a man, at least at America's most beloved companies.
Their employees, on the other hand? Well, their average salary was a much lower $15.37 an hour, or about $32,000 a year.
You can see the numbers for yourself in the full breakdown below. Here are some of the highlights—or lowlights, depending on how you look at it: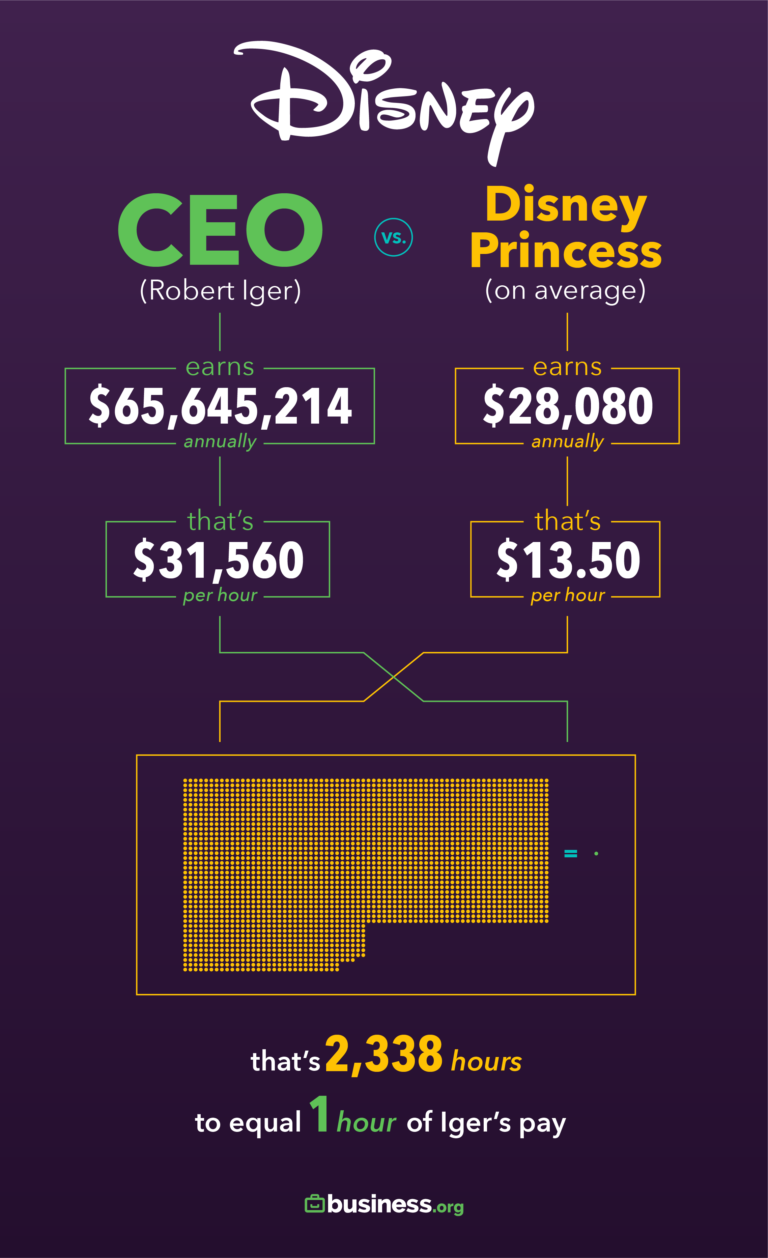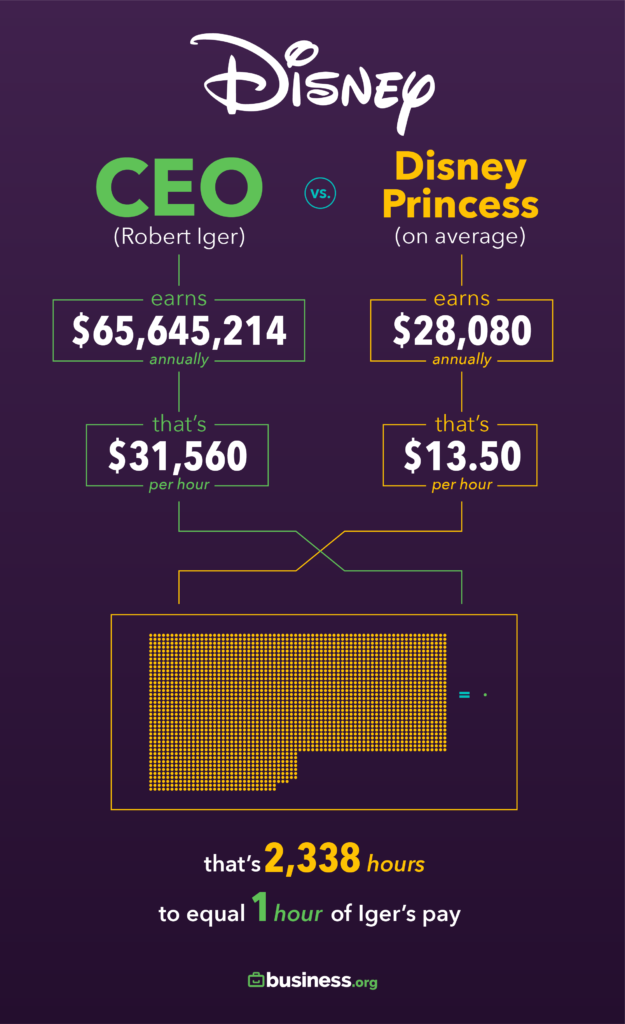 Disney's CEO's salary
Turns out things aren't so magical in the Magic Kingdom—at least for Disney princesses. Ariel, Belle, and friends have to work 39 hours if they want to earn what Disney CEO Bob Iger makes in just one minute. That's a full week of signing autographs and taking pictures under the baking hot sun. Happiest place on earth? Maybe for Bob Iger.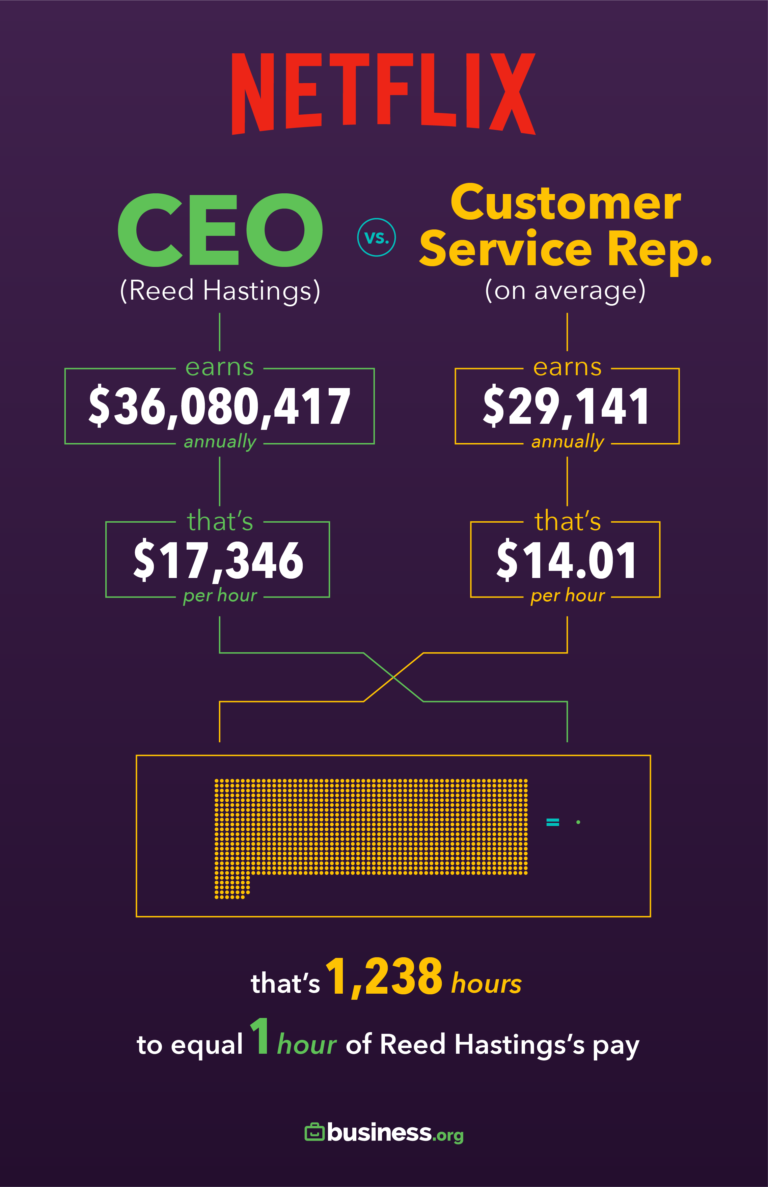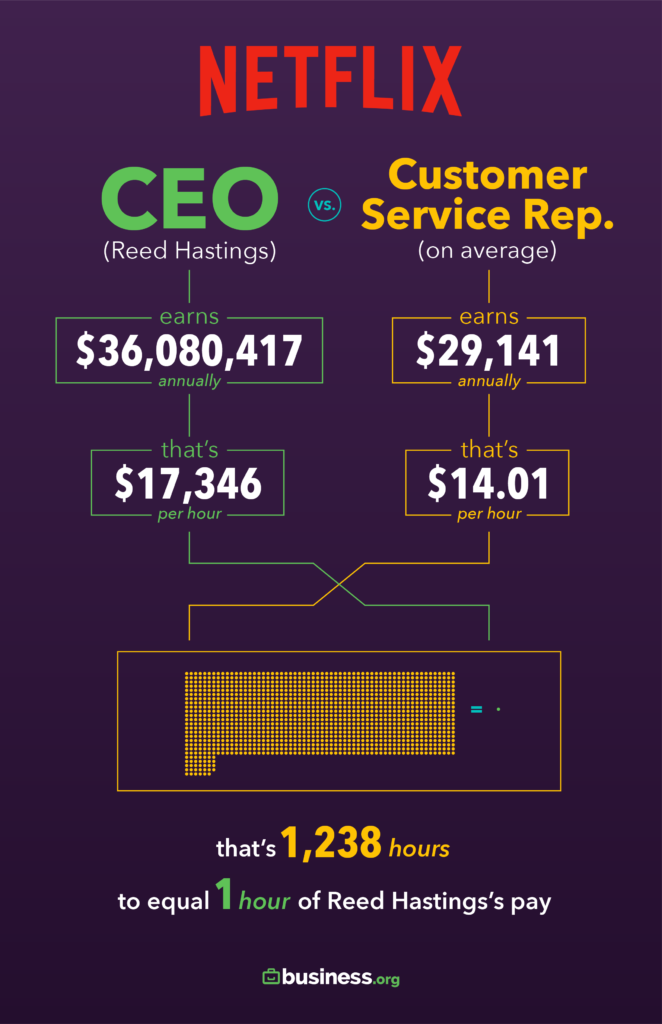 Netflix's CEO's salary
But what about everyone's favorite streaming company? (Sorry, Hulu.) To make what Netflix CEO Reed Hastings earns in one minute leading the company, a Netflix customer service rep has to work 20 hours. That's roughly the run time of three seasons of Stranger Things.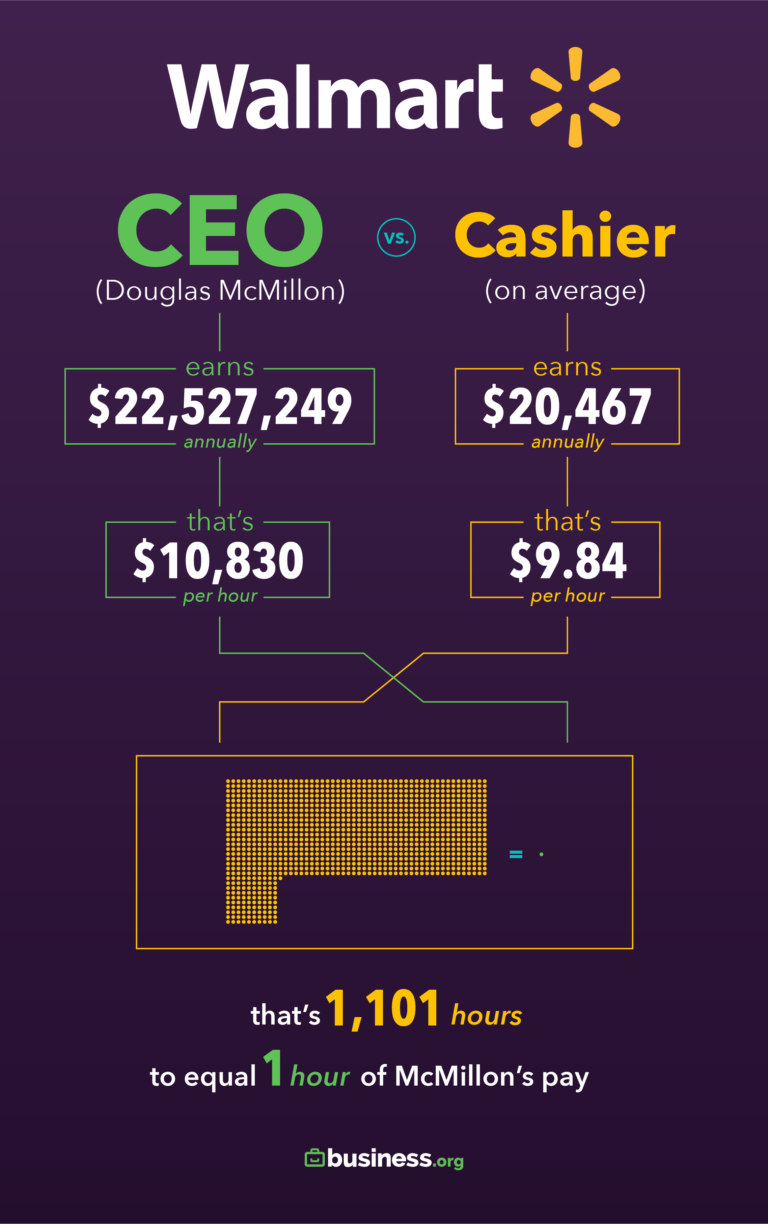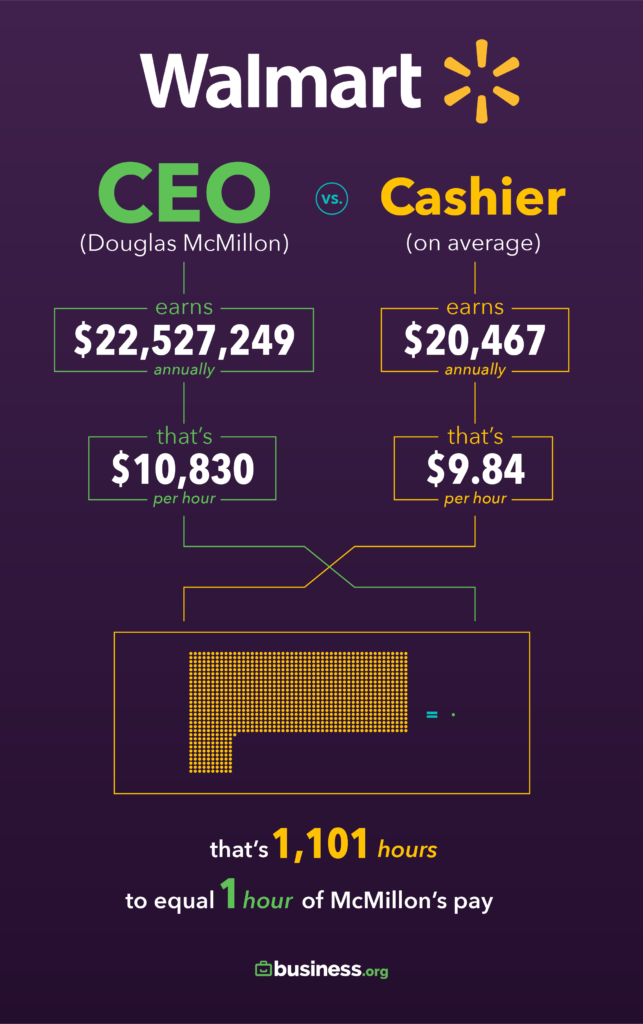 Walmart's CEO's salary
Over at Walmart, a cashier would have to work over 18 hours to equal one minute of CEO Douglas McMillon's earnings. That means that if a cashier worked full time for half a year, they'd finally make what McMillon earns in one hour. Guess those rollbacks apply to employee salaries too.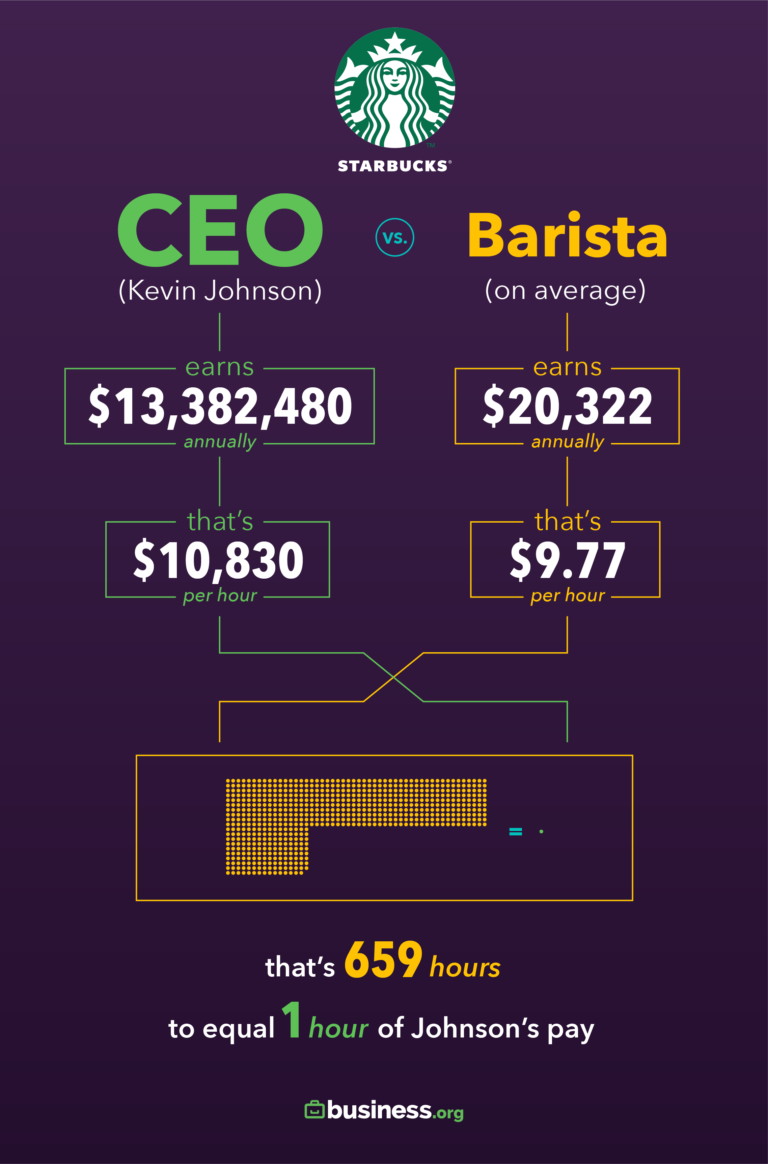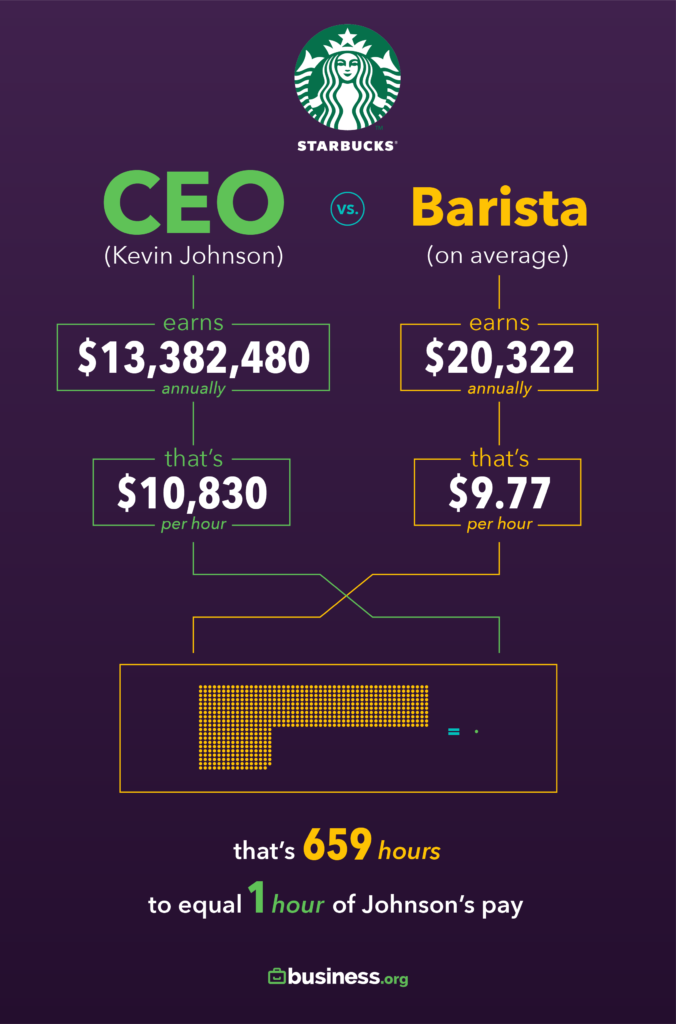 Starbucks' CEO's salary
Then there's Starbucks. A barista would have to work 11 hours to make what Kevin Johnson makes in one minute on the job. So in the minute it takes to make Johnson's typical Starbucks order (a triple espresso macchiato),1 he's earned over $100. And the barista making that macchiato? Just 16 cents.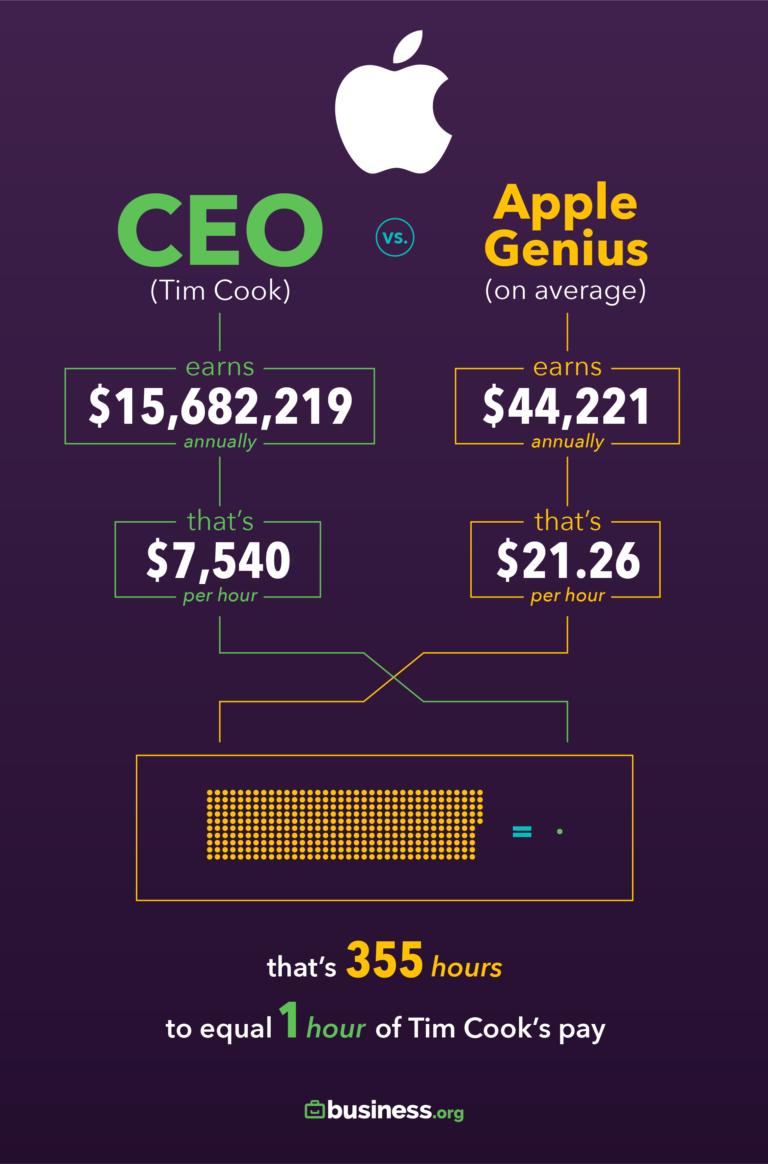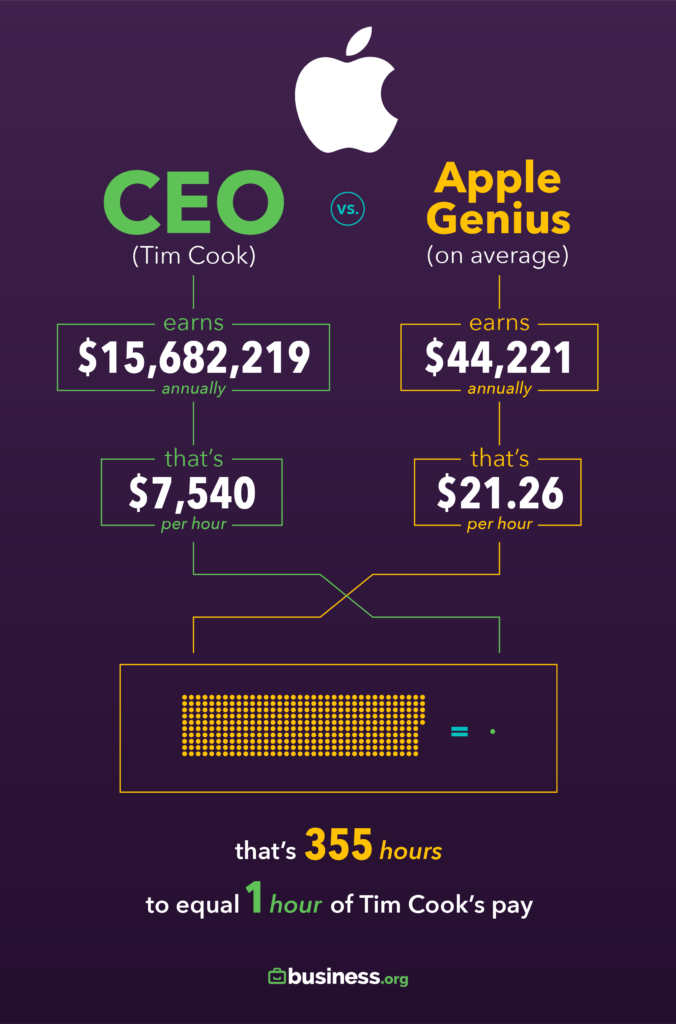 Apple's CEO's salary
Now take a look inside your local Apple Store. An Apple Genius would have to spend 6 hours in the store to earn what Tim Cook makes in one minute at the office. That's 355 hours, or about nine work weeks, to make what Tim Cook makes in an hour. You don't have to be a genius to see who's getting the better deal here.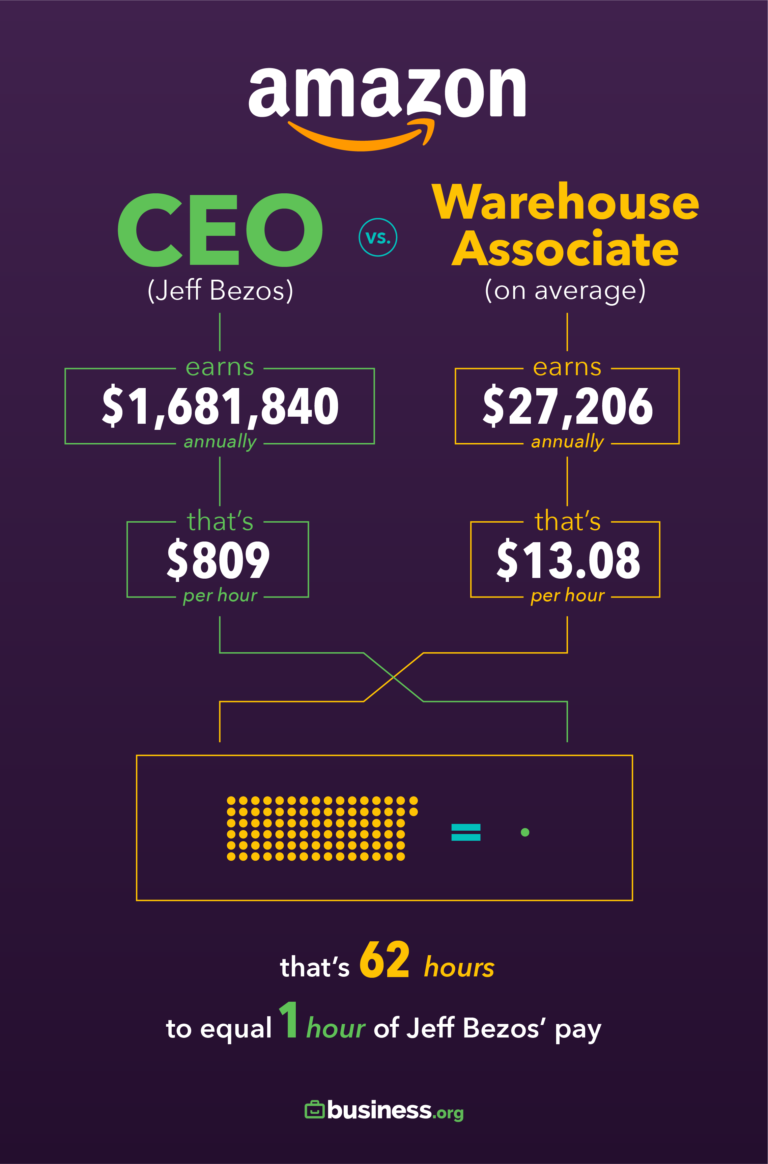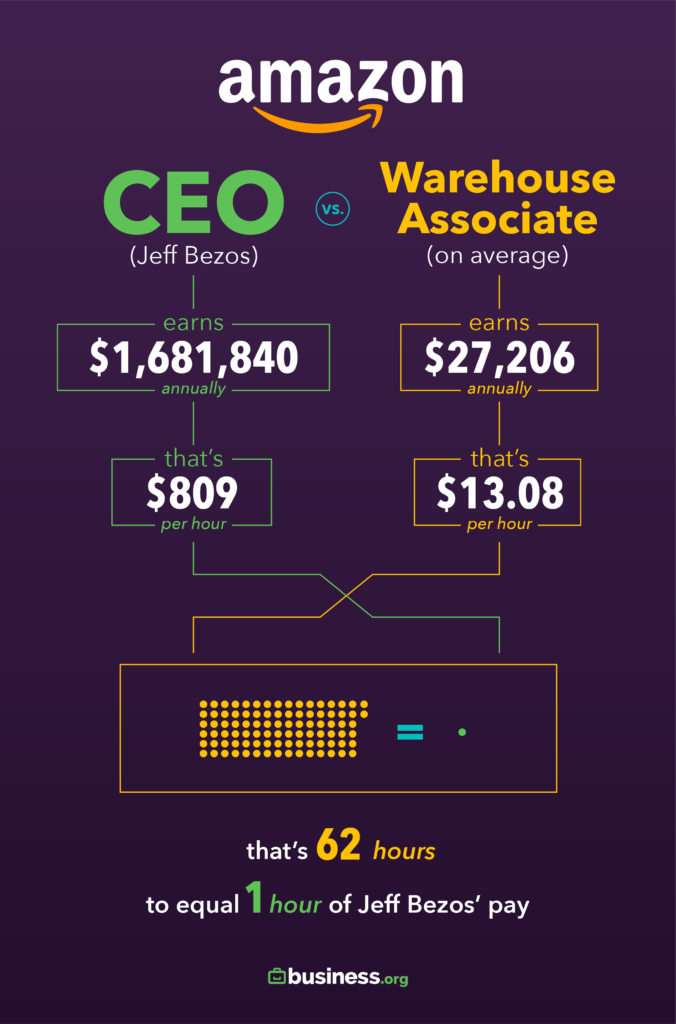 Amazon's CEO's salary
Wondering about Amazon? A warehouse associate earning Amazon's minimum wage has to work one hour to equal a Jeff Bezos minute. That might not sound so bad, given the other companies on this list, but let's put that in perspective: if someone worked full time as an Amazon warehouse associate for 60 years, they still wouldn't have earned what Jeff Bezos made in 2018.
CEO Salaries vs. Employee Salaries per Hour
| | | |
| --- | --- | --- |
| Company | CEO Salary/Hr. | Employee Hr. Rate |
| Walt Disney | $31,560 | $13.50 |
| Netflix | $17,346 | $14.01 |
| JPMorgan Chase | $14,433 | $12.20 |
| Walmart | $10,830 | $9.84 |
| Microsoft | $12,425 | $13.81 |
| Target | $8,271 | $9.99 |
| Starbucks | $6,434 | $9.77 |
| Marriott | $6,394 | $9.91 |
| Salesforce | $13,650 | $21.28 |
| FedEx | $8,012 | $12.95 |
| Home Depot | $5,465 | $10.20 |
| American Express | $8,337 | $15.82 |
| Coca-Cola | $7,877 | $16.15 |
| Boeing | $11,246 | $23.71 |
| Johnson & Johnson | $9,662 | $21.08 |
| Nike | $4,552 | $10.63 |
| Proctor & Gamble | $8,343 | $21.42 |
| Goldman Sachs | $9,934 | $25.59 |
| Delta | $7,203 | $19.24 |
| Apple | $7,540 | $21.26 |
| Costco | $3,510 | $12.54 |
| 3M | $4,733 | $18.80 |
| Nordstrom | $2,152 | $11.46 |
| Southwest Airlines | $3,680 | $20.75 |
| Amazon | $809 | $13.08 |
Methodology
First, we had to decide which companies to include in our analysis. We ended up going with Fortune's list of most admired companies.
Next, we had to get the salaries of each company's CEO, which we did by looking at the 2018 proxy statements that companies submitted to the SEC. We used annual salary, bonuses, and equity to calculate yearly earnings. Then we translated that yearly number into hourly and per-minute earnings of a 40-hour work week with 52 working weeks in a year.
Finally, we had to figure out employee salaries. We collected those by using crowdsourced data from Payscale.com.
You spend your life puttin' money in his wallet
Feeling grumpy about your salary yet? Us too. But what can you actually do about it?
Of course, we here at Business.org have to put a plug in for starting your own business and becoming your own CEO. Sure, you might not earn Bob Iger's $65 million salary, but at least you'll know your boss isn't earning 2,000 times more than your compensation package.
And maybe then, just like Dolly Parton sang, "your ship will come in, and the tide's gonna turn." Sounds good to us.
Sources