Big Tech is Taking Out Small Businesses
Across the country, small businesses are facing lowering profits and the threat of closure from large conglomerates. From the convenience store forced out by Walmart to the bookstore closing due to Amazon, Main Street is being reshaped by Wall Street corporations.
Led by record profits, the biggest of those corporations—Big Tech companies like Meta, Amazon, Alphabet, or Apple—are amassing a market share that threatens every small business. With the ability to price out competition and tailor search results, these larger tech companies have the ability to remove small businesses from the equation.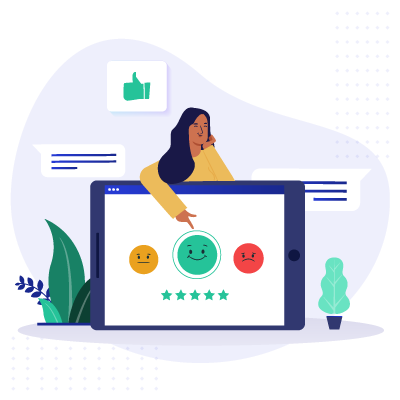 Expert Advice, Straight to Your Inbox
Gain confidence in your business future with our weekly simple solutions newsletter.
Small businesses can't compete
Market consolidation masquerading as consumer welfare is nothing new. In 2010, Barry C. Lynn, the now-Executive Director of the Open Markets Institute, wrote that Reagan-era antitrust policies promoting lower prices didn't protect competitive markets but instead encouraged consolidation "as long as the consolidation appeared to result in the delivery of less-expensive goods."1
In an interview with Business.org, Lynn explained further: "When you allow for there to be a super-giant retail controlling vast amounts of the marketplace—and this could be Amazon, it could be Walmart—they get to basically dictate terms to suppliers," Lynn said. By controlling the seller marketplace, these "super powerful buyers" extract wealth by "debilitating all the suppliers," according to Lynn. These businesses then determine the product choice and price for all consumers.
"It's a terrible thing for everybody in America," Lynn noted.
What about antitrust laws?
"Antitrust law was largely designed to help small businesses," Lynn explained. "It was designed to protect businesspeople and make sure that they have an open market that's not controlled by a single monopoly or a few giant companies."
In effect, antitrust laws prevented one business entity from hoarding all the power in a given industry. From 1901 to 1913, the Roosevelt and Taft administrations sued 120 companies under the Sherman Antitrust Act, a US law that prohibits anti-competitive behavior and restricts monopolies. The courts also broke up numerous oil and railroad monopolies and prevented price fixing.
For nearly 200 years, corporations were structured within a market to distribute power and allow for competition. "We had all these laws to ensure that you have the liberty to compete—to try your hand at whatever you want to do," Lynn said.
In the 1980s, a radical change occurred during the Reagan administration: "Rather than centering our anti-monopoly laws around the concept of liberty," Lynn explained, legal scholars argued that "we should be centering our anti-monopoly laws around the promotion of efficiency—the promotion of the welfare of the consumer."
Today, antitrust enforcement is meant to protect the consumer. "Antitrust enforcement is no longer meant to protect small businesses," Greg Day, assistant professor of Legal Studies at the Terry College of Business, told Business.org. "So to the degree that Amazon or Walmart can sell stuff for cheaper than local businesses, I doubt you'll see much of an antitrust response unless there's some other glaring impact on consumers."
As long as Amazon, Walmart, and the other big corporations aren't harming consumers, then they can continue operating as usual. And judging by both companies' record growth and profits, consumers aren't feeling harmed.
In today's market, small businesses with a web presence rely on digital advertising to spread the word about their ecommerce sites. But since digital ads are hosted on sites like Amazon and Google, small businesses are basically using Big Tech companies to power their businesses.
But what happens when the companies you rely on to help your business are directly competing with you?
It's simple: Those companies control the game and will take your small business out.
Amazon and the online marketplace
According to a Congressional hearing in July 2020, Amazon refers to third-party sellers, many of which are small businesses, as "internal competitors."2 However, Amazon controls as much as 75% of all online marketplace sales with nearly seven times the market share of its closest competitor.2 Amazon allegedly used that market power to poach best-selling products, undercut prices, and drive out small businesses.
At the time, Amazon's founder and then-CEO Jeff Bezos told Congress that "the consumer is the one ultimately making the decisions. They're making the decisions about what to buy, what price to buy it at, who to buy it from."2
Put simply, Bezos and Amazon are able to avoid antitrust scrutiny by emphasizing that they're just doing what's best for their customers.
Big bucks for digital advertising
In 2022, Alphabet (through its subsidiary Google) and Meta (through Facebook) earned over 50 percent of digital advertising revenues worldwide.3
Alphabet owns both an ad-buying and an ad-selling service that may be in conflict with current antitrust regulators.4 Meanwhile, Facebook partnered with Alphabet in a deal that privileged Facebook in Google ad auctions. A lawsuit filed by the Texas Attorney General accuses both companies of manipulating ad auctions, cutting out rivals, and decreasing prices paid to publishers.5
The lawsuit lays out how Google's ad business harms businesses: "Nearly all of today's online publishers (be they large or small) depend on one company—Google—as their middleman to sell their online display ad space in ad exchanges," the complaint reads. "Conversely, nearly every consumer goods company, e-commerce entity, and small business now depends on Google as their respective middleman to purchase display ads through exchanges in order to market their goods and services to consumers."6
Although Google and Facebook have long avoided antitrust scrutiny thanks to their consumer emphasis, multiple attorneys general are now making the case that digital advertising business hurts consumers.
The issues with Big Tech aren't just its monopoly power and supply and distribution control. It's also about Big Tech's data gathering and information storing.
As Representative David Cicilline (D-RI) asked Amazon founder and then-CEO Jeff Bezos during the hearing, "Is there an inherent conflict of interest because you are a data company," meaning "you know when customers put something in their cart, when they take it out. Traditional brick-and-mortar stores, like a grocery store where competition occurs, don't have that."2
Put more straightforwardly, Cicilline is asking if Amazon's online data tracking gives them an unfair advantage. After all, by tracking exactly what customers purchase, the company can show customized ads, products, and prices that maximize its chances of making a sale. Traditional mom-and-pop stores can't don't have the money or ability to do the same thing.
Companies like Google and Facebook also track and store vast amounts of consumer data. (Apple, on the other hand, has committed to privacy and its antitrust woes largely stem from app store and Apple Pay fees.)
In effect, this data from buyers (consumers) and sellers (small businesses) may mean that Big Tech can use its insider knowledge to take out small businesses.
It's antitrust summer in Washington, D.C., and small businesses aren't going down without a fight. "This is an opportunity to make sure that everyone is rowing in the same direction and showing how much impact these corporations have," Evan Greer, the director of Fight for the Future, which is running the Antitrust Summer campaign, told Business.org.
"We all have different reasons about why we care about these bills, but everyone has to band together," Greer said, noting that any business can write Congress and sign on to the campaign.
Lynn told Business.org that this is a "very exciting moment" because of the bills in the House and Senate with bipartisan support. The bills are designed to limit Big Tech and help independent businesses succeed. In particular, Lynn explained, the bills should make it more difficult for the corporations to exploit the services they provide and harm small businesses.
But it's important for small businesses to join the fight. "Big Tech are lobbying against these bills and running PR campaigns," Greer said, "but by working together and having all the small fish swim together, we can take on the big guys and win."
What are the bills in Congress?
There are two main bills in Congress that could be passed following a summer recess.
The Open App Markets Act specifically targets Apple and Google app stores that limit "a free and fair marketplace" for consumers, according to cosponsor Senator Marsha Blackburn (R-TN).
The American Innovation and Choice Online Act aims to establish rules for digital platforms that "ensure small businesses and entrepreneurs still have the opportunity to succeed in the digital marketplace," according to cosponsor Senator Amy Klobuchar (D-MN)
Together, these bills amount to the largest governing framework for digital corporations. They aim to restore competition for all businesses while removing the stronghold that Big Tech has on digital marketplaces.
Protecting your business from Big Tech
As Big Tech companies amass more data and more power, they can reduce the need for small businesses in the consumer ecosystem.
But there is hope. "Large, vertically integrated companies have existed for hundreds of years and the marketplace has been generally large enough to allow smaller competitors to exist and flourish," Mark McCareins, a clinical professor at Northwestern University's Kellogg Graduate School of Management, told Business.org. "Finding a niche is key and innovation is another way for smaller companies to compete."
McCareins noted that small businesses can be "more nimble" and adjust to market trends. He noted that Ben and Jerry's, for example, competed with large brands but used its "unique and quality product offerings" and cute flavor names to excel.
If your business isn't the next Ben & Jerry's, there's no need to fear. Your small business has survived because it offers a unique service or product to the community. By continuing to advocate in the community and push for tech reforms, you're helping small businesses everywhere.
Big Tech firms hold huge power over small businesses and consumers in the global economy. Many of these firms have gone unchecked for years and are now facing scrutiny.
"But it's at a certain point where you're fighting the largest corporations in the world, they're going to get you. There's nothing you could do to stop them," Lynn said. "So, the only thing you can do to stop them is to organize and fight them and beat them in Congress."
These corporations are working to dismantle competition while providing the lowest price for consumers, making it hard for you to compete.
Advocating for your business and fighting for legislation in Congress can help small businesses everywhere. The economy thrives when there's competition and small businesses, and communities need Main Street.
Sources
1 Barry C. Lynn, "American small businesses needn't go extinct," The Washington Post, February 21, 2010. Accessed August 4, 2022.
2 U.S. Congress, House of Representatives, Judiciary Subcommittee on Antitrust, Commercial, and Administrative Law: Online Platforms and Market Power, Part 6: Examining the Dominance of Amazon, Apple, Facebook, and Google, 116th Congress, July 2020.
3 Statista. "Net digital advertising revenue share of major ad-selling online companies worldwide from 2016 to 2023." March 9, 2022. Accessed August 4, 2022.
4 Leah Nylen, "DOJ Poised to Rebuff Google Concessions, Clearing the Way for Antitrust Suit," Bloomberg, July 14, 2022. Accessed August 5, 2022.
5 Lauren Feiner, "Google, Facebook CEOs oversaw illegal ad auction deal that gave Facebook an advantage, states allege," CNBC, January 14, 2022. Accessed August 5, 2022.
6 The State Of Texas, et al v. Google, LLC, 4:20-cv-00957, third amendment. Accessed August 4, 2022.