What Is WordPress Hosting?
Whether you're thinking about building your next website with WordPress or you've already committed, odds are you've come across WordPress hosting during your research. But what exactly is WordPress hosting? Why does managed WordPress hosting cost more than shared hosting plans, and is managed hosting really something your site needs?
In this article we're going to answer all of your questions about WordPress web hosting so you can decide if it's the right option for your business website.
WordPress.org is a free, open-source content management system (CMS) that powers websites ranging from personal blogs to small businesses and even global corporations (like the Walt Disney Company).
According to W3Techs, 35% of the web runs on WordPress, which makes it the most popular content management system in the world.1 One thing that makes WordPress especially attractive is its ease of installation. So whether you're an experienced developer or brand new to WordPress, you'll be able to get its CMS installed and running on your server in a matter of minutes.
Given the popularity of this platform, many popular WordPress web hosting providers have added new hosting plans that they've developed specifically for WordPress users. Other hosts, such as WP Engine and Kinsta, have dedicated their entire business toward WordPress web hosting services.
How much does it cost to host a WordPress site?
When it comes to WordPress web hosting, you've got a lot of options. Depending on the features included, pricing for entry-level WordPress hosting services range from free to $45 per month. Below, we've compared the prices of four of today's most popular managed WordPress hosting providers.
| | | | |
| --- | --- | --- | --- |
| WordPress.com | SiteGround.com | Kinsta.com | WPEngine.com |
| Free to $45/mo. | $4.95/mo. | $30/mo. | $35/mo. |
Data effective 7/1/19. At publishing time, pricing is current but is subject to change. Offers may not be available in all areas.
However, your choice isn't limited to these four choices. If you'd like to explore some additional web hosting options, then continue your search by reading our review of the best WordPress hosting providers.
Is WordPress hosting right for my site?
First things first: if you want to use a WordPress hosting plan, you need to have a WordPress website. These hosting plans use a technology stack that's been optimized for WordPress websites. That means they deliver peak performance for WordPress users at all times.
For brand-new WordPress users bootstrapping their next venture, your best bet is to begin your journey with WordPress.com (or another shared web hosting provider). These plans are budget-friendly, and as your site starts attracting a larger audience, you'll be able to upgrade your resources to meet your growing traffic and speed needs.
However, for established blogs with higher volumes of traffic, or for e-commerce businesses that process sensitive information from their customers online, a more robust WordPress web hosting plan will offer the stability and security you need.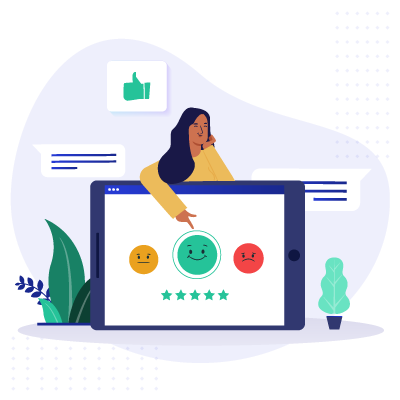 Expert Advice, Straight to Your Inbox
Gain confidence in your business future with our weekly simple solutions newsletter.
What's the difference between WordPress.org and WordPress.com?
While there are many differences between WordPress.org and WordPress.com, the major difference is that WordPress.com offers both the WordPress CMS and WordPress hosting services. With WordPress.org, you get only the WordPress CMS.
If you're looking for a one-stop shop for everything WordPress, then WordPress.com is the best solution for your business. They'll provide you with everything you need to get your site up and running.
However, if you're searching for the best performance—and best load time—for your new site, then the standalone WordPress.org CMS is the best solution for you. Although the initial setup will likely take longer since you still need to purchase WordPress hosting services, spending this extra time and money is a sound investment toward growing your business.
What's the difference between managed WordPress hosting and unmanaged hosting?
With managed WordPress hosting plans, your hosting provider performs all required maintenance, upgrades, and optimization on your server for you. While this ultimately means you'll have less control over your own server, managed WordPress web hosting plans offer additional peace of mind—after all, you'll have a team of experts in your corner working to ensure your server is running properly.
So what about unmanaged hosting plans? As you may expect, unmanaged hosting services are exactly the opposite of managed plans: they require you to perform the maintenance on your server yourself. If your business isn't ready to hire a dedicated IT support staff, opt for managed hosting services over an unmanaged one.
Even if you're a larger business, you still stand to gain from choosing a managed web hosting plan if you want to focus your IT support team elsewhere.
You might still be wondering if managed WordPress hosting is worth the extra cost. For example, A2 Hosting offers unmanaged WordPress plans starting at $2.96 per month. Their managed WordPress plan starts at $9.78.* Is the extra cost worth it?
The truth is, you can definitely run your WordPress site without investing in managed hosting. But your site will run better if you do pay that extra cash.
If your website is built with WordPress—but not served by managed WordPress hosting—you're more likely to have functionality issues, such as a slower page load time. When this happens, visitors tend to leave your site sooner, which means less traffic, and less sales, for your business.
WordPress hosting FAQs
Can I transfer my existing WordPress website to a managed WordPress hosting plan?
Yes, you can transfer your WordPress website to a managed WordPress hosting plan.
In fact, many managed WordPress hosting providers have developed their own plugins to make the migration process even easier for you. For example, if you choose SiteGround's managed WordPress hosting solutions, you could use its WordPress Automatic Migrator plugin to move your website over in just a few clicks.
WP Engine also developed its own plugins to help transfer your website. Their WP Engine Automated Migration plugin can definitely smooth over the tricky process.
If you've chosen a managed WordPress hosting provider that hasn't developed its own proprietary migration plugins, that's okay. In that case, we'd recommend using the Migrate Guru plugin, which will help you move your WordPress website to any managed hosting provider in just a few clicks.
Regardless of the managed WordPress hosting provider you choose, you can rest assured that you've got plugins on your side to make your transition to managed WordPress hosting as easy as 1-2-3.
Does WordPress come with WordPress hosting?
The answer to this question depends on whether you're using the standalone WordPress CMS from WordPress.org or if you're planning to use one of the bundled WordPress CMS + hosting packages available from WordPress.com. If you've gone with the .com, then you can purchase hosting along with your WordPress CMS.
Every WordPress host comes with its own unique pros and cons, but ultimately the solution you choose should be based on your business's budget and your website performance goals.
If you're still not quite sure which WordPress host is right for you, don't lose hope. Continue your research by reading our review of the best WordPress hosting providers.
Disclaimer
At Business.org, our research is meant to offer general product and service recommendations. We don't guarantee that our suggestions will work best for each individual or business, so consider your unique needs when choosing products and services.
*Data effective 7/1/19. At publishing time, pricing and features are current but are subject to change. Offers may not be available in all areas.