What is Shared Hosting? Is It the Right Choice for Your Small Business?
We're taking a closer look at two of the world's most popular (entry-level) web hosting solutions: shared hosting and VPS hosting.
Much like finding the perfect location to build a home or a new business, the foundation on which you build your website upon is equally as important.
However, due to the sheer number of options available, choosing the right hosting plan for your next website often times proves to be more challenging than it initially sounds. That's also one of the reasons we created our directory of the best website hosting providers.
But today, we'd like to drill down even further and take a closer look at the two most popular types of web hosting today: shared hosting and VPS (virtual private server) hosting.
Both of these types of hosting have many things in common, yet they're still quite different. In this piece we're going to help you definitively answer the following five questions:
Shared hosting vs VPS hosting vs dedicated hosting: an explanation
On shared hosting plans you're required to share your server's resources (bandwidth & storage space) with other customers on a first-come first-served basis.
To help better illustrate this example let's compare shared hosting to transportation via Uber.
In this example, shared hosting is the equivalent of selecting their ride sharing option.
This mode of transportation comes with certain benefits, such as being more cost-effective than riding alone. However, since you're sharing the mode of transportation, it may be more efficient for your driver to make additional stops for other passengers first. As a result, the overall travel time to your destination gets increased.
VPS or virtual private server hosting plans are the next level of hosting above shared hosting.
On VPS hosting plans, you're still required to share the overall resources of your server but in a different way. With VPS hosting plans, your server's resources are not shared on a first-come first-served basis. Rather, VPS servers are partitioned and a portion of your server's overall resources are reserved exclusively for your website.
Going back to our previous transportation example, VPS hosting plans would be the equivalent of opting for a private ride. While you're still sharing the car with other customers that day, this way of sharing the resource guarantees you'll reach your destination more efficiently.
What is Dedicated Hosting?
Dedicated hosting plans represent the top tier of hosting plans available and the web servers on these plans won't require you to share any of your resources with other customers.
With dedicated hosting plans, you're leasing the entire web server which means 100% of your server's resources are reserved and allocated exclusively for your website(s) to use.
When compared to our previous transportation examples, dedicated hosting plans are the equivalent of hiring your own private chauffeur. While this certainly is the most expensive means of personal ground transportation, you can rest assured that your dedicated resources will always be readily available.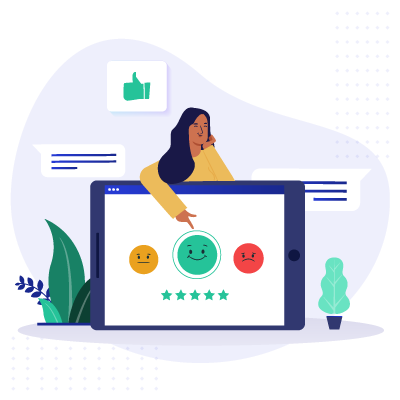 Expert Advice, Straight to Your Inbox
Gain confidence in your business future with our weekly simple solutions newsletter.
Shared Hosting vs VPS Hosting vs Dedicated Hosting: Key Differences
While there's a clear difference between the way your server's resources will be allocated and distributed between the various types of hosting plans, it's certainly not the only differentiating factor to take into consideration before making your decision.
In order to make the most informed decision, let's explore some of the most important advantages and disadvantages that come along with each of these web hosting solutions.
Shared Hosting: Advantages & Disadvantages
The most cost effective hosting option.
Most hosting companies have multiple tiers.
No technical maintenance required.
Can provide slower page loading times.
Lacking customization options of other plans.
Not ideal for dynamic/ecommerce sites.
Companies who offer shared hosting plans, like SiteGround and NameCheap, are able to offer such low prices (typically starting around $3.95 per month) for their hosting services because they make the total amount of resources available on their shared hosting plans available to every customer that you share your server with.
Shared hosting plans are the best choice for static websites or brochure style websites. These types of websites are essentially the equivalent of internet-based postcards which have fixed content that doesn't change (dynamically) based on the visitor.
Static websites do not have user logic portals or other more advanced (interactive) features which are most commonly found on e-commerce or larger social networking websites.
Sharing resources is not typically an issue for the majority of small business or home business websites. One of the most popular types of static websites you'll find today are WordPress blogs. Another popular example is called a landing page or a splash page. These are two terms the web industry uses to describe a single-page website.
If you're planning to start your first blog, or to launch a new single-page website, then one of SiteGround's shared hosting plans is probably the right choice for you.
VPS Hosting: Advantages & Disadvantages
Resources allocated for your use at all times.
Increased performance over shared hosting.
Receive faster customer service/support.
Your server's total resources are still shared.
Less budget-friendly than shared hosting.
Their limited resources may not be sufficient for highly-trafficked websites.
Virtual Private Server, or VPS, hosting is the next step up from shared hosting plans. As we mentioned earlier, these two types of web hosting plans are similar in the sense that they both require you to share your servers resources. However, it's important to remember that the way their resources are allocated and distributed are very different.
Shared hosting resources are made available on a first-come, first-served basis while VPS hosting splits the resources equally amongst the customers who are sharing the server.
With VPS hosting plans, a portion of your server's resources is reserved and made available exclusively for your website. Since your portion of the server's resources are separated from the other users that means even if another customer uses up their resources, yours remain untouched and your website's performance will not suffer.
This difference in resource distribution provides, and ensures, greater performance (speed) and it's the most major advantage VPS hosting has over shared hosting.
VPS hosting plans are a good choice for dynamic, or interactive, websites such as online stores or websites that would like to build a community and allow their users to interact.
Since dynamic websites incorporate more advanced features than static websites, these types of websites often times need more room to grow than an entry-level shared hosting plan can provide. For online businesses running dynamic websites, VPS hosting plans are a great choice since they offer both scalability and flexibility at a reasonable price.
Dedicated Hosting: Advantages & Disadvantages
No noisy neighbors, guaranteed security.
The best performance is also guaranteed.
Highest priority customer service/support.
Not an affordable option for all businesses.
May require some technical maintenance.
Not an ideal plan for small businesses.
With dedicated hosting plans, you're leasing the entire server. This ensures that 100% of your server's resources are reserved exclusively for your website at all times.
Dedicated servers provide the highest level of control and customization, which is great for tech-savvy website owners, and large businesses that want to install specialized server software or modify the software their server is running in some other way.
Some companies, like SiteGround, offer fully managed dedicated servers which means they'll handle all of software management, and maintenance, for your dedicated server. However, it's important to note that not all dedicated hosting companies offer these fully managed solutions.
If your business needs a dedicated hosting solution but you're not comfortable managing a physical server itself then the best choice for you is to purchase a fully-managed dedicated hosting plan as opposed to just purchasing a dedicated server itself.
Shared Hosting vs VPS Hosting: Making an Informed Decision
Making the decision between hosting your website on a shared server versus a virtual private server (VPS) is an important one for every online business. There are many important factors that should be taken into consideration, here's how these two hosting solutions stack up against one another with regard to six of their most important metrics.
| | | | |
| --- | --- | --- | --- |
| Feature Comparison | Shared Hosting | VPS Hosting | Winner |
| Allocation/Distribution of Server Resources | Sharing all resources with other websites on your server means if another one reaches the limit your resources will have also run out. | The server's resources are still shared, however since you have a portion of dedicated resources that means even if another website reaches their limit it will not have any impact on yours. | VPS Hosting |
| Server Security | Generally considered to be very secure, however if another website on your server is compromised you may also be at risk. | Additional security software can be installed to ensure you're protected, even if other websites you're sharing the server with are not protected. | VPS Hosting |
| Performance / Server Speed | Shared servers typically have enough resources to support one thousand website visitors per day. | VPS servers typically have enough resources to support many thousands of website visitors on a daily basis. | VPS Hosting |
| Customization Options | Resource limits are set by your shared hosting provider and typically allow for very little, or no customization | Resource limits are still set by your hosting provider, however they typically provide for more customization options by means of installing additional software. | VPS Hosting |
| Scalability / Flexibility | Shared hosting is not very flexible or useful for dynamic websites, their scalability is best suited for static websites. | VPS servers are more flexible and most useful for dynamic websites. They're capable of growing with your business and can even handle large corporate websites. | VPS Hosting |
| Price | Shared servers provide the most budget-friendly hosting solutions available today. | While VPS servers are more expensive than shared servers, they're still more cost effective than dedicated hosting solutions. | Shared Hosting |
Is shared hosting secure?
Yes, a shared hosting solution is considered to be very safe. However, it's important to note that the security of any shared hosting environment is largely dependent on the steps your hosting provider has taken to ensure the data of their shared hosting customers is protected. You can find a list of shared hosting providers we endorse here.
Can shared hosting handle my website traffic?
The tipping point for shared hosting vs VPS hosting lands (roughly) around 30,000 visitors per month, or 1,000 visits per day. If you're expecting to see less traffic to your website than this then yes, a shared hosting plan should be able to accommodate your needs sufficiently. However, if you're expecting to see much more traffic than that, you may start receiving errors from your hosting provider. In this case, you should consider upgrading to either a VPS or dedicated hosting plan.
Are cloud hosting and VPS hosting different things?
Yes, with VPS hosting the resources for your website are all being pulled from a single server, as opposed to cloud hosting where your website's resources are drawn from a network of virtual servers environments working together.
Similar to VPS hosting, cloud hosting also utilizes physical servers. However, the primary difference between these two hosting plans is that with cloud hosting, you're leveraging a global network of servers as opposed to the one, single, standalone server included with traditional VPS hosting plans. Leveraging a network of servers gives you the ability to draw from a much larger pool of resources. This allows you to scale your cloud hosting plan as your business, and your needs, continue to grow.
For startup businesses and personal websites, such as a WordPress blog, shared hosting provides the best and most cost-effective solution. Yes, you'll have to share your server and its resources with other websites but for most small businesses the limitations that come along with sharing these resources typically isn't a problem.
For small businesses and larger websites, like e-commerce shops and online communities, VPS hosting will provide the flexibility and performance necessary for your continued growth. Yes, you're going to pay a bit more for the level of service provided by VPS hosting but this should be seen as an investment into your growing business.
If shared hosting sounds like the right fit for your website, we'd recommend you get started by browsing through our comprehensive list of the 13 best small business web hosting providers.
Similarly, if your website requires some of the more advanced services VPS hosting provides, we'd encourage you to take a look at our list of the 13 best VPS hosting providers.
Disclaimer
At Business.org, our research is meant to offer general product and service recommendations. We don't guarantee that our suggestions will work best for each individual or business, so consider your unique needs when choosing products and services.