DIRECTV vs. DISH Business Satellite TV
Both DIRECTV and DISH are serious contenders when it comes to business satellite TV service—it just depends on your commercial needs. Business.org reviews the satellite giants head-to-head.
It may seem like it, but we're not yet at the point in media history where every idle person is staring at their phone screen at all times—some still need to look up and stare at, well, a slightly larger screen. Whether you operate a restaurant, a bar, a coffee shop, a hotel, a motel, an apartment complex, a condo complex, or an office with a waiting room, you're probably going to need a TV or 10 to keep your customers entertained between Instagram posts.
Satellite television has a business-place advantage over cable in that its signal is available literally anywhere you can point a dish at the sky, regardless of local infrastructure build-outs. It's also preferable to old-fashioned antenna TV, as satellite offers better picture quality and programming choices beyond Law & Order reruns and farm reports. Satellite TV is a customer-service standard—ask any owner of a sports bar, where flat-screens are usually installed before beer taps and deep fryers.
Business.org reviewed the commercial packages of the largest satellite TV service providers in the US, DIRECTV and DISH, and found that both offer attractive features for a small business. One, however, had an edge when it came to bar and restaurant settings, while the other seemed better suited to guest properties.
DIRECTV and DISH commercial satellite TV packages
| | | | |
| --- | --- | --- | --- |
| Brand | Price range (per month) | Features | Learn more |
| DIRECTV | $29.99–$74.99 | NFL Sunday Ticket, four free HD receivers | View Plans |
| DISH | $51.99–$129.99 | Pac-12 Network, up to 250 channels | View Plans |
Data effective 06/22/18. At publishing time, pricing and features are current but are subject to change. Offers may not be available in all areas. Prices listed for both brands require a two-year contract.
Best for bars and restaurants: DIRECTV
NFL Sunday Ticket
Cheaper packages
Limited channels
No included music channels
DIRECTV is practically synonymous with football thanks to its NFL Sunday Ticket sports pack, the only exclusive programming deal of its kind across all major sports leagues in the US (sorry, MLB, NBA, MLS, and NHL fans—football still puts more patrons on the barstools). It's the reason more bars and restaurants display the DIRECTV channel guide, and it's not uncommon to run across "best" recommendations from Yelp and TripAdvisor as to which establishments in major cities have the NFL Sunday Ticket.
DIRECTV business plans and packages
| | | | |
| --- | --- | --- | --- |
| Plan | Starting price (per month) | Features | Learn more |
| Business Select Pack | $29.99 | Over 85 channels, four HD receivers | View Plans |
| Business Entertainment Pack | $54.99 | Over 90 channels, NFL Sunday Ticket | View Plans |
| Business Xtra Pack | $74.99 | Over 140 channels, NFL Sunday Ticket | View Plans |
| Commercial Entertainment Pack | $65.99 | Over 100 channels, four HD receivers | View Plans |
| Commercial Xtra Pack | $79.99 | Over 180 channels, four HD receivers | View Plans |
Sports bars aren't the only businesses that can benefit from a DIRECTV package, however; there are plans tailored for waiting rooms, lobbies, gyms, banks, and other public settings, as well as private interoffice options for company break rooms, conference rooms, and personal offices.
DIRECTV commercial packages offer plenty for sports fans, but when it comes to sheer volume of channel choices for people who'd rather watch something else, it can't quite match DISH in similar price ranges—which isn't necessarily a bad thing for public venues, where TVs tend to be on set-it-and-forget-it mode, showing basic staples like sports, news, and kids' shows. Few businesses will hand the remote over to a customer demanding to watch Russia Today on 280 (unless they're a generous tipper).
Best for living facilities: DISH
More channel choices
Hospitality-focused services
Sports channels for extra costs
Pricier plans
DISH's business plans don't start cheap, and they require you to pay extra for pro and college sports channels. But for non-jocks, there's a lot to like in terms of choices, hardware, and even streaming (DISH recently added Netflix apps to its receivers—if you can't fight 'em, bundle 'em). If you're wiring a living facility like a hotel, a motel, a condo, an apartment building, a dorm, a retirement home, or a hospital for TV service, DISH has the plans and the equipment to make it happen.
DISH business plans and packages
| | | | |
| --- | --- | --- | --- |
| Plan | Starting price (per month) | Features | Learn more |
| Flex Pack | $61.99 | Customizable package, optional local channels | View Plans |
| America's Top 120 | $109.99 | DISH Music, optional local channels | View Plans |
| America's Top 200 | $119.99 | SiriusXM, optional local channels | View Plans |
| America's Top 250 | $129.99 | StarzEncore, optional local channels | View Plans |
One of DISH's biggest package pluses is its near-overabundance of channels. But in response to public demand for "skinny bundles" (less expensive plans featuring fewer channels, customized à la carte to viewer preferences), the satellite provider has introduced the Flex Pack, which starts with just 50 channels where you can add to and build your own lineup. It's a more manageable version of the DISH channel lineup.
For hotels, motels, and other guest facilities, DISH has an impressively forward-thinking entertainment solution in Evolve, a small plug-in device that not only works with the satellite service but also has built-in Chromecast capability powered by Android TV. This allows guests to stream content from any app on their own devices to the room TV, just as they do at home (user credentials and passwords are deleted at checkout). And if you're wondering if your property would be littered with a field of satellite antennas, no worries: DISH's Smartbox distributes to all points through a single, compact relay station.
Business satellite TV factors to consider
Are service bundles available?
Bundling your TV service with other utilities, like phone and internet, is a great way to cut down on costs and streamline your bill. DIRECTV is owned by AT&T and offers bundles that include services like internet, wireless phone, and digital phone. DISH, on the other hand, offers internet service in only select areas of the country—but it's fiber-optic internet service is fast and worth considering if it's available in your business's vicinity. DISH also offers satellite internet service through partners, which may benefit you if speed isn't a priority (satellite internet maxes out at 25 Mbps).
How many channels do I need?
For bars and restaurants, a premium package with 300 HD channels would probably be overkill—a basic array of sports, news, and general entertainment channels would suffice. Same goes for gyms, lobbies, waiting rooms, and offices, with an additional tier of kids' channels to keep the little ones occupied. Longer-stay guest facilities, like hotels, condos, apartment buildings, dorms, and even prisons, would keep their tenants happier with a deeper bench of choices. Movie channels or upper-tier premium channels wouldn't necessarily need to be included, and a 300-channel package still seems like a bit much.
How many receivers do I need?
For each high-definition TV in your business, you'll need a receiver—but not necessarily the same receiver. DIRECTV or DISH setups for multiple screens utilize a larger, main HD receiver that feeds to a number of smaller boxes hooked up to TVs, through either a wired or wireless setup. Even if you have a sports bar with 50 high-definition televisions, you wouldn't have to fill a storage closet with a stack of full-size receivers.
Should the receivers have DVRs?
As with channel choice, DVR demand will vary by business type. Restaurants, bars, gyms, lobbies, waiting rooms, and other quick-turnaround environments won't likely ever need access to prerecorded programming; in most cases, the same would apply to hotels and motels. Tenants of condos, apartment buildings, dorms, assisted living centers and the like, however, would probably appreciate being able to catch up on This is Us at their leisure.
What business TV options are there besides satellite and cable?
Cord-cutting, or opting out of satellite or cable service in favor of less-expensive internet streaming platforms, is hot right now with individuals and residences.1 For businesses that need to satisfy a wide swath of customers with multiple screens, however, the technology isn't there yet.
DIRECTV and DISH's streaming alternatives, DIRECTV NOW and DISH Anywhere, offer much of same programming, but satellite service would still make more sense for a multi-TV business.
Other internet-based services, like Sling TV and Roku, offer plenty of entertainment channels but only a handful of sports options—not enough to keep a sports bar crowd from rioting on game day.
YouTube's recently launched YouTube TV, a Netflix-like service that allows users to watch cable channels live (even an impressive array of live sports), promisingly improves upon PlayStation Vue's similar internet-TV functionality. It's worth checking out but not yet up to enterprise-level standards.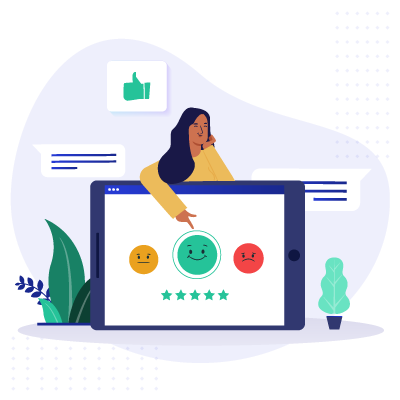 Expert Advice, Straight to Your Inbox
Gain confidence in your business future with our weekly simple solutions newsletter.
DIRECTV and DISH both have their strengths when it comes to business satellite television—just for different settings. While DIRECTV has a definitive advantage when it comes sports-centric venues and frequent-turnaround establishments and DISH offers more for longer-term guests, they have at least one thing in common: consistently good-to-excellent customer service ratings.2 Whether you choose DIRECTV or DISH, your business is sure to be well accommodated.
Disclaimer
At Business.org, our research is meant to offer general product and service recommendations. We don't guarantee that our suggestions will work best for each individual or business, so consider your unique needs when choosing products and services.