TaxSlayer Review: A Low-Cost Choice for Filing Taxes
TaxSlayer offers access to customer service, tax professionals, and handy features all at a reasonable price point.
For confident, experienced small-business tax filers who won't need much support, TaxSlayer offers affordable, even free, options that help save money. Whether you're used to H&R Block, Credit Karma Tax, or other tax software for your tax preparation needs, you should become familiar with what TaxSlayer has to offer.
TaxSlayer is an affordable alternative to some other more established tax software options on the market, but it does have its limitations. While advanced tax software might cost $100 or more, TaxSlayer keeps things simple with low-priced plans that only add on fees based on the support you need. 
If you have an income under $100K, you can use TaxSlayer's Simply Free plan to file your 1040 and a single state tax return. But this is only the case when your tax return is simple.
The free version may be good for you if you don't have rental income, investments, or the opportunity to take the earned income tax credit. Additionally, it doesn't allow you to itemize or claim dependents.
The paid classic version of TaxSlayer's software works for all income ranges, and it costs $24.95 for the federal tax form, along with another $39.95 per state for state returns. Most people can expect to use the classic package if they have any kind of credits or deductions to take.
The paid premium package includes two amazing features for $44.95 for federal filing and an additional $39.95 for state filing: Priority Support and Ask a Tax Pro. With the first, you can skip the line when using the live chat to ask questions and get help. The Ask a Tax Pro feature gives you one-on-one unlimited personal guidance from a tax professional to help if you get stuck on hard tax questions.
It also guarantees assistance with any possible audits for up to three years.
Self-employed individuals can expect to pay $59.95 to file their federal tax returns. Adding state filing is an additional $39.95 per state. Beneficially, all tax support from the previous tier—as well as 1099 and Schedule C support and tax payment reminders—are included in this package.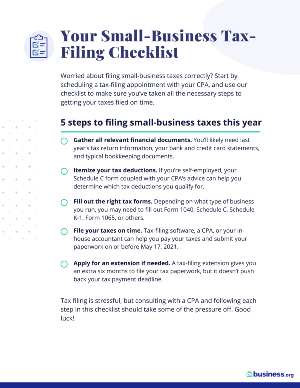 Your 5-Step Tax-Filing Free Checklist
Business.org's free guide helps you file your taxes with confidence.
TaxSlayer software has a few key features that may attract some small-business owners.
Unlimited phone and email technical support is totally free for everyone. For the premium and self-employed plans,TaxSlayer offers audit defense in case you hear from the IRS, and the Ask a Tax Pro feature lets you ask questions from a professional and make sure your taxes are done right.
TaxSlayer guarantees 100% accuracy and goes as far as to offer reimbursement for fees that occur because of miscalculations.
Perhaps one of the more unique offerings of this site is the free app. Download it to a phone or tablet and do your taxes on the go. You don't need to sit down at a desktop or laptop computer to finish your taxes, which is ideal for small-business owners who may not spend much time in the office.
1099 and Schedule C support
Small-business owners and self-employed individuals can get 1099 and Schedule C support. Then, after you file with TaxSlayer, you also have the option to set up quarterly payment reminders and to receive personalized income and tax tips throughout the year.
With any kind of tax software, there will always be positives and negatives to consider, so let's get into it. Here's what we like about TaxSlayer:
Free plan: We appreciate the option of a free plan for people who make under $100K and free returns for members of the military.
Security: TaxSlayer takes measures to keep tax information safe (though it has gotten some criticism when it comes to reporting fraud).
Guaranteed accuracy: TaxSlayer will pay up when IRS penalties are a result of calculation errors.
Easy refunds: It offers several ways to get your refund, such as by direct deposit or prepaid credit card.
Free mobile app: The free mobile app can help people do taxes on the go.
Customer ratings: TaxSlayer has an overall rating of A+ on Better Business Bureau and a 4.4 on TrustPilot.
So, there are quite a few things to like about TaxSlayer, but we also want to make sure you are aware of the downsides to this more affordable software. Here are some of the concerns we have:
Limited free plan: The free plans are limited to people with simple tax situations who make under $100K a year, so anyone outside of that will have to pay for a higher plan. Customer reviews mention that TaxSlayer tries to get you to upgrade throughout the entire process of using the free version, which could get annoying pretty quickly.
Clunky interface: The site and the app are not nearly as user friendly as more well-established tax software companies'.
No tax document upload or import: The free version doesn't include this feature, which makes doing your taxes a lot more complicated.
Fees to amend your tax return: Along with asking you to upgrade at every turn, TaxSlayer also tacks on fees for any amendments needed on your tax return.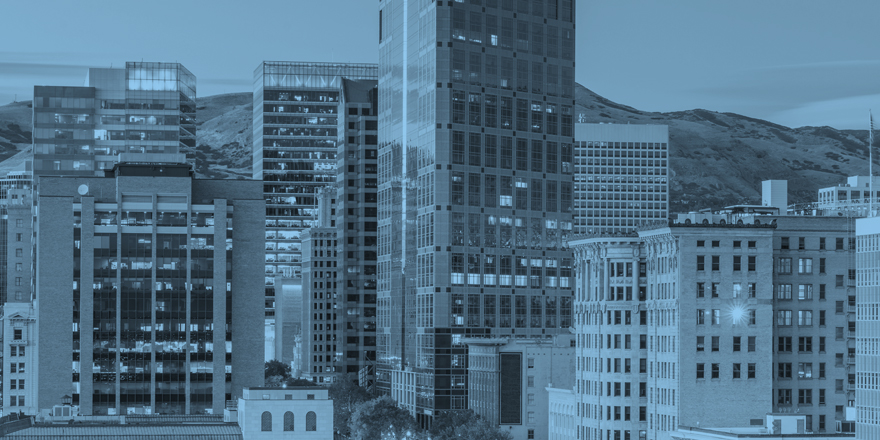 Get your maximum refund for your small business with TurboTax.
TaxSlayer is a well-rated service that offers four plan tiers for a number of tax situations. With plans starting at $0.00 up to $54.95, it is more affordable than many other services offered by other tax filing companies and a reasonably priced option for filing your tax returns this tax season.
Would you like to learn more about taxes and how to file for your small business? The following related Business.org articles will help you understand what to expect this tax season.
Is TaxSlayer a good service?
TaxSlayer is a legitimate company (with a TrustPilot rating of 4.4 and an A+ Better Business Bureau rating) that offers tax services with a guarantee of 100% accuracy.
Is TaxSlayer good for filing taxes?
If you make under $100K a year, only have tax returns for one state, and don't have complicated taxes, TaxSlayer is a good option for filing your taxes and saving money. If you fall outside those requirements, another option might be better for you.
Is TaxSlayer really free?
It can be. Here's the catch: TaxSlayer has a free version that you may use when your tax situation meets the requirements, such as earning less than $100K and not having dependents. Be sure to read through the requirements thoroughly or you might get charged to upgrade.
Is TaxSlayer IRS approved?
TaxSlayer uses IRS-certified tax professionals on its team. It also appears on the IRS's website listing recommended tax software.
Disclaimer
At Business.org, our research is meant to offer general product and service recommendations. We don't guarantee that our suggestions will work best for each individual or business, so consider your unique needs when choosing products and services.