Business Loans, Grants, and Resources for Veteran Entrepreneurs
Veterans own about 10% of US businesses but make up just 7% of the US population.1,2 Fortunately, vets may qualify for specialized loans and grants.
Your time in the military prepared you for the business world. Traits such as discipline, leadership, and determination can help you thrive as a small-business owner—but first, you've got to get funding.
You may have heard about VA loans—or veteran business loans—and other forms of financing specifically for veteran-owned small businesses. But if you've spent any time researching funding for veteran entrepreneurs, you've probably found lots of outdated information. In fact, our research suggests that most articles about VA loans recommend you get a small-business loan that hasn't been available since 2013.
Financing is complicated enough as-is. Add in outdated or confusing information, and navigating your funding might feel harder than getting through Ranger School (or BUDS, Rescue Swimmer School, or SERE—we love all our branches here at Business.org).
In this article, we'll warn you about outdated funding information for vets, tell you about the funding currently available to you, and point you toward some other resources for veteran small-business owners.
Veteran business loans and other resources
:

Get the basics on veteran business loans (and more)

:

Learn about past programs

:

Find loans, grants, and more

:

Get more help for your biz
How do VA business loans work?
Let's clarify this right now: VA business loans don't exist. There is no such thing as a VA business loan. You cannot get an VA business loan of any size.
That's because the VA, or the U.S. Department of Veteran Affairs, simply does not extend or back business loans. Sorry to put a damper on things.
That being said, people often use the phrase "VA small-business loans" to talk about all types of veteran business loans—usually ones that offer veterans special incentives, such as looser loan requirements. For example, the U.S. Small Business Administration (SBA) has backed loans with discounted fees for vets in the past. Likewise, some private lenders emphasize extending small-business loans to veterans.
You also won't find any VA business grants. Grants specifically for veterans do exist, but not through the VA. Again, sorry.
But don't leave just yet. You might not be able to get a VA business loan, but that doesn't mean you can't get working capital. And now that you know the (sad) truth about VA business loans, we'll spend the rest of this article talking about all the forms of funding available to you as a veteran business owner, including loans, grants, and angel investors.
About those acronyms
As a warning: lots of acronyms ahead. But you've been spending your BAS at AAFES or NEX since you started AD (though now that you're RET you probably take your SVC-based DFAS payment elsewhere), so we think you'll do just fine.
Outdated funding for veteran-owned businesses
As we said, you'll find a lot of outdated information on the internet about loans and grants for veteran entrepreneurs. Programs expire, organizations change, and grants lose funding. We want to set the record straight on these funding options that no longer exist.
This loan comes up a lot when you search for VA loans, though it hasn't been available since December 31, 2013. In brief: this loan was offered from 2007 to 2013 as an SBA-backed loan that had minimal red tape. That meant you could quickly get funding (up to $500,000) with great interest rates and terms.
Unfortunately, the program ended when a study revealed that borrowers defaulted on Patriot Express loans at a shockingly high rate—higher than any other SBA-backed loans.3 The program was deemed unprofitable and allowed to expire.
The SBA Veterans Advantage loan program offered SBA-backed loans to vets with reduced up-front guarantee fees. Initially, this meant the usual 3% fee would be reduced to 0% for loans over $150,000, but the precise discount varied from year to year. Most recently, during the 2017–2018 fiscal year, vets paid 50% of whatever guarantee fee non-veterans paid.
Historically, the SBA Veterans Advantage program got renewed at the end of each fiscal year. But we've been unable to find any information about the program's renewal since the end of the 2018 fiscal year. And as of 2021, the program is no longer mentioned on the SBA website. Until we hear otherwise, we assume the Veterans Advantage program has expired once and for all.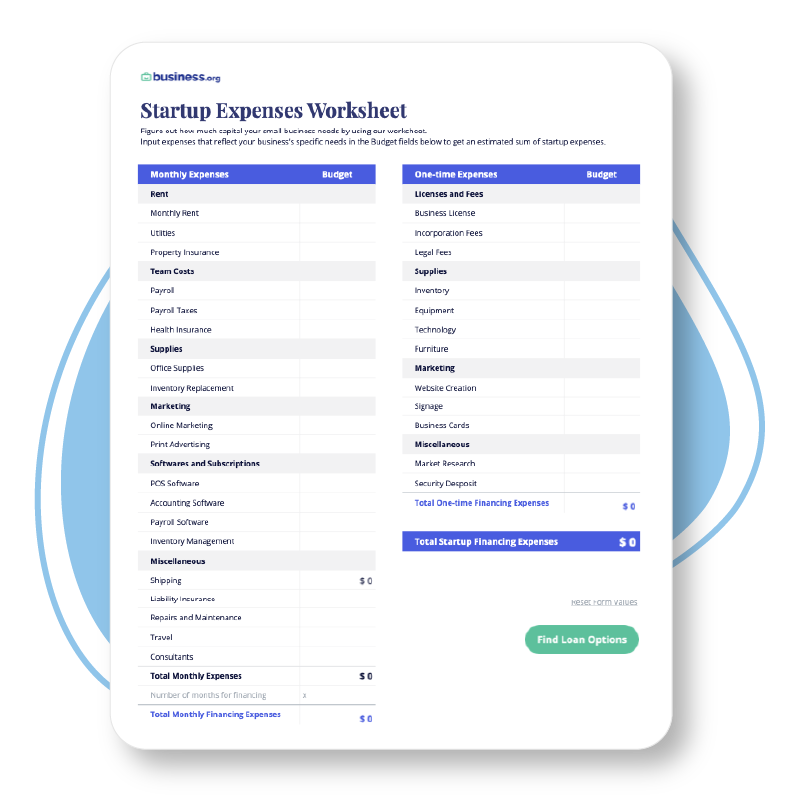 Do you know how much it'll cost to start your business?
Try our free startup costs worksheet to calculate expenses and estimate how much capital you need to launch.
Many articles from the past few years buzzed about the exciting new Veterans Business Fund (VBF). In theory, VBF accepts donations to build a loan fund for veterans. When fully funded, VBF will extend loans to vets with as little interest as they can legally get away with. These loans are meant to supplement business owners' own capital to help them get a larger SBA-backed loan.
However, it appears this interesting idea never got off the ground. The VBF went offline entirely in 2020 (after not being updated since 2012).
VetFran Business Grant Fund
Lots of articles link to the VetFran Business Grant Fund, which supposedly gives grants to veterans so they can start a franchise. Unfortunately, this page seems to have disappeared, and other sources confirm the program has been discontinued.
USDA Veteran and Minority Farmer Grant
You may have seen information about this grant, which supports veteran and minority farmers. This grant (or at least one like it) still exists through the USDA's Outreach and Assistance for Socially Disadvantaged Farmers and Ranchers and Veteran Farmers and Ranchers Programs (a.k.a. the 2501 Program). But saying it's "for veterans" would be incorrect; it actually goes to groups who support veteran and minority farmers—think educational organizations rather than the farmers themselves.
Sorry to be the bearer of so much bad news. Fortunately, we have good news too! You still have plenty of good business funding options as a veteran business owner. Let's talk about those.
Current funding options for veterans
Despite the demise of the Patriot Express and Veterans Advantage programs, you can still find loans geared toward veterans. Plus, you can always apply for the best business loans, even if they aren't vet-specific. Your veteran status also gives you access to special grants, angel investors, and discounted franchising opportunities just for vets, like these.
Pro tip
You know how lots of places give you a discount with your military ID? Ask lenders if they offer any incentives for vets. They may know about new programs, and it never hurts to ask.
Military Reservist Economic Injury Disaster Loan (MREIDL) program
Uniquely, the MREIDL program doesn't exactly count as a veteran loan since only military reservists qualify, but the military connection makes it worth mentioning. Basically, if you're a reservist who gets called to active duty and your business suffers because of it, you can apply for this loan to get your business back on its feet.
This program has pretty specific conditions: you must apply within one year of discharge from military service, you must be unable to get credit anywhere else, and you must use the loan to help your business recover rather than to recoup lost profits. If you happen to qualify, however, you'll get 4% interest and repayment terms of up to 30 years.
The Express Loan program doesn't lend exclusively to military veterans, but you'll often find it described as a replacement for the SBA Patriot Express program. With low interest rates and long repayment terms, this SBA-backed loan provides a good option for many small businesses.
Express loans are one of many types of SBA loans. They fall specifically under the SBA 7(a) umbrella, but the response-time guarantee differentiates the Express program from other SBA loans: lenders must respond to your Express loan application within 36 hours.
Types of veteran business loans
| | | | |
| --- | --- | --- | --- |
| Loan type | Maximum loan amount | Rate range | Get a loan |
| MREIDL program | $2 million | 4% | See Loan Offers |
| Express Loan program | $350,000 | Prime + 4.5% or Prime + 6.5%* | See Loan Offers |
Data as of 10/27/22. Offers and availability may vary by location and are subject to change.
*4.5% for loans greater than $50,000, 6.5% for loans less than $50,000
Hivers and Strivers angel investors
US military academy graduates founded this angel investment group, which prides itself on investing in veteran-owned startups. They have particular interest in veteran business owners who graduated from a military academy.
Per their website, Hivers and Strivers invests between $200,000 and $500,000 in a startup, and their members generally serve as board members.
Franchising opportunities
Many franchises offer unique benefits for vets, including lower starting costs and special financing options. You can find a directory of these businesses at VetFran, but here's two quick standouts:
7-Eleven Veterans Franchising. With 7-Eleven Veterans Franchising, you can get up to 20% off your initial franchise fee (that's a max of $50,000). Plus, you can get up to 65% of your financing through 7-Eleven, as well as undefined "special financing."
Little Caesars Veterans Program. If you prefer pizza to Slurpees, then check out the Little Caesars Veterans Program. It offers a discounted franchise fee as well as credits for things like equipment and marketing.
Don't qualify for a business loan? Get a personal loan instead.
Other resources for veteran business owners
Funding your business matters, but your resources don't end there. From programs that help you get valuable contracts to courses that give you business know-how, we want you to know about these resources for military veterans and their businesses.
Contract-awarding programs
Depending on your industry, a federal contract can be a boon for business. Some of these contracts get set apart specifically for certain groups, and various programs ensure those contracts go to the right businesses. The VA takes part in two such programs for veteran-owned businesses:
The Service-Disabled Veteran-Owned Small Business (SDVOSB) program awards contracts to businesses owned by veterans with a service-connected disability. In theory, 3% of federal spending on contracting should go to SDVOSB.
The Veteran-Owned Small Business (VOSB) program aids veteran-owned businesses in getting federal contracts. The program sets aside certain contracts specifically for VOSB and SDVOSB businesses, then helps those businesses compete for those contracts.
To qualify for these programs, you must formally verify your business with the Vets First Verification Program. This process ensures your business qualifies as a VOSB or SDVOSB. The VA recommends using a VA-certified counselor to help with your verification.
Take note: only two programs specifically help vets get contracts, but you might qualify for other programs. For example, the Women-Owned Small Business (WOSB) program helps women entrepreneurs get federal contracts, and the Historically Underutilized Business Zone (HUBZone) program awards contracts to businesses in specified HUBZones.
Not sure how a VA home loan would help your business? Simple: of American entrepreneurs, 69% operate their startups out of their homes—and a higher percentage of veterans have home-based businesses when compared to their civilian counterparts.4,5 Owning your own home helps you start and run your business. Plus, it makes a good first step to investing in real estate.
As a veteran, you could qualify for VA home loans. These loans generally don't require you to make a down payment, and they come with low interest rates and limited closing costs (among other benefits). If you plan to buy a home, VA loans provide a great way to do so.
Veteran's Business Outreach Center
The Veteran's Business Outreach Center (VBOC) touts itself as a central hub for veteran entrepreneurs looking to start or grow a business. With just 22 offices across 19 states, you may not have a VBOC near you. If you do, however, you can find workshops, counseling, analyses, and more.
Business education programs
Starting and running your own business can feel overwhelming, especially if you don't have a business background. These educational programs for vet entrepreneurs can help.
The SBA offers Boots to Business and Boots to Business Reboot, both courses aimed at veterans and members transitioning from active duty. These courses give you an overview of what you need to know before owning your own small business. You can even take follow-up courses on market research, revenue, and business fundamentals.
But you don't have to rely on the SBA for your business education; plenty of other educational opportunities for vets exist, including these:
These programs vary in length, location, and scope, but they all provide a business education to vets at low or no cost.
Transitioning to civilian life can be hard, especially when you add business ownership into the equation. Fortunately, with years of active-duty military service behind you, your military skills can help you grow your business and propel it to success. And with our guide to business financing for vets, you can get the veteran business loans or other financing options you need to get started.
Want to see more loan options? Check out our rankings of the best small-business loans.
Veteran loans and grants FAQ
Will the VA pay to start a business?
No, the VA does not offer any specialized loan programs to veterans. Read more about this above.
What is a Patriot Express loan?
The Patriot Express Loan program that was offered by the SBA has expired, but they still offer an Express Loan program that has a fast response time and low interest rates. 
Do SBA Express loans require collateral?
SBA Express Lenders are not required to take collateral for loans up to $25,000. Though, some may use their existing collateral policy for loans over $25,000 and up to $350,000.
Disclaimer
At Business.org, our research is meant to offer general product and service recommendations. We don't guarantee that our suggestions will work best for each individual or business, so consider your unique needs when choosing products and services.