The 10 Best States to Launch Your Startup (and 10 to Avoid)
If you're looking to launch, or join, a start-up business, scope these cities.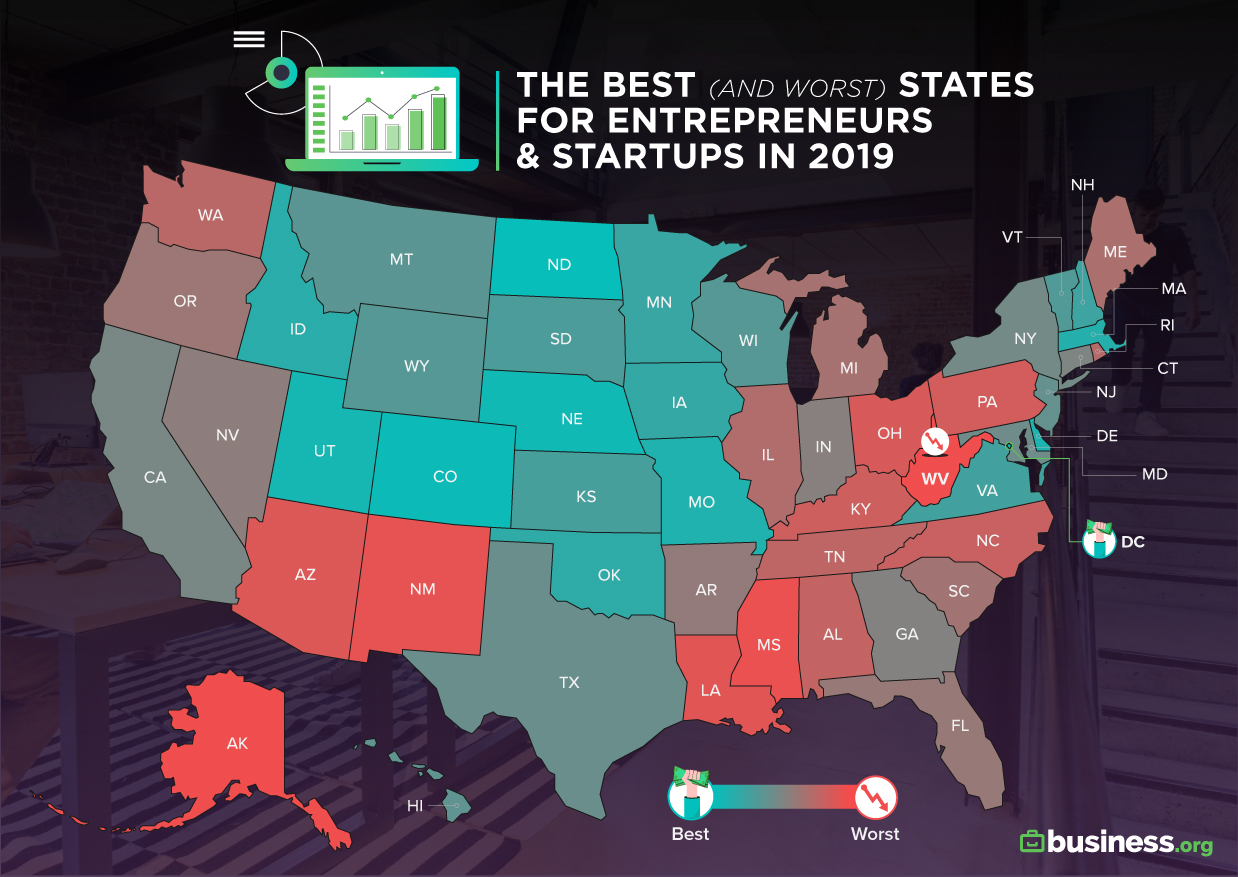 Whether you're fresh out of college or considering a new opportunity elsewhere, chances are there's a promising startup near you—or if you prefer, thousands of miles away. Likewise, if you're an entrepreneur looking to launch your own startup, you're no longer limited to Silicon Valley, the Silicon Prairie, the Silicon Slopes, or any of the other "Silicon" locales established a decade ago.
You can't, however, just throw a dart at a US map and expect overnight success. The non-tech press tends to put forth the narrative that the entire country is in the middle of a constant startup explosion—but this isn't necessarily true. Previous hotspots have cooled, and new ones have popped up in unexpected areas (North Dakota, anyone?), which means compiling a definitive list requires some number crunching.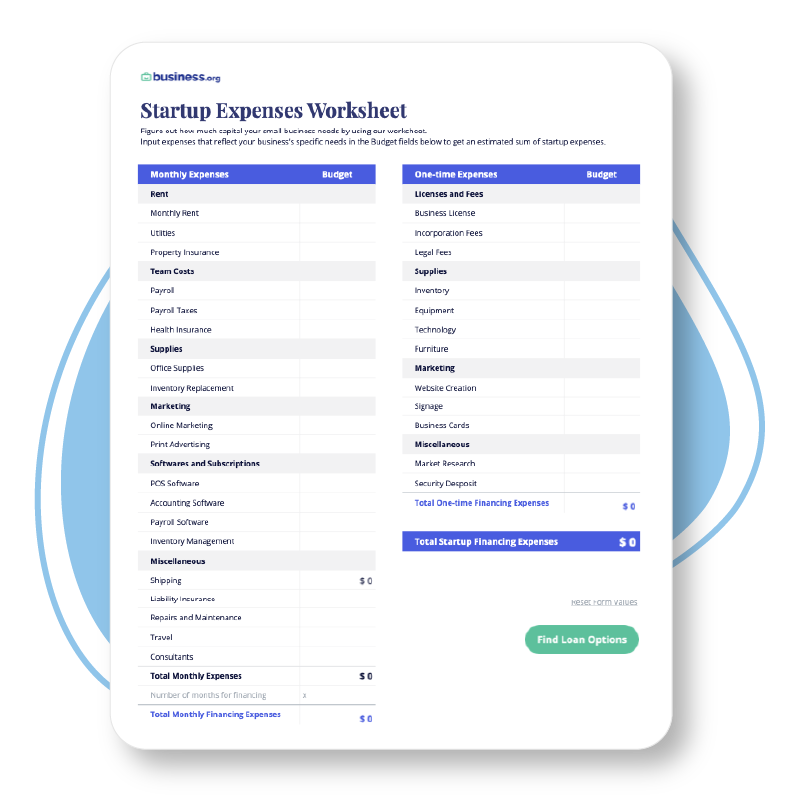 Do you know how much it'll cost to start your business?
Try our free startup costs worksheet to calculate expenses and estimate how much capital you need to launch.
So we crunched those numbers, hard. Business.org studied all 50 states and the District of Columbia and ranked each according to their startup friendliness. Our criteria included factors like these:
Age range and education: We tallied the state's population percentage of those aged 25 to 34, one of the simpler indicators of a favorable environment for new ideas and businesses. We also factored in the ratio of those 25-to-34-year-olds holding a bachelor's degree.
Local employment: More bluntly, what's the joblessness rate of each city? We looked at employment numbers across the US, and every state in our top 10 had 94% employment or higher.
Income vs. rent: How much money will you have to shell out for housing? The numbers we discovered are in-line with growth stats: some of our top 10 states can eat up to 30% of your income in rent each month, but others, like North Dakota and Nebraska, are pretty reasonable.
Startup surges: Finally, we looked at how many startups launched in each state and how many jobs these new businesses created in their first year.
Correlations and key findings
What did all that data crunching lead to? Some pretty interesting facts and figures, if we do say so ourselves:
Our top state for startups isn't actually a state. Per our ratings, the District of Columbia is the best place to start a business. Washington, DC, also has the largest population of young adults on our list; in DC, 25-to-34-year-olds comprise 71.1% of the population. The next-youngest state in this category, Massachusetts, sits at 50.9%.
In contrast, West Virginia came in last place for entrepreneurs and startups, even though Alaska, which took 49th, has a higher unemployment rate. Alaska's unemployment sits at 6.6%, the highest in the nation, compared to West Virginia's 5.3%.
In sunny Hawaii, while the cost of living is high, the unemployment rates are super low—in fact, at 2.4%, they're the lowest in the nation.
Every area but the West Coast makes an appearance in our top 10, from the East Coast to the Rockies to the Midwest. Looks like startup culture isn't just for surfers and beach bums anymore.
The best states for startups by ranking
| | | | | | |
| --- | --- | --- | --- | --- | --- |
| Ranking | State | Unemployment rate | Rent as percentage of median income | Population percentage of 25-to-34-year-olds | Percentage of 25-to-34-year-olds with a bachelor's degree |
| 1 | District of Columbia | 5.6% | 32.3% | 71.1% | 22% |
| 2 | North Dakota | 2.6% | 13.1% | 34.9% | 15% |
| 3 | Colorado | 3.3% | 23.8% | 39.6% | 14% |
| 4 | Nebraska | 2.8% | 16.0% | 36.6% | 13% |
| 5 | Utah | 3.1% | 17.6% | 32.3% | 14% |
| 6 | Delaware | 3.8% | 18.4% | 33.4% | 13% |
| 7 | Missouri | 3.2% | 18.6% | 33.3% | 13% |
| 8 | Massachusetts | 3.3% | 31.9% | 50.9% | 14% |
| 9 | Idaho | 2.8% | 19.3% | 25.8% | 12% |
| 10 | Oklahoma | 3.4% | 15.0% | 26.3% | 14% |
| 11 | Iowa | 2.5% | 14.7% | 34.3% | 12% |
| 12 | Minnesota | 2.9% | 21.9% | 40.1% | 13% |
| 13 | New Hampshire | 2.5% | 19.0% | 39.5% | 12% |
| 14 | Virginia | 3.0% | 25.5% | 40.5% | 14% |
| 15 | Kansas | 3.4% | 15.0% | 34.9% | 13% |
| 16 | South Dakota | 3.0% | 15.1% | 31.6% | 13% |
| 17 | Vermont | 2.7% | 21.6% | 39.7% | 11% |
| 18 | Wyoming | 4.1% | 12.7% | 27.8% | 14% |
| 19 | Wisconsin | 3.0% | 17.3% | 34.7% | 13% |
| 20 | Montana | 3.7% | 15.2% | 31.8% | 12% |
| 21 | Hawaii | 2.4% | 24.7% | 31.1% | 14% |
| 22 | New Jersey | 4.1% | 26.4% | 44.0% | 13% |
| 23 | Texas | 3.9% | 23.4% | 29.8% | 14% |
| 24 | Maryland | 3.9% | 21.7% | 41.6% | 14% |
| 25 | New York | 4.1% | 36.3% | 44.2% | 15% |
| 26 | California | 4.2% | 33.1% | 34.5% | 15% |
| 27 | Connecticut | 4.1% | 20.4% | 42.7% | 12% |
| 28 | Georgia | 3.9% | 27.6% | 30.9% | 13% |
| 29 | Indiana | 3.4% | 17.8% | 30.0% | 13% |
| 30 | Nevada | 4.6% | 21.7% | 22.5% | 14% |
| 31 | Arkansas | 3.7% | 16.6% | 24.7% | 13% |
| 32 | Florida | 3.6% | 30.5% | 28.8% | 12% |
| 33 | Oregon | 4.2% | 25.7% | 33.9% | 13% |
| 34 | South Carolina | 3.4% | 25.2% | 28.5% | 13% |
| 35 | Michigan | 4.1% | 18.4% | 32.1% | 12% |
| 36 | Maine | 3.4% | 22.7% | 33.4% | 11% |
| 37 | Illinois | 4.3% | 27.6% | 40.6% | 14% |
| 38 | Rhode Island | 4.1% | 24.2% | 38.0% | 13% |
| 39 | Washington | 4.5% | 28.5% | 35.9% | 14% |
| 40 | Tennessee | 3.5% | 28.4% | 30.8% | 13% |
| 41 | Alabama | 3.9% | 18.4% | 26.0% | 13% |
| 42 | North Carolina | 3.9% | 26.1% | 32.6% | 13% |
| 43 | Kentucky | 4.3% | 19.0% | 27.4% | 13% |
| 44 | Pennsylvania | 4.3% | 23.1% | 38.1% | 13% |
| 45 | Ohio | 4.6% | 16.6% | 32.7% | 13% |
| 46 | Arizona | 4.8% | 21.0% | 27.4% | 13% |
| 47 | Louisiana | 4.9% | 24.4% | 26.4% | 14% |
| 48 | New Mexico | 4.9% | 19.0% | 23.1% | 13% |
| 49 | Alaska | 6.6% | 14.5% | 26.5% | 16% |
| 50 | Mississippi | 4.8% | 18.1% | 22.7% | 13% |
| 51 | West Virginia | 5.3% | 16.3% | 25.3% | 12% |