How to Get a Business Cooperative Started
Setting up a business cooperative can get complicated depending on your goals, so it's important to understand the big picture before you get started. Let's dive into whether or not it will help you meet your business goals.
A business cooperative is an enticing alternative to the standard capitalism model, offering a democratic management style, lower risk of debt, and other social and economic benefits. Cooperatives also give small-business owners more control over their organization and come with certain tax advantages.
In this article, we'll define a cooperative business, offer examples of worker cooperatives, and discuss how to get a business cooperative started.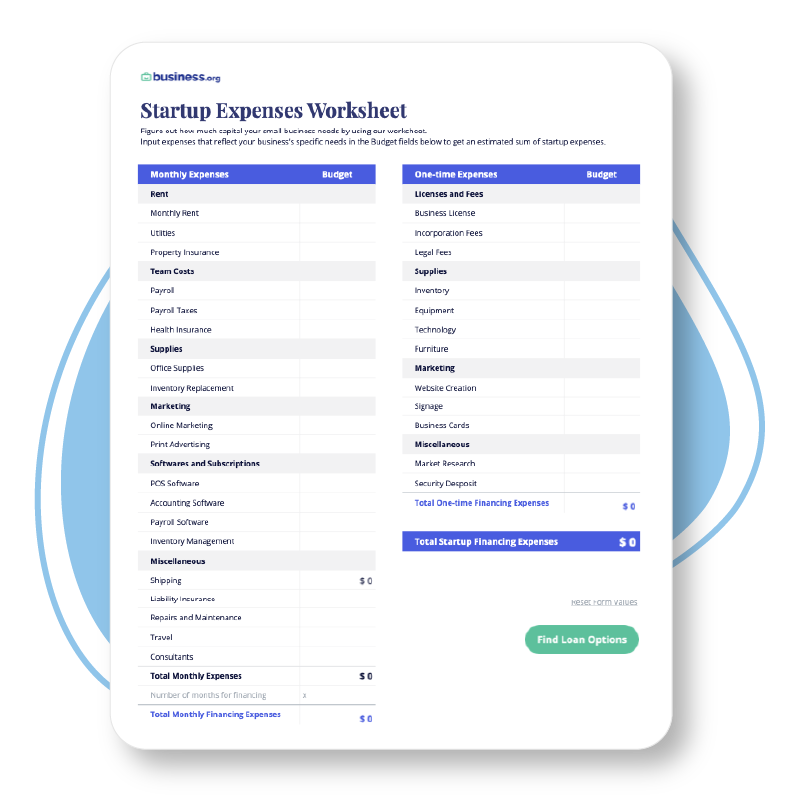 Do you know how much it'll cost to start your business?
Try our free startup costs worksheet to calculate expenses and estimate how much capital you need to launch.
What is a cooperative business?
A business cooperative (co-op), is an organization or enterprise owned by its members. While a traditional business serves the interests of investors, founders, or board members, a co-op services the interest of its customers or workers. Most co-ops are established to fulfill an economic need, such as providing products, services, or bargaining power that is otherwise unavailable to a certain group of people.
Business cooperative examples
Business cooperatives come in many forms, such as housing co-ops, food co-ops, credit unions, and agricultural co-ops. However, many large corporations are also cooperatives, including Ace Hardware, REI, and Land O'Lakes dairy.
Here are some other well-known cooperatives in the US.
Navy Federal Credit Union: The largest credit union in the US, serving military servicemen and government employees
Alliant Credit Union: A credit union based in Chicago, Illinois, originally founded by employees of United Airlines
Dairy Farmers of America: A marketing cooperative owned and operated by dairy farmers across the US
Associated Wholesale Grocers: The nation's largest food co-op, which supplies independent grocery stores across the country
People's Food Co-op: A Portland, Oregon-based food co-op with a focus on sustainability
Berkeley Student Cooperative: A housing co-op for students of UC Berkeley
How to start a business cooperative
Since co-op founders usually organize cooperatives based on a specific need or problem, the first step in starting one is to identify that need. Once this is done, the group should take the following actions to officially establish the co-op:
1. Establish a steering committee.
A steering committee is a group of people that represents the members of the organization. This committee should create a timeline for coordinating the logistics of the co-op. They should also establish the co-op's values and mission, as well as gauge the overall level of interest in the co-op.
2. Conduct a feasibility study.
Once the steering committee is established, the group should conduct a study to consider all possible challenges and obstacles the co-op might face. This study should look closely at opportunities for financing, operating costs, and other factors that influence the market.
3. Create articles of incorporation.
Every cooperative must have articles of incorporation and bylaws that govern the organization. These bylaws should be made by a legal counsel and can be changed and enhanced over time.
4. Draft a business plan.
Like a traditional business, a co-op should have a detailed business plan that guides the company as it grows. The plan should include a market analysis, a marketing plan, product research, and a description of the co-ops goals and objectives.
Most co-ops need cash flow for day-to-day operations. This cash often comes from member investments, but some co-ops use a business loan to finance their organization in the early stages.
At this point, the co-op can hire a manager and employees, secure a facility, and open its doors. It's important for members to remain committed to and aligned with the goals of the organization to ensure long-term success.
A worker cooperative offers a number of benefits to small-business owners, including a democratic management style, less debt risk, and member dividends. To set up a business cooperative, a setting committee must conduct a feasibility study, establish articles of incorporation, create a business plan, and secure financing.
Would you like to learn more about starting a business cooperative? Check out Business.org for How to Start a Small Business: Must-Have Checklist to Spark Success.
How do cooperatives make money?
Some cooperatives are not designed to make a profit and instead operate at cost. If a cooperative does make a profit, the members who purchase goods or services generate that money. Those profits are typically returned to the members as a refund or put back into the organization.
Safety stock is a term used to describe the excess inventory business owners choose to keep in hand in the event of an increase in demand or supplier delay.
How do you start a worker cooperative?
Here are the steps to starting a worker cooperative:
Establish a steering committee.
Conduct a feasibility study.
Create articles of incorporation.
Draft a business plan.
Get financing.
Begin operations.
What is a cooperative business?
A cooperative (co-op) is a type of business organization that exists to benefit its members rather than outside investors. The co-op is owned and run by the members, and any profits are divided among those members. Most cooperatives are organized to reduce costs, fulfill an unmet need, improve the quality of a product or service, or improve bargaining power.
What are some cooperative business examples?
There are many types of cooperative business organizations, including mutual insurance groups, credit unions, electrical power co-ops, housing co-ops, and retail co-ops, such as Ace Hardware or REI.
Disclaimer
At Business.org, our research is meant to offer general product and service recommendations. We don't guarantee that our suggestions will work best for each individual or business, so consider your unique needs when choosing products and services.