2 of the Most Secure Smartphones for Mobile Professionals
---
Storing work information on your smartphone is convenient for traveling business owners who need to be able to access files from anywhere. However, this can prove risky because your important files could be stolen or lost. A secure smartphone has advanced security features and storage capabilities.
Here are the two smartphones that will keep your data secure and make it easy to run your small business from anywhere.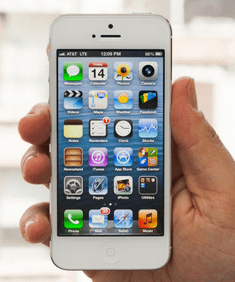 The iPhone is possibly the best known and most popular smartphone for personal use, but its security features also make it an ideal device for business. The security features include strong encryption methods and data protection, malware and virus protection, high-level prevention of unauthorized use, and secure accessibility to corporate data.
Always focused on keeping its devices user friendly, Apple enables most of the iPhone's security features by default so they're easy to use. The iPhone also includes App Code Signing, ensuring all the apps you put onto your phone come from an approved source, recovery mode and emergency restoration of defaults, data protection classes, and more.
The Samsung Galaxy S4 features a "business companion" called KNOX, a security suite that stores and protects your business files, apps, and documents. KNOX maintains high-level security standards and complies with the U.S. Department of Defense (DOD) mobile OS guide for security requirements (SRG).
It protects your Samsung with three main features: Customizable Secure Boot, which verifies operating systems and software before they load, Security Enhancements for Android, which separates apps and data in different domains by levels of confidentiality, and Integrity Measurement Architecture, which responds to bootloader violations. The S4 also offers face detection unlock options, front and rear-facing cameras, and the ability to wipe phone data remotely.
—
Choosing one of the top secure smartphones depends on your device preference, how often you use your mobile phone for business, and whether you keep most files on a computer or other device, or on your phone. Also consider the storage and data plan you need. Even if you use your smartphone for work just part of the time, finding a secure smartphone will help prevent you from losing important data, keep transactions secure, and in turn, help your small business become more profitable.