Learn From 3 Major Brands How to Build Effective Customer Relationships
---
When it comes to customer relations, businesses going above and beyond to exceed customer expectations don't always do it jsut for a profit.
In fact, sometimes efforts may directly hinder the bottom line for years to come.
However, exceeding customer expectations is more about nurturing a relationship, when sometimes you give more than you expect to receive.
Turning a Disgruntled Customer into a Thrilled Customer
After an unsatisfying visit to Starbucks, customer Jason (last name not provided) called the corporate help line to report his unhappiness. In short, the store he visited refused to honor his 10 percent discount on his Starbucks rewards card because it was a franchise, rather than corporate owned, and therefore not required to honor Starbucks promotions. So, Jason asked for his money back. Instead of the clerk giving it back to him, which might be expected from any retail store, the clerk refused, having already prepared the order.
A call to the customer service line resulted in more than Jason might have hoped for. He wasn't irate, just unhappy enough to put in a call to request that franchised stores post their policy of not accepting Starbucks rewards cards. Instead, according to Consumerist, the customer service representative decided to provide excellent customer service that was "nothing short of fantastic." A few days Jason received later a $50 Starbucks gift card in the mail.
Jason said, "I'm floored … [they] went way beyond what they needed to."
Advertising for the Competition
Customers appreciate it when a clerk or customer service representative offers an alternative if their company can't help them, even if it is directing them to a competitor. But Zappos.com went a few steps further. Stephen Dubner, coauthor of "Freakonomics: The Hidden Side of Everything," tells a story about Zappos.com, the online apparel and accessories retailer, on his blog, Freakonomics.
When the sandals his wife ordered didn't fit, she called Zappos to arrange to exchange them for another size. However, the customer service representative told her they were out of her size. The CSR not only offered a refund, but also a $25 coupon for her next purchase. Further, the CSR offered to locate the original pair of sandals from another vendor. She did so, and at a cheaper price.
Wal-Mart Uses Its Supply Chain to Offer Relief
Hours before Hurricane Katrina hit land, Wal-Mart's Brookhaven, Mississippi, distribution center was ready to deliver 45 truckloads of goods. Wal-Mart's lauded supply-chain system was able to deliver merchandise, cash, and food only hours after the disaster. Further, once the magnitude of the devastation became apparent, Chief Executive H. Lee Scott Jr. promised every displaced worker a job.
In the next few days, Wal-Mart provided over $20 million in aid to hurricane victims, according to the "Washington Post." During the relief effort, Scott stayed close to the situation and ensured his team understood his expectations that Wal-Mart was to respond in a "way appropriate to our size and the impact we can have." He held two daily conferences dedicated to Hurricane Katrina efforts, at 7:30 a.m. and at 5 p.m.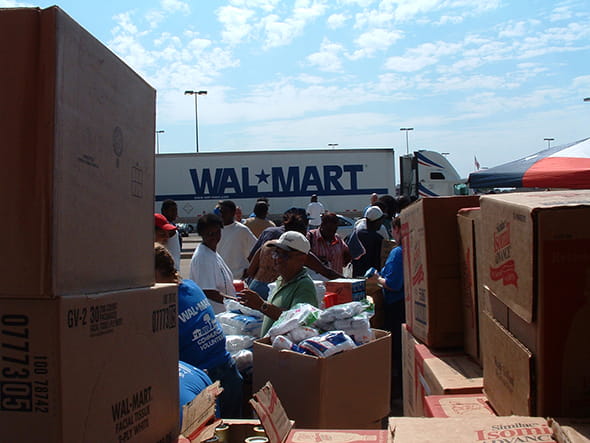 Aaron Broussard, president of Jefferson Parish in the New Orleans suburbs, told Meet the Press that if the "American government would have responded like Wal-Mart has responded, we wouldn't be in this crisis."
These three examples of excellent customer relations all involve a caring, empathetic workforce and a willingness to fight for their customers. But they have another thing in common: each company is a large, well-known company with (assumedly) deep pockets. How can a small business compete? The lessons to take from these examples are that customer service representatives must be not only courteous, but cheerful people who genuinely care about others and enjoy solving people's problems.
Another lesson is that a little public outreach goes a long way. You don't need another Hurricane Katrina to garner goodwill from the community you serve. It might be sponsoring a fundraiser, giving extra supplies and food to the local donation center, or providing transportation to the needy. In addition, utilizing your competitive advantage, as the companies above did, helps to buffer the costs of goodwill.
Finally, excellent customer relations comes from the top. A Starbucks customer service representative would not be able to offer a $50 gift card without having the authority to do so. For your small business, a few quick calculations can help you understand what you can afford to fight for your customers, including the percentage of disgruntled customers and what you are willing to spend to keep them.