4 Companies Successfully Using the One for One Model
---
As a small business owner trying to create buzz, you might be tempted to employ the familiar "buy one, get one" marketing tactic. This holiday season, we're suggesting you try a different, more meaningful approach: the "buy one, give one" concept.
The buy one, give one business model proves to be exceeding profitable for big-time retailers like TOMS, the footwear company that donates a pair of shoes to those in need for every pair purchased. But small businesses just like yours can also benefit from this concept.
Incorporate elements of the model into your sales plan this shopping season and you'll not only lend support to meaningful social causes, you'll likely benefit from increase revenue too. Need inspiration? The four organizations we've discovered are successfully using the one for one concept this holiday season. Read on to discover how you can too.
When you buy a pair of Roma Boots, a new pair is given to a child in need. Reasonably priced, highly fashionable and filled with love, Roma Boots proves that philanthropy and business brilliance aren't mutually exclusive.
Born in Romania, founder Samuel Bistrian married his passion for fashion with his concern for children in need and launched the Dallas, Texas based business in 2010.  In addition to donating a new pair of boots for every pair purchased, the progressive rain boot company also gives 10 percent of all sales proceeds to the Roma For All Foundation, which works to help underprivileged children the means and education to break free of poverty.
Experience a Roma Boot Drop for yourself through these meaningful images.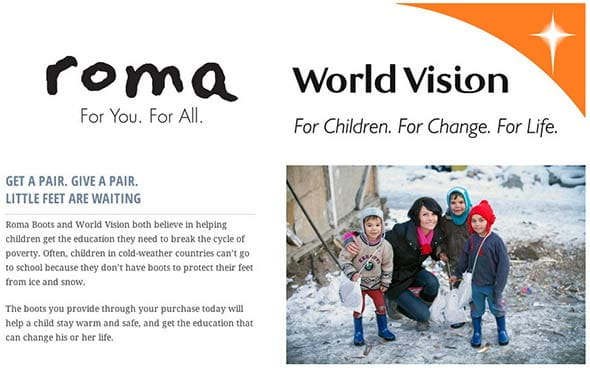 For most of us, brushing our teeth is a robotic personal care task that we'd bypass if we could. But in many parts of the world, toothbrushes are scarce and dental hygiene is a concept young children never learn. Smile Squared believes we have the power to change that.
Based on the conviction that a small product can return a major impact, Smile Squared is determined to use realistic, sustainable solutions to improve the health of kids worldwide. Through the Smile Squared initiative for every toothbrush purchased, they give one to a child in need.
In addition to feeling good about providing a needy child with a basic hygiene tool, you'll also be making an environmentally conscious choice. That's because Smile Square toothbrushes are made with biodegradable bamboo and the finest, soft DuPont bristles. The toothbrush box is even recyclable. We love the meaningful message parents send to their kids when they purchase every member of the family a Smile Squared toothbrush.
Parents and educators from every corner of the globe will agree that play is powerful. Playing the world's most popular sport, "futbol" or soccer, can help kids of all ages, living in a variety of unfortunate circumstances, join together for fun. Unfortunately, many children don't have access to the simplest of play toys: a ball. Prone to punctures, when disadvantage communities do get their hands on one, it doesn't last long.
The One World Play Project levels the playing field for kids all over the world by providing them with a ball that can withstand the very harshest environments, never needs inflating, and can even keep shape after being punctured multiple times. When you purchase a One World Futbol for your tike or tween, they'll donate one to an organization that works directly with youth living in disadvantaged communities.
So far, One World Play Project has delivered the healing power of play to more than 160 countries, and millions of children. Learn more about how you can make an impact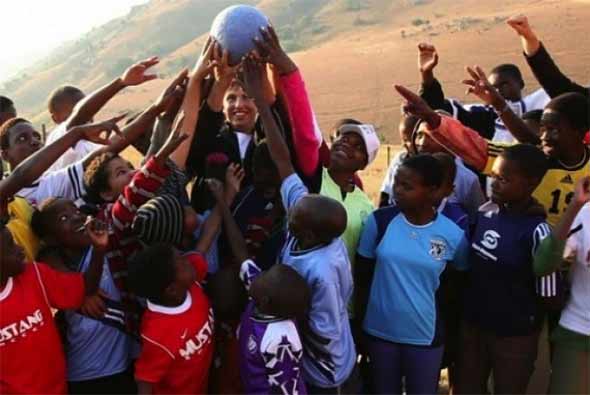 With the aim of helping homeless and at-risk kids achieve educational success, OAK (Ordinary Acts of Kindness) founders Jessica Sjolseth, Brent Sjolseth and Kevin Burpo are working diligently to give needy kids an essential scholastic tool: a quality backpack.
For underprivileged children, getting a new backpack means more than having a safe place to store homework and books. It's a symbol of hope for kids who need it most. Offering youth a positive start to the school year, OAK partners with like-minded charitable organizations such as The Neighborhood Kids to outfit as many kids as possible with backpacks.
This one for one social business is getting amazing press. Read more about OAK's 2013 backpack giveaway, or start shopping now.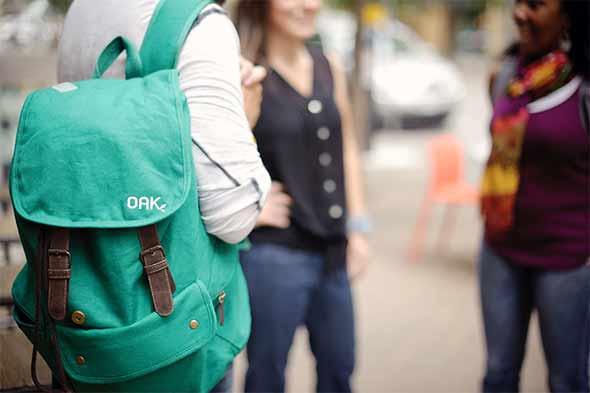 The give one, get one model not only infuses your customers with good vibes, it can help you differentiate your small business from the competition. Use these four inspiring organizations to jump-start your one for one initiative in 2014.