TSheets Uses GPS to Effectively Track the Time You Work
---
The Tsheets app and web-based services have been around for a couple of years now, and have become one of the leading time-tracking software packages. We chose to review it at this time primarily because it just underwent a major overhaul and UI facelift.
The company boasts that every 1.3 seconds there is an employee somewhere in the world interacting with a TSheets timesheet. Here's a look why this is happening.
What We Like About TSheets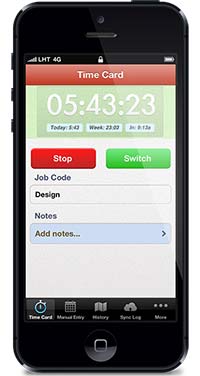 Full Service App: Tsheets is a robust payroll and time clock management system designed to meet the needs of any business, whether you're a team of one or a multi-national conglomerate. We really like the sheer amount of control and functionality, and appreciate that it is incredibly useful even when only the most basic features are used.
If you need to integrate TSheets with your existing QuickBooks software, as an example, you'll have no problem. If you don't happen to use that software, or have no need to integrate at this level, this is also not a problem. Scalability is the hallmark design feature when it comes to software packages capable of supporting many different functions, and TSheets delivers on this, seamlessly. It will literally be as large or small as you need.
GPS Tracking: For any business owner wanting to streamline the business processes, this is an indispensable feature. Getting accurate timing between stops or locations can lend directly to creating better routes, and assessing the work effort at the customer location can leader to faster service.
GPS data is also a great feature for companies who pay employees, freelancers, or consultants "port-to-port." It resolves disputes and alleviates guesswork.
Complete Payroll Control: Whether your payroll is handled by your human resources department or your finance department, managers have complete control over the TSheets process. This includes login credentials, vacation accrual, paid time off, hourly wages, overtime, and timesheets.
Those using the TSheets app to track their time can control their start/stop times for everything ranging from task times to time devoted to specific clients. These users can also do manual entries and timesheet approvals.
Tracking personnel resource across multiple clients or projects is a key component to creating efficient processes, and TSheets makes this time-management component incredibly easy to use, track, and identify.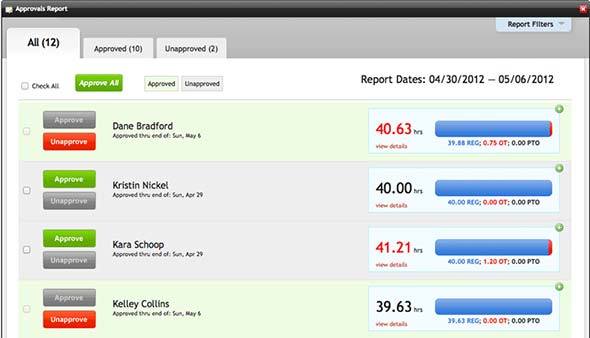 Web and App Access: The TSheets website is accessible from virtually any web-connected device. In addition to being able to clock in and out via the website, the TSheets app gives users the ability to start and stop the time clock from anywhere.
The ability to sync timesheet information instantly means the latest and most accurate data is available to your company's payroll department as often as necessary. A process can easily be implemented to get employees and contractors alike to sync their timesheet data every time they clock in and out of a project, a client, or for the day.
Improvements We'd like to See
We really like TSheets and find it relatively easy to use even though it has a bit of a learning curve. It will take some time to master—and this is our only real nit with TSheets—but app-savvy employees and business owners will have it down before too long.
We recommend a training class to introduce the app and website to your company, and to take advantage of the company's various training videos and free webinars. These will speed the learning process, as they're both accurate and user-friendly.
For any company or freelancers looking for an excellent time-tracking and invoicing package, TSheets delivers on all its promises. It's reasonably and competitively priced at each level and offers a wide range of features and services designed to help you get a handle on payroll issues, as well as streamlining many of your business processes.
How Much Does the TSheets App Cost?
Tsheets is available on Google Android
and Apple iOS free to download. It includes a free 14-day trial. After the trial period, users have four payment options:
Free: This plan offers a single license, no dial-in or text messaging features, and is limited to five clients and/or projects.
Business: This level includes $5/user/month with a $20 base fee each month for up to 100 users. It also includes Time Sheet approvals.
Platinum: This level includes $5/user/month with a $100 base fee each month and supports unlimited users. In addition to Time Sheets approvals, it also comes with Platinum Support.
Freelancer: Perfect for contractors, the Freelancer version is $10/month for a single license and includes unlimited projects and/or clients and supports unlimited billing.
OUR RATING: 4.5 out of 5 Stars
Reviewed by BusinessBee,December 5, 2013