4 Cool Office Spaces That Foster Creativity
---
If it's true that we are products of our environment, then it stands to reason that the cooler the office environment, the cooler the company and the happier the folks who work there.
Here is a list of four companies that have taken the importance of office design to heart. Find out what makes us green with envy over these spectacular office spaces.
1. Epic
This software company in Verona, Wisconsin is anything but a stuffy tech company. From the outside, Epic looks quite pastoral and serene, but with a variety of themed buildings on their sprawling campus you never know what you're going to run into or where you'll end up. You get a feeling for the bustle of business when you enter their New York themed building that comes complete with a subway hallway and Grand Central Station.
And with just a hop, skip and a jump you're transported to the deserts of Arizona outside the "Wild West" building that is surrounded with artistic renderings of cacti and oversized rattlers. And the whimsy hits you coming and going when you bump into the Cat in the Hat reclining on a bench or the smiling Humpty Dumpty perched on the wall outside the main entrance.
2. Box
It's not uncommon to see scooters racing down hallways or staffers jamming on Rock Band in the relaxed offices of Box, a Palo Alto company that provides safe, secure content sharing options. Bright colors and open spaces abound in this creative space. One of the most inventive areas is the "Back End Lounge" that features indoor swings suspended from the ceiling that dangle above a grass-inspired carpet that invokes a peaceful afternoon at the local park for workers who need to unwind and recharge their batteries. And swinging is a continued theme with bright orange hammocks where staffers can literally lay down on the job.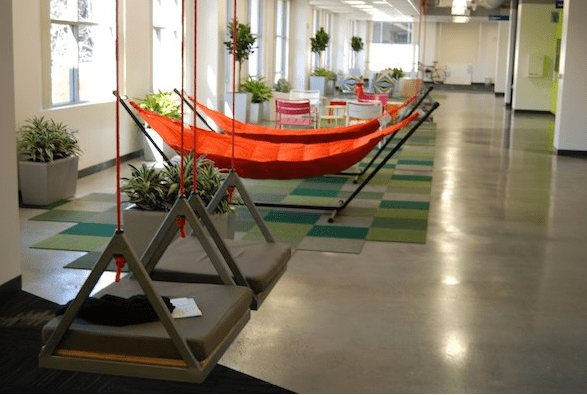 3. Davison
George Davison is the creator of a 61,000 square foot "invention factory," where he and his staff work with inventors from around the world. For a company committed to creativity, it's not surprising that Davison decided to build an office space that would inspire his staff, clients and the Pittsburgh suburb in which "Inventionland" resides.
The campus consists of 16 different themed sets where associates can get together to brainstorm and tap into their creative consciousness. From the Creativity Cabin to the Innovation Castle, staffers are surrounded with the type of environments they probably dreamed about when they were kids. There's a giant tree house, a huge pirate ship and iconic images from nursery rhymes like the "Old Woman Who Lived in a Shoe." This radical office environment has garnered a lot of attention – even being featured in "Ripley's Believe It or Not!, The Remarkable… Revealed."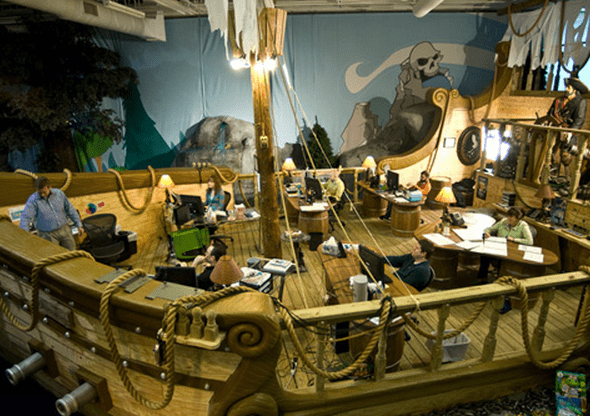 4. Red Door Interactive
This consulting firm that helps businesses maximize their impact across all customer touch points embraces a culture of inspiration and evolution. Their Denver office embodies these values with modern spaces that are bright, airy and designed to cultivate collaboration by providing various gathering areas for staff to check in, recharge or brainstorm.
Clean, simple furniture in colors like red and ginger are bright shots against walls of blue and green. Natural elements like glass and wood are also used throughout the space to create a harmonious environment that encourages calm creativity, even under tight deadlines. And with a core value of being "100% jerk free" it helps staffers keep the grouchies away when they are greeted with such a welcoming, beautiful work environment every day.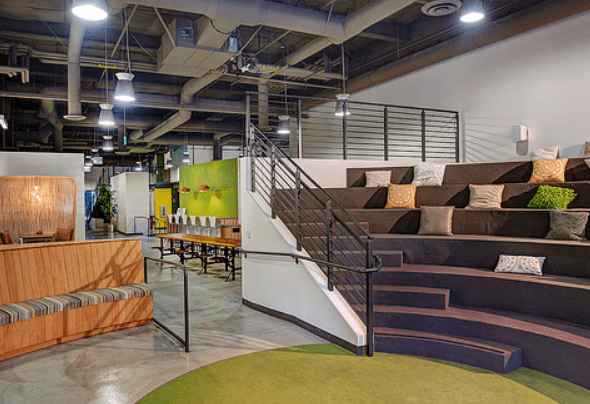 What elements would make up your dream office space?