States Closer to Equal Pay Have More Business Growth
---
Women represent 40% of new American entrepreneurs—and some states with shorter pay gaps also have the most business growth.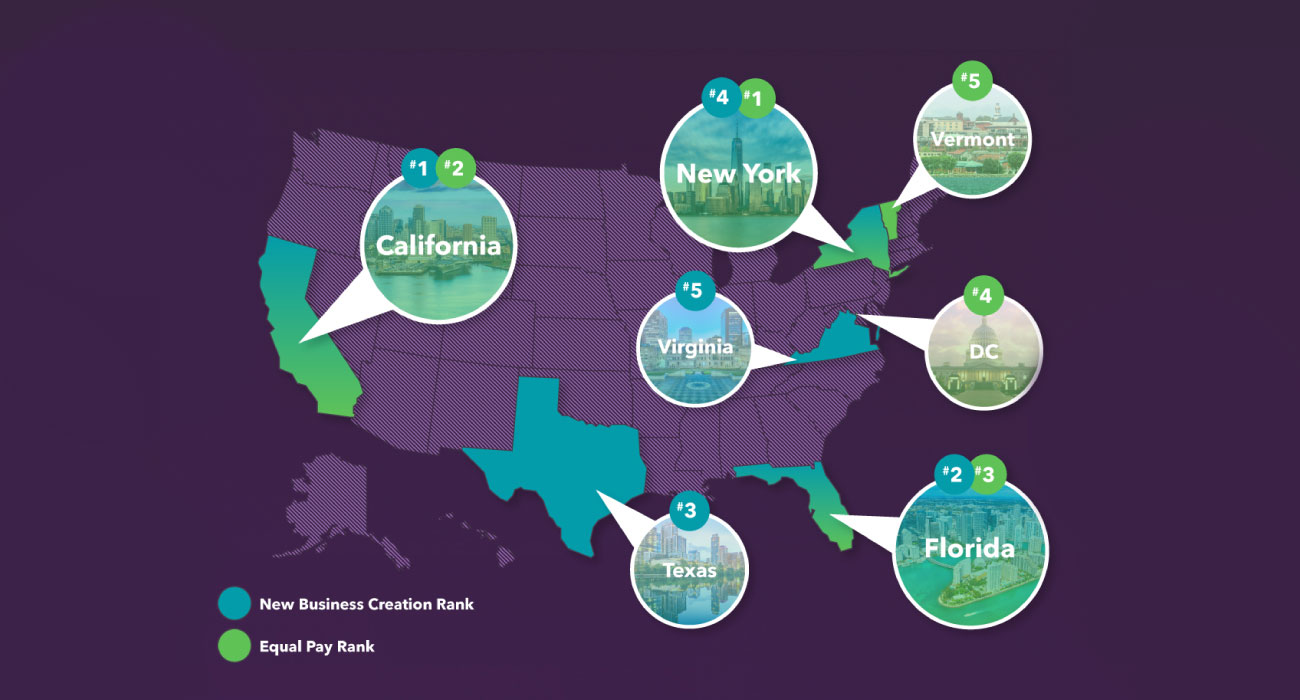 With Women's Equality Day coming up, we at Business.org decided to take a look at an issue that is on many minds: equal pay and its effects. Making up more than 40% of new businesses owners in the United States,1 women are increasingly taking their share of American entrepreneurship. In 2017, over 11.6 million businesses were owned by women with combined sales of $1.7 trillion.2
But growing rates of business ownership hasn't yet led to equity in how women and men are paid in the United States. According to a report by the American Association of University Women (AAUW), American women still make just 80 cents for every dollar earned by men. The gap is even wider for women of color—hispanic and black women earn 54 cents and 63 cents to the dollar, respectively, that white men take home in the United States.3
But some states have lower disparities in pay than others. That fact brought us to ask a question: Could states with a higher commitment to equal pay have better business growth overall? That's what we try to answer here.
Let's start with the data we looked at and the methods we used to analyze them. Our data team compared gender wage gap data, compiled by the AAUW from US Census data. We also pulled data reported by the US Bureau of Labor Statistics for "business births" which is the BLS term for business creation.4
The result? We discovered a correlation that suggests that, indeed, states with more equal pay tend to see higher numbers of business births.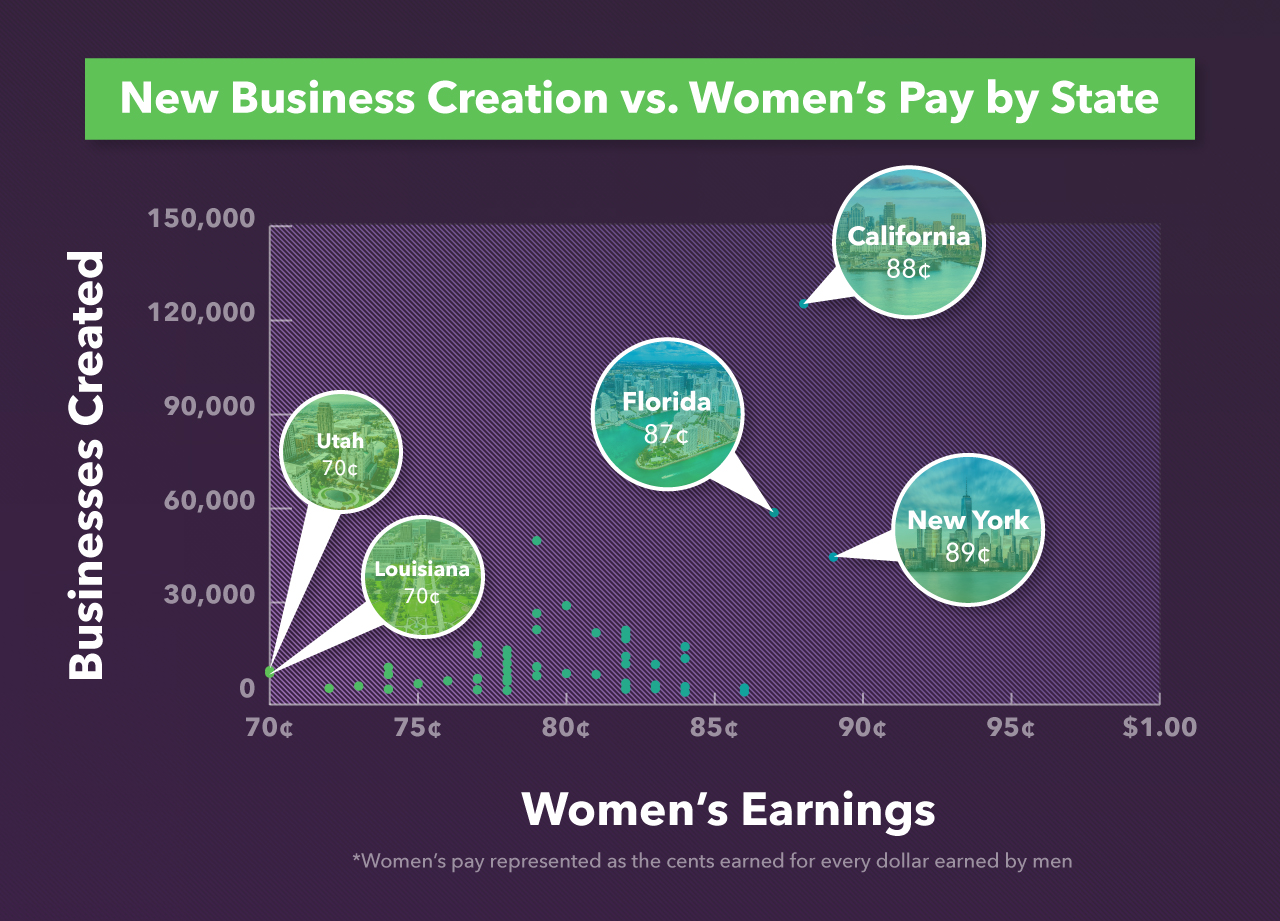 Our analysts then cross-referenced their data with the percentage of women startup founders by state to further explore the relationship per between business creation and women in the workplace. Ultimately, we can't definitively say that equal pay efforts cause higher business growth. But we do believe that supporting gender equality in the workplace is good for women, good for business, and good for the economy.
Our work with this data prompted us to explore a few questions, which we ask below. But first, here's a look at how each state and Washington, DC, rank for new business creation and gender pay equity.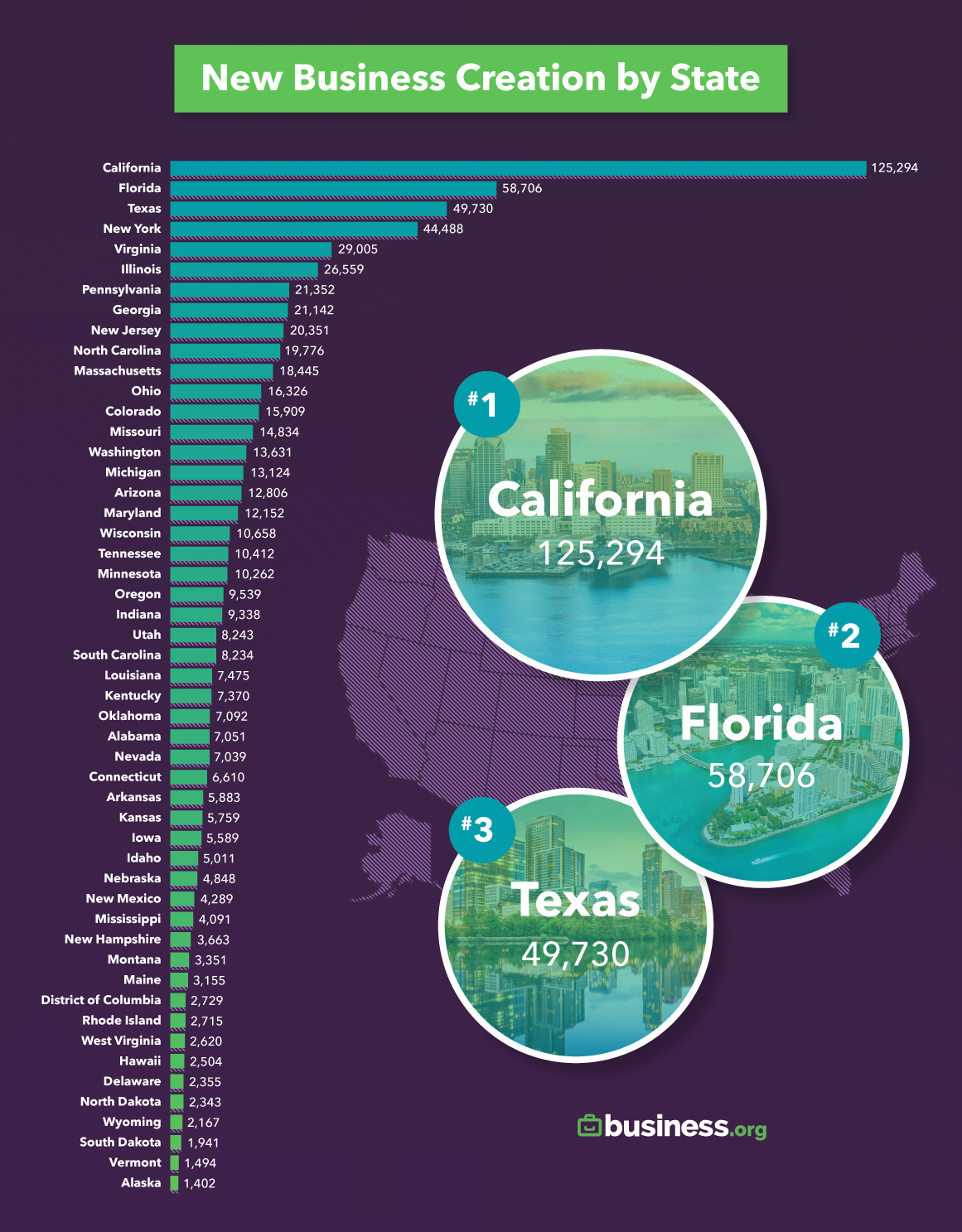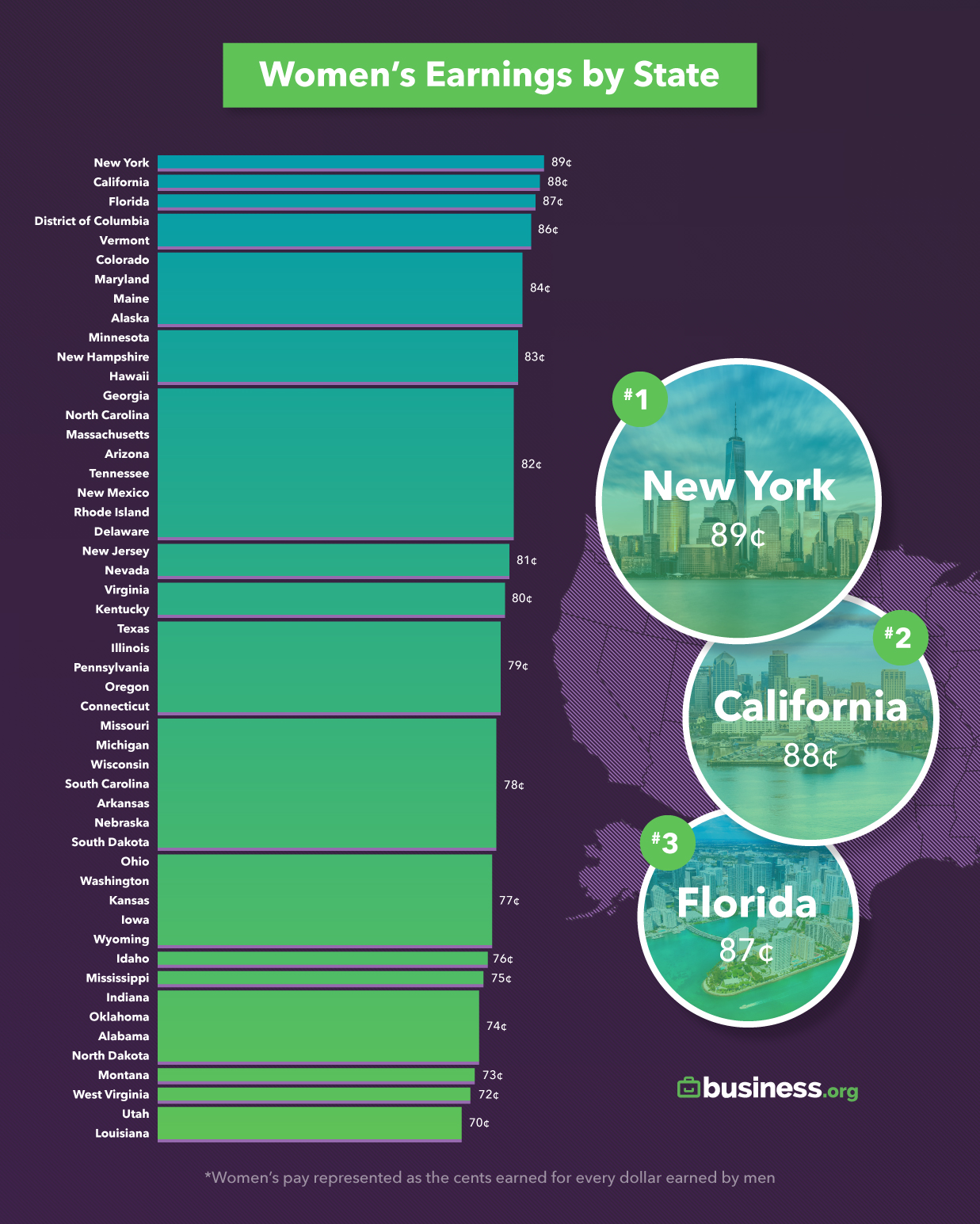 The states starting the most new businesses
| | |
| --- | --- |
| State | Businesses Created Each Year5 |
| California | 125,294 |
| Florida | 58,706 |
| Texas | 49,730 |
| New York | 44,488 |
| Virginia | 29,005 |
| US average | 13,938 |
Some of the nation's biggest states are also producing the most new businesses each year. This set of data isn't particularly surprising, but when we compared these entrepreneurially strong states to the states with the shortest gaps between women's and men's earnings, some similarities emerged.
The states with the smallest gender pay gaps
| | |
| --- | --- |
| State | Women's Pay in Cents on the Dollar6 |
| New York | 89¢ |
| California | 88¢ |
| Florida | 87¢ |
| District of Columbia | 86¢ |
| Vermont | 86¢ |
| US average | 80¢ |
These five states have managed to improve the pay disparity well above the national average of 80 cents. New York eked out the best equal pay spot with women earning almost 90 cents to the dollar of men's earnings.
California has the highest number of business births and the second-highest gender pay equity rate. New York and Florida each land in the top five for both sets of data too.
So what should we learn by comparing this data? Since we can't infer direct relationships between equal pay and business growth, we're left to wonder what's behind the correlation.
Could the people behind new businesses—especially millennials—be more invested in pay equity?
Millennials may be oft maligned in popular media—for eschewing traditional consumer behaviors and avoiding marriage and homeownership, for example. But these "millennipreneurs" are starting more businesses than previous generations, according to one study.7
Perhaps equal pay is more important to these millennial business owners. And states where millennial business-founding optimism is supported are more likely to see business growth outcomes.
Are more entrepreneurs interested in starting businesses in states where they perceive fewer obstacles to success?
Not only does thriving entrepreneurship encourage prospective new business owners, but seeing examples of women being compensated fairly and treated equally might also serve as motivation.
Perhaps the states with the most success at lowering the gender pay gap have better resources and support for women interested in starting their own businesses. Economic policy and nonprofit advocacy are examples of ways to remove obstacles to success for women entrepreneurs.
For example, the National Association of Women Business Owners (NAWBO), with chapters throughout the United States, provides support through resources, policy advocacy, and networking opportunities for their members. And sure enough, our research showed that three states that topped the business birth and equal pay lists—California, Florida, and New York—have some of the highest numbers of local NAWBO chapters and members.8
Do states with better pay equity provide both men and women better means to start new businesses?
Starting a business is a risky endeavor. It takes careful planning, and there's no guarantee of success. But the potential risks of becoming an entrepreneur may be mitigated in places where incomes are higher for everyone.
Indeed, several states have higher-than-average women incomes and make the top 10 equal pay rankings, including Alaska, California, New York, and Maryland—as well as DC.9
Could states with higher pay equity be doing more legislatively to help women and minorities start their own businesses?
Legislators in states that prioritize equal pay may also be more willing to support policies that provide assistance to entrepreneurs from disadvantaged populations. If that's the case—and if such legislation spurs business growth while lowering pay gaps—then lawmakers nationwide may want to look to these top-performing states as examples for improving gender equality and supporting business interests at the same time.
Sources
1. CNBC, "Why Women Entrepreneurs Will Be the Economic Force to Reckon With in 2017"
2. National Association of Women Business Owners, "Women Business Owner Statistics"
3. American Association of University Women, "The Simple Truth about the Gender Pay Gap"
4. US Bureau of Labor Statistics, "Business Employment Dynamics Data by States"
5. US Bureau of Labor Statistics, "Business Employment Dynamics Data by States"
6. American Association of University Women, "The Simple Truth about the Gender Pay Gap"
7. BNP Paribas, "BNP Paribas Global entrepreneurs Report 2016"
8. National Association of Women Business Owners, "Find a Chapter"
9. Status of Women in the States, "State-by-State Rankings on Women's and Men's Employment and Earnings, 2013"